Recent Relationship Articles
Navigate the relationships that matter to you.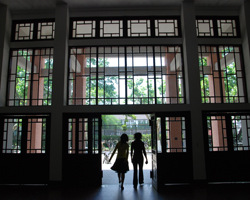 Details

Category: Relationships
Like the dad in the Disney movie College Road Trip, I am not ready to send my daughter off to college—let alone think about it. But I can't bury my head in the sand any longer: It's spring of her junior year, and it's the recommended time to plan. Thanks to the Holland High School counseling team and to all of the moms who've been there and responded to my cry for help on Facebook, I have five tips that will help make this process a little easier.
Details

Category: Relationships
This is the first year in a long time that we've decided to not go anywhere over spring break. Maybe this wasn't the best year to miss out on a warm getaway—but even so, I'm just not a big fan of the crowds and jaw-dropping airfares that are inevitable this time of year. Alas, we'll be sticking close to home, in Northeast Grand Rapids. Although I'm comfortable with our decision, the other day I started to panic: What the heck are the kids going to do with an entire week off? [Insert snow-day flashbacks here.]
Details

Category: Relationships
When it's a blustery winter wonderland outside, our kids collectively cross their fingers and hope for a snow day. But before we know it, they won't be thinking about just one day off from school: They'll be anticipating an entire week off, and asking, "Mooommm, where are we going for spring break?"
Details

Category: Relationships
Unless you grew up under the watchful eye of Captain von Trapp, the whistle-blowing patriarch of Sound of Music fame, organization might not come naturally. But it does have its place, and even if you haven't been particularly organized yourself, it's not too late.