Recent Cityscene Articles
All the local places to go and things to do.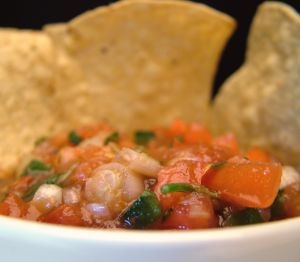 Details

Category: Cityscene
Executive chef Shelly Rash will spice up the Holland Farmers Market weekly Chef Series on Saturday, August 25. He'll demonstrate an array of salsas—raw, cooked, and fruit—using fresh ingredients from the market.

Rash, originally from Chicago, is currently the executive chef at CityVu Bistro of downtown Holland. He began his career with a degree in culinary arts from the prestigious Johnson and Wales University in Providence, Rhode Island. Before working in Holland, Rash worked in restaurants around the country, including Trio of Chicago.

Rash enjoys being a part of the Holland community, especially the Holland Farmers Market, as a way of bridging the gap of "difficult cooking," and showing how easy it is to make healthy, delicious food in your own kitchen.

"My goal every year is to demonstrate how easy it can be for amateur cooks to impress friends or family with wonderful dishes," said Rash.

Details

Category: Cityscene
Join WISE at 5/3 Ballpark August 15 (on a non-game night) to hear Amy Proos, CEO of Proos Manufacturing, share the tactics and tools she employed to turn the tide on a losing streak that was eroding her family-owned business. Amy will show us how to swing for the fences with our own businesses—a critical first step toward knocking it out of the ballpark! Whitecaps staff will be on-hand to offer sneak peak tours of the stadium and facilities. Registration is $25 and can be found at www.wiseconnections.org.
Details

Category: Cityscene
Fork Fest is one of Local First's most popular events of the year. Join the organization in the beautiful setting of the Romence Gardens greenhouse on Thursday, October 18 from 5-9 p.m. to experience the best local food West Michigan has to offer. Try everything from produce fresh from Local First member farms to delicacies from the finest restaurants to the best beverages from the region's amazing wineries and breweries–all to the tune of laid back local music. Come for this delicious festival of sights, sounds, smells, and most importantly, tastes.
Details

Category: Cityscene
Head to Downtown Holland for the biggest sale of the year! The downtown sidewalk sales take place Friday, August 10 from 9 a.m.-9 p.m. and on Saturday, August 11 from 9 a.m.-5 p.m. More than one hundred merchants will bring thousands of great deals outdoors for savvy shoppers. You'll find amazing bargains from Downtown Holland's unique collection of gift shops, clothing boutiques, art galleries, specialty stores, and more.

Sidewalk Sales will be held on Eighth Street will be closed to traffic both days for the sale. Be sure to shop early so you don't miss a single bargain! The event is organized by Downtown Holland.

Source: Holland Area Convention and Visitors Bureau
Details

Category: Cityscene
Grand Rapids Griffins alumni, coaches, and fans will unite at the renowned Egypt Valley Country Club on Monday, August 27, for the eighteenth annual Griffins Youth Foundation Golf Classic, presented by Meijer and Dean Foods.

Following the 10 a.m. shotgun start, golfers will be treated to eighteen holes of golf as well as on-course food and refreshments provided by Leo's Restaurant, Peppino's Pizza, and Buffalo Wild Wings. Afterward, everyone will gather in the clubhouse for dinner and a high-end raffle and auction.

The largest fundraiser for the Griffins Youth Foundation and one of the largest charitable events in West Michigan, the golf classic is now accepting registrations for individual golfers, foursomes, and sponsors.

Cost is $225 for individuals, $800 for foursomes, and sponsorships start at $1,000. For more information, click here to e-mail Bob Kaser or call 616-774-4585. Click here for more information.

Source: GRNow.com