The dangers of tanning beds are well known by all, and whether those desiring a sun-kissed look choose to acknowledge skin-damaging statistics or not, the fact is that summer is coming, and warm weather beckons shorts and tank tops out of the deepest reaches of the closet. But you don't have to put your skin cells in danger to get a bronzed look. Spray tanning aside, L'OREAL Paris is giving women another option this season–self-tanning towelettes.
Towel tan sheets come in a box of six and are individually packaged. About the size of a hand towel and thickness of a paper towel, the sheet is soaked in self-tanning solution, and the product boasts that it is "streak-free." To use, shower, shave, exfoliate, and wait until the body is completely dry to rub the towel over the body. Allow yourself to dry completely before getting dressed. According to the package's directions, "use daily until you have achieved the desired level of tan, and then apply one to two times a week."
We did a little experiment at West Michigan Woman in which two women tried the tan towel method. Heather Watkowski is of Italian descent, and as such, her natural skin tone is darker than say, Erika Fifelski, of Irish descent. Both women tried the "medium natural tan" color.
Heather's use resulted in an even, bronze, natural-looking tan. She swears by the towel tan, and although she does frequent tanning beds, towel tan is an easier, do-it-yourself at home method that lasts for about a week, she says.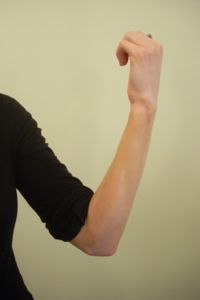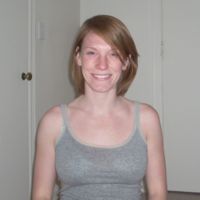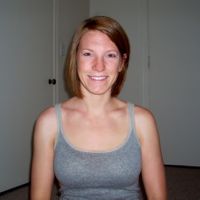 Erika, on the other hand, was skeptical. She had a run-in with self-bronzing lotion in middle school she has not forgotten, but the "streak-free" promise was intriguing. She followed the instructions Tuesday night of this week and went to bed wearing dark, loose fitting clothing, and dreaming she was laying on a beach soaking up the sun skin cancer free. In the morning, the towel tan had done it's job, for the most part, and colleagues applauded the towel tan–until she showed them her arm. (See photo)
Heather's diagnosis was that when washing her hands after applying the towelette, water dripped down Erika's arm and washed the solution away. However, upon further review and streak marks on shoulders and hips as well as arms, either Erika stinks at applying the towel tan, or her skin simply can't handle the idea of being anything but pale.
In any case, both women recommend the product. It's an inexpensive way (less than $10) to get a tan and makes wearing a skirt to work a little less blinding so soon after cold weather. Pick up a box at any drug store, and let us know how it goes!
Written by: Erika Fifelski is the West Michigan Woman magazine editorial coordinator. She was born and raised in West Michigan, and after a brief stint on the sunrise side, she's home and loving it. Erika enjoys cooking, vacuuming, and discovering new ways to live sustainably and support local businesses. Photos provided by Erika Fifelski and Product Girl