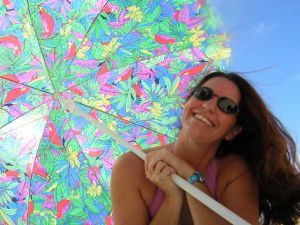 Let the sun shine in! But not into your eyes. Follow this guide to pick the perfect sunglasses shape and size for your face.
Square: A square face is one that is just as wide as it is long. Try frames that are oval or round, and glasses with temples that are center set or glasses that connect at the top of the frame. You can pull off the butterfly frame shape, but not geometric or square-shaped frames.
Round Face: You have a round face is your measures are the same or nearly the same width and length. Sharpen your rounded facial features with angular-shaped frames. Rectangular, horizontal frames make your face look longer and thinner. Avoid small, short frames than accentuate your face's length.
Oblong: An oblong face is more long than wide. Try frames that make your face look shorter, like broad glasses with decorative temples. Don't wear frames that are short or small. Tall frames are best.
Heart Shaped: Someone with a heart-shaped face has a narrow jaw and wide cheek bones and forehead. Make your frames bottom-heavy to add width to the lower part of your face. Low set temple styles draw the eye downward, unlike top heavy styles or decorative temples that accentuate the wrong area of the face.
Diamond: Diamond shaped faces have wide cheekbones. The narrow forehead and jaw line are about the same width. Oval frames or rimless lenses are best for your face shape. Try to avoid narrow frames that further narrow the eye line.
Now you're ready to put the top down and soak up the sun! Hit the beach, or the trail, with your UV-blocking, facial feature flattering shades. Follow the same facial guide to find your perfect haircut.
Source: Frames Direct Photo: Amanda Toy