In 2013, Brittany Jacobson, founder, Freedom Paddle Company, attended a conference in Chicago on human trafficking with her sister-in-law. It was the first time she'd ever heard of the subject in-depth. The experience motivated Jacobson to get involved, working at the time with an organization to provide outreach and resources to women working in the sex industry.
"We came back to Grand Rapids and got involved with a group of women who were doing strictly strip club outreach," said Jacobson. "I was only 19 at the time and couldn't legally enter the strip clubs, so I began baking cookies and cupcakes for the team to bring with them as gifts for the bouncers, DJs, dancers, and managers."
By the end of 2014, the organization Jacobson initially worked with fizzled out completely. She knew she wanted to pick up right where they left off. For almost seven years now, Jacobson's organization—Created Free—has been going weekly into strip clubs and illicit massage parlors in Grand Rapids, Traverse City, and Cadillac, to provide holistic resources to women who have experienced trauma at the hands of the sex industry.
"We work with victims of human trafficking and sexual exploitation, and our mission is to walk the long road of healing with any woman who feels like she may be on her own," said Jacobson, who estimates Created Free has served more than 215 women in seven years of outreach.
"Human trafficking is happening in Michigan, and the reality is that many of the women currently employed by the sex industry don't feel safe when they go to work. This is something that, as a woman, I feel a responsibility to assist with in our community. Not in an 'us versus them' sort of way, but as a fellow woman who could have had a very similar story."
Jacobson notes they've called the National Human Trafficking Hotline on several occasions for girls as young as 16 working at Michigan strip clubs against their will.
"This is why we continue to go into these places," Jacobson said. "We serve as an extra set of eyes for these girls, to ensure their safety, give them hope and help them get back on their feet after experiencing exploitation."
This year, Jacobson's organization took on a new but related venture. Freedom Paddle Company—a mobile rental paddleboard company—operates predominantly in West Michigan, with some occasional group paddles available in Traverse City and Northern Michigan.
Through the rental company, Jacobson and her team offer group paddles, hike-in excursions, full-day rentals, half-day rentals, Intro to Paddle Boarding classes, and even a SUP with Your Pup class, teaching you how to paddleboard with your four-legged friend.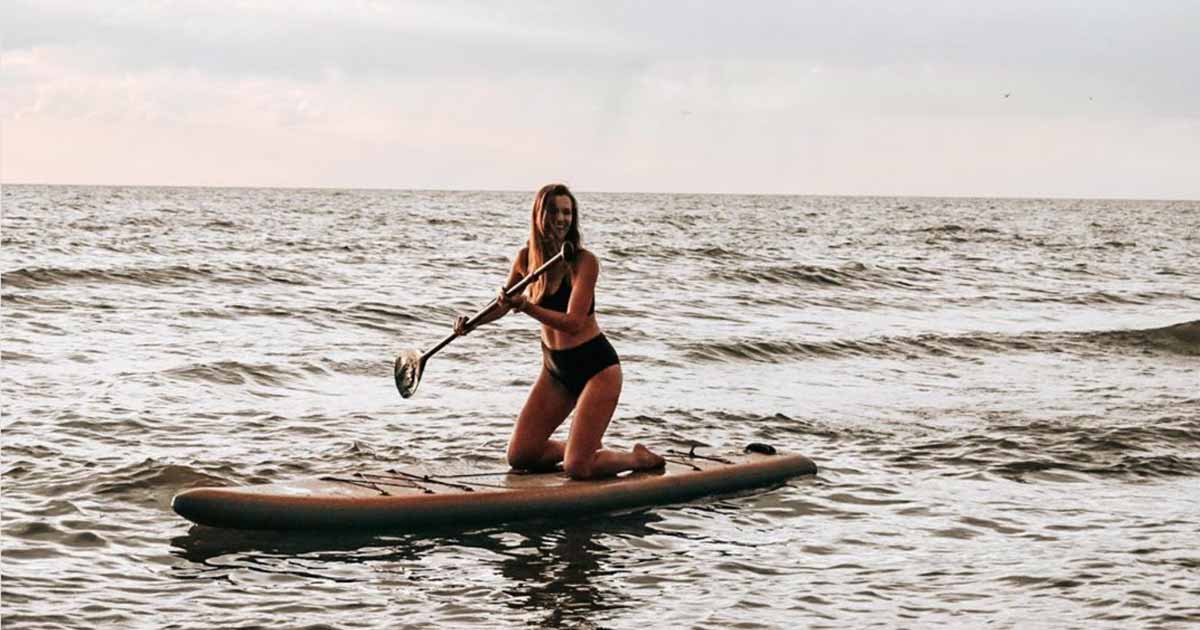 "Every paddleboard rental allows us to continue our outreach efforts and provide the needed services to women in our community," said Jacobson, noting people could further help women by purchasing a Freedom Bag on their website, something they provide to almost every woman they meet. "These include a feminine hygiene kit, a cosmetic bag with five high-quality makeup items, a toothbrush and toothpaste set, granola bars, a shampoo bottle, body wash, and an encouraging note."
Their goal, Jacobson said, is to be able to begin hiring at-risk women or women exiting the sex industry as early as next year, with every rental purchase this summer allowing them to get closer to that goal.
"We don't go on outreach to discuss whether working within the sex industry is 'good' or 'bad' by any means, but simply to offer love, hope, and an opportunity for women to reach their full potential," said Jacobson, adding that Freedom Paddle Company offers group outings that include an intro to paddleboarding, a boxed lunch/dinner for your group, a photo opportunity with their vintage camper, a chance to learn about the organization's anti-trafficking work in Michigan, the choice to write encouraging notes to the women they serve, and a free Freedom Paddle Company T-shirt for the group host.
Through their weekly outreaches, Jacobson and her team are able to connect women with resources they may need if they feel unsafe in their current situations.
"We've partnered with local social service agencies in all three cities in which we work, including domestic violence shelters, safe houses, dentistry practices, medical professionals, therapists and counselors, and even organizations working with young moms, single moms, and unplanned pregnancies," said Jacobson, who notes they offer résumé building classes as well. "We take a look, holistically, at her situation and see where we might be able to step in and provide loving support, while helping her put into place the necessary steps to get to where she wants to be in life. We have a deep desire to see every woman in our community set up for success, which ultimately drives our outreach efforts."
Jacobson, a foster mom and almost-adoptive mom to an 8-year-old girl, explains there are also significant ties between the foster care system and the sex industry.
"Unfortunately, the sex industry has a history of preying on the vulnerable, and teenage runaways or girls who have aged out of foster care are no exception," said Jacobson, adding they've begun to host paddleboarding groups with teen girls either currently in foster care or who have been adopted out of foster care. "We have met several women in the strip clubs and illicit massage parlors who have had some experience with the child welfare system. We want to be mentors for these women, to let them know they can accomplish their wildest dreams."
Being outside in nature has an incredible way of melting away stress.
"We provide four events throughout the year that are outside of the strip clubs and illicit massage parlors, outside of our regular outreach, so that we get to know the women we serve on a deeper, personal level," said Jacobson, noting it can be hard to get to know each other under the loud music of a strip club, which is why her team utilizes paddleboards and relaxing, nature-based events. "We invite them to bring their families to some of these events, as well, just so they all feel pampered and loved—even just for a minute. The beach is very conducive to deep conversations, connection and fun, which all provide us with just another opportunity to speak life into women of our community."
Parents of a teen foster or adoptive daughter who are interested in getting her involved in one of the Freedom Paddle Company mentorship groups could contact Brittany and her team at [email protected]. Those interested in writing encouraging notes for Freedom Bags can also reach out through this email address.
To learn more about the company and their rentals, visit Freedom Paddle Company.
Written by Sarah Suydam, Staff Writer for West Michigan Woman.
Photos courtesy of Brittany Jacobson.