Looking for an easy way to meet other moms in the West Michigan area? How about getting some great discounts while making great friends? Moms in Tow was created by Jenny Los White in 2009 with the goal of providing moms with an outlet to connect and enjoy each other's company. Since then, the site has grown to include five hundred members throughout Grand Rapids and Holland. Here's the scoop: moms pay an annual fee of $37 and receive a membership card and login to the site. The membership card provides moms with discounts to local area businesses such as Gazelle Sports and Hop Scotch Children's Boutique as well as unlimited access to website's calendar of activities.
"After having children, I wanted to find other moms with similar interests," says Jenny. "The idea of Moms in Tow grew to include more than just running groups and play dates, I also wanted to connect mothers with great local businesses. I wanted to house everything in one common location." Jenny wanted to provide mothers with access to local businesses where they would most likely be spending their dollars. She now provides these businesses with free advertising on her site in exchange for discounts.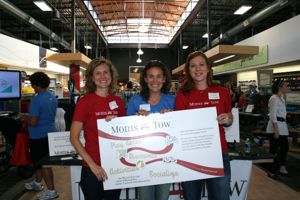 The calendar of events is not open to the public; it's a private calendar for members to post activities and organize groups at will. Partnered businesses can also post events specific to mothers on the site. "I wanted to provide my members with an exclusive calendar, it's a safety feature. As a mother, I'm not comfortable with just anyone having access to activities specific for children. I think that information should be protected," says Jenny.
How is she able to juggle launching a website and be a mother of two young children? "I've learned to rely on friends and people who believe in Moms in Tow," says Jenny. "I have a very supportive family and have learned the power of delegation."
Moms in Tow is currently expanding to the Kalamazoo area and working towards providing women with more options to practice healthy and active lifestyles while forming meaningful relationships with other women. To check out the site click here.
Chelsea Slocum is a resident of Grand Rapids. She works as an educator and freelance writer. She enjoys learning about new and different things happening in the city and spending time with her husband, two crazy kids, family, and friends.