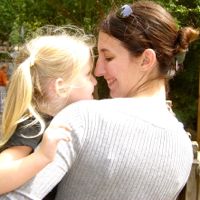 Take it from a mom who knows, being a single parent isn't the easiest thing in the world. Balancing work, being a mom, and alone time can be tough, but there are ups in the rollercoaster of single parenthood.
The first and most important thing to do is to make one-on-one time with the parent and kids, says Mona Buskirk, an interior designer from East Grand Rapids. Mona has a 9-year-old daughter, and she tries to make the most of every minute they have together.
"My biggest struggle is finding that concrete quality time with her. The best time for us each day is the twenty-minute drive from school to home. We can catch up with no radio, just us, so when we get home and come out of the gates again for homework and dinner, we still had that time together," she said.
Mona works full time, and her daughter has been in daycare since she was eight weeks old. It was hard for her to leave for work knowing someone else was taking care of her baby, which is why when they can be together, she does her best to focus all her attention on her daughter.
"I haven't really found a balance, but I have found ways to make it easier," Mona says.
Another key was surrounding herself with family and friends who were a strong support system. That way, if Mona is tied up at work or needs a little mommy time, she knows she'll have her bases covered.
Mona's secret to maximizing time with her daughter is by outsourcing tasks like cleaning the house.
"I hired a cleaning person. I'm not going to do that all day Saturday and Sunday," because for Mona, the weekend is her time to spend with her daughter, she says. She also makes up a menu for the week so no time is wasted pondering what to make for dinner.
In some ways, Mona is the mom and the dad, and that means more than taking care of the dishes and the lawn.
"I'm the loving mom and the disciplinarian. I have to wear both T-shirts. There is no one else to bounce things off," she said.
However, Mona says, a little selfishly, that she enjoys being a single parent because she gets her daughter all to herself. She's had fun watching her grow up and into a little mini-Mona, and the girls, she says, are best friends.
"I love being with her, she's my life," Mona says.
Even when she does take time to herself or goes away on business, getting home and seeing her daughter is the best feeling in the world.
"My time away makes me appreciate her more," she says.
Written by: Erika Fifelski was born and raised in West Michigan, and after a brief stint on the sunrise side, she's home and loving it. Erika enjoys cooking, sewing, vacuuming, and discovering new ways to live sustainably and support local businesses. Photo: stock.xchng