Recent Cityscene Articles
All the local places to go and things to do.
Details

Category: Cityscene
Head to Downtown Holland for the biggest sale of the year! The downtown sidewalk sales take place Friday, August 10 from 9 a.m.-9 p.m. and on Saturday, August 11 from 9 a.m.-5 p.m. More than one hundred merchants will bring thousands of great deals outdoors for savvy shoppers. You'll find amazing bargains from Downtown Holland's unique collection of gift shops, clothing boutiques, art galleries, specialty stores, and more.

Sidewalk Sales will be held on Eighth Street will be closed to traffic both days for the sale. Be sure to shop early so you don't miss a single bargain! The event is organized by Downtown Holland.

Source: Holland Area Convention and Visitors Bureau
Details

Category: Cityscene
Grand Rapids Griffins alumni, coaches, and fans will unite at the renowned Egypt Valley Country Club on Monday, August 27, for the eighteenth annual Griffins Youth Foundation Golf Classic, presented by Meijer and Dean Foods.

Following the 10 a.m. shotgun start, golfers will be treated to eighteen holes of golf as well as on-course food and refreshments provided by Leo's Restaurant, Peppino's Pizza, and Buffalo Wild Wings. Afterward, everyone will gather in the clubhouse for dinner and a high-end raffle and auction.

The largest fundraiser for the Griffins Youth Foundation and one of the largest charitable events in West Michigan, the golf classic is now accepting registrations for individual golfers, foursomes, and sponsors.

Cost is $225 for individuals, $800 for foursomes, and sponsorships start at $1,000. For more information, click here to e-mail Bob Kaser or call 616-774-4585. Click here for more information.

Source: GRNow.com

Details

Category: Cityscene
Serendipity Media, a national publishing company located in Grand Rapids, will celebrate its tenth anniversary and launch of its first local magazine, West Michigan Woman, with a ribbon cutting ceremony on Wednesday, August 8, 2012 at 9:30 a.m.
Details

Category: Cityscene
Do you have a desire to see an end to breast cancer? Do you want to help, but don't have a lot of time, money, or just think you can't commit to another cause? Take an hour and come to the Making Strides kick-off dinner party and you will clearly see how important this cause is and that it takes very little time and no money to make a huge difference!

You are formally invited you to the kick-off dinner party with members of Making Strides, a national walk-a-thon team starting up in Muskegon. The dinner is Thursday, August 16 at the Muskegon Harbor Holiday Inn at 6:30 p.m. and the invitations are printed and ready to go in the mail. If you would like to attend as a guest of local American Cancer Society volunteer Angela Baker, click here to e-mail her.

In the meantime, mark your calendar for the family-friendly 5k walk on October 13. Registration will start at 8:30 a.m. and the walk will start at 10 a.m. Activities and pre-event fun will also start at 8:30 a.m. Registration and activities will be located inside at the LC Walker Arena Annex. The walk will begin there and weave through downtown.

Click here to get a preview of what this event is all about and to check out the website.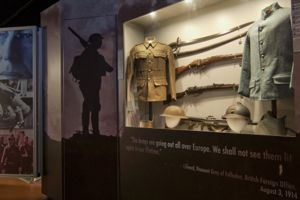 Details

Category: Cityscene
Grand Rapids and Muskegon welcome the National Tour of Traveling World War I Gallery next week. The exhibit will be at the Gerald R. Ford Museum on Monday, July 23, and at the USS Silversides Submarine Museum on Tuesday, July 24.