One hundred years ago, Germany joined a handful of nations granting women's suffrage—allowing women to participate for the first time in Germany's general elections.
This wave of support for women's rights helped pave the way for the United States to follow suit, ratifying the 19th Amendment a year later in 1920. To commemorate these two important events in German and American history, Aquinas College is hosting Women Trailblazers: Celebrating 100 Years of Women's Suffrage in Germany and the U.S., a panel discussion, Q&A and poster exhibition highlighting the milestones of women's suffrage in both countries.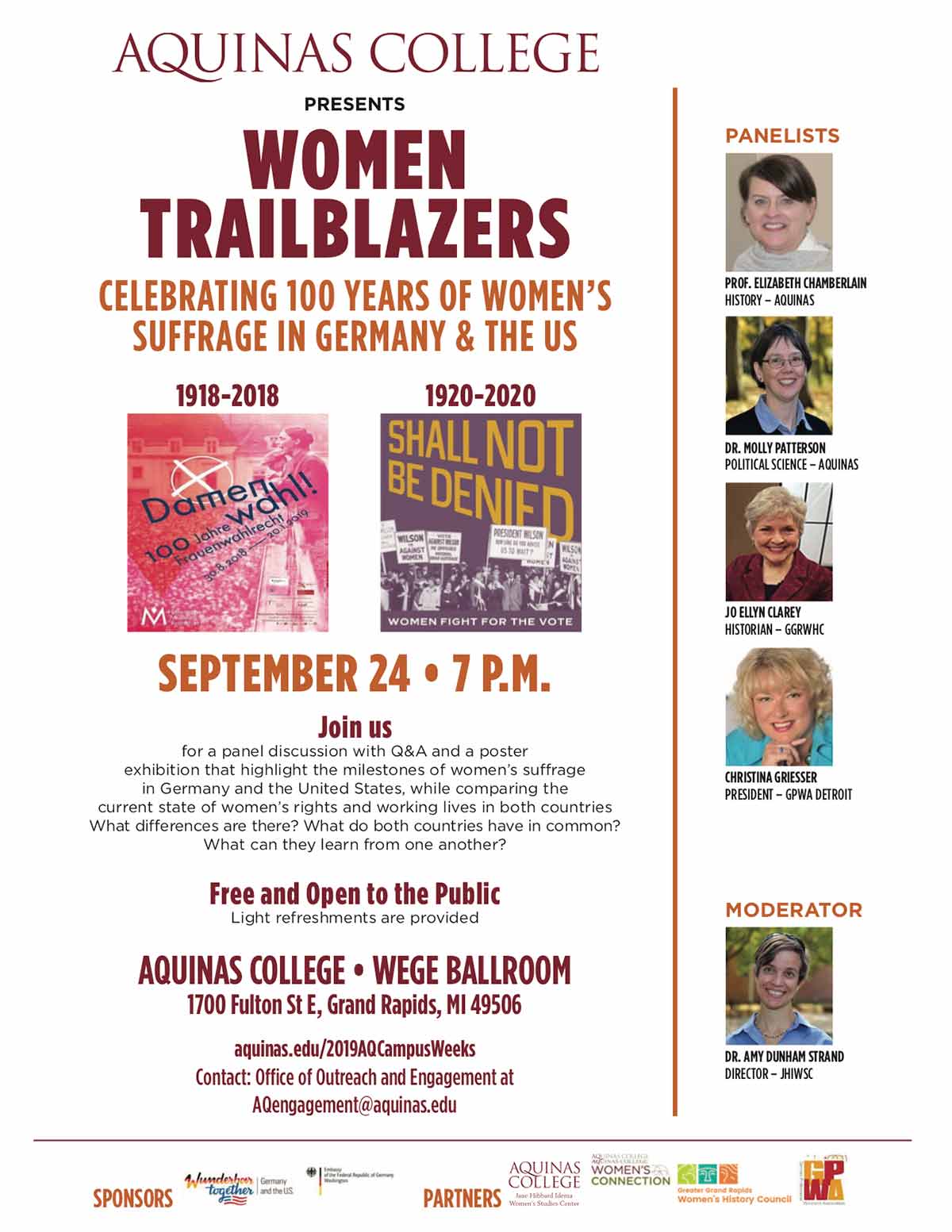 Photo courtesy of Aquinas College.
Attendees could reflect on the women's suffrage movements and women's rights in the U.S. and Germany—then and now—and explore questions such as:
What's the current state of women's rights and working lives in both countries?
What differences are there?
What do both countries have in common?
What can they learn from one another?
"We especially encourage women and women's organizations who are dedicated to advancing equality and opportunities for women and girls, and who help empower women by promoting their political participation and leadership in the public sphere, to join us for the event," said Dr. Katharina Häusler-Gross, Associate Provost for Outreach and Engagement, Professor of German Studies & Foreign Language Methodology, Aquinas College.
"The women's suffrage movement is important to this day, because not only did it provide women with the legal right to vote, it also promoted civic action among formerly disenfranchised women who—as political rights empowered them to hold public office and influence the state's priorities—could thus become full citizens."
The event is part of the Wunderbar Together (Wonderful Together) initiative, which aims to highlight how Germany and the U.S. are intertwined and seeks to explore how this crucial transatlantic partnership will develop in the future.
"The struggles and accomplishments that German and American women activists have experienced on their journey to suffrage over the past 100 years are both inspiring and empowering for today's women because they provide direction for women's political future and their participation in the public sphere of society," Häusler-Gross added. "We hope attendees will take away some valuable lessons from the determination, persistence and astute strategies of Women Trailblazers, and that this event will provide them with new information about women's suffrage and new networking opportunities that impact their own lives."
The panel—comprising woman scholars, women in business and community members—will approach important questions related to women's suffrage from historic, social, political and economic aspects. They'll also share their research and knowledge, spanning the local and international levels.
PANELISTS
Professor Elizabeth Chamberlain, Adjunct Professor of History, Aquinas College
Dr. Molly Patterson, Professor of Political Science, Aquinas College
Jo Ellyn Clarey, Historian, Greater Grand Rapids Women's History Council
Christina Griesser, President, German Professional Women's Association, Detroit
The panel will be moderated by Dr. Amy Dunham Strand, Director, Jane Hibbard Idema Women's Studies Center, Aquinas College.
"In the early 1900s, German and American women were not just marching for their right to vote, but also to enjoy the same rights men had under the law," noted Häusler-Gross. "Today, women are called to lead by example and help pave the way, as their predecessors did, for a more just, equitable and inclusive society where all people participate in the democratic process."
As both sides of the Atlantic continue to fight for gender equality and shared power in public life, let's continue the conversation together.
The event, which is free and open to the public, takes place September 24 at 7 p.m. in the Wege Ballroom at 1700 Fulton Street East. For more information, contact the Office of Outreach and Engagement at [email protected].
Written by Sarah Suydam, Staff Writer for West Michigan Woman.
Photo courtesy of Library of Congress, Prints & Photographs Division, photograph by Harris & Ewing.