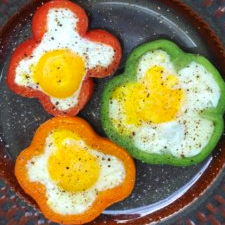 Springing forward an hour can leave you sleepy and disoriented for days, which is exactly what women don't need in the midst of trying to get ready and out the door on time every morning. Make breakfast easy using these five ideas for a meal full of healthful substance. After all, breakfast is the most important meal of the day for jump-starting your metabolism.
Tuesday: Get your potassium and coffee fix too!
Coffee Banana Smoothie
½ cup cooled brewed coffee
½ cup skim milk, almond milk, soy milk, etc.
½ medium banana
handful of ice
Blend until smooth
Wednesday: Grab 'n Go Breakfast Cupcakes
1 tbsp olive oil
1/4 cup yellow onion, diced
1/4 cup green bell pepper, diced
1 cup baby spinach leaves, roughly chopped
1/2 cup mozzarella cheese, shredded
4 eggs
1/4 cup milk
1 tsp kosher salt
freshly ground pepper
Pre-heat oven to 350 degrees.
Line a muffin tin with foil baking cups and spray with cooking spray (or simply spray the muffin tin directly with cooking spray). In a medium frying pan, heat olive oil over medium-low heat, then add onion and green peppers. Sauté, stirring occasionally, until vegetables begin to soften, about 3 minutes. Add spinach leaves and stir until spinach has wilted, about 2 minutes. Transfer vegetable mixture to a bowl and allow to cool slightly. Add cheese.
Whisk together eggs, milk, salt and pepper, then pour over the vegetable-cheese mixture and stir to combine. Divide evenly among 6 muffin cups.
Bake until cupcakes have set, about 20 minutes. The cupcakes will puff during cooking and then deflate slightly as they cool.
Thursday: We dare you to say this isn't delicious...
Green Smoothie
1 ½ cup water
1 cup kale
3-4 stalks organic celery
1 cup spinach
1 apple, cored and chopped
1 pear, cored and chopped
1 banana
Juice of 1/2 fresh lemon
Add the water, kale, and spinach. Starting the blender at low speed, mix until smooth. Gradually moving to higher speeds, add the celery, apple and pear. Add the banana and lemon juice last. The fruit and lemon cut right though the grass taste. Feel free to mix and match different greens and fruits, as these two specific food groups combine well.
Friday: Flavor, Vitamins, and a Satisfying Crunch all in one bowl
1/2 cup Cottage Cheese with Calcium and Vitamin D
2 tbsp. Granola
1/2 cup sliced bananas
1/2 cup assorted mixed fresh berries (blueberries, raspberries, blackberries, halved strawberries)
Spoon cottage cheese into small bowl. Top with remaining ingredients.
Saturday: For a slower pace that still has kick
One Large Bell pepper (your choice of green, red, yellow or orange)
Eggs
Slice Peppers to create rings. Spray the bottom of your skillet, and place pepper rings in to sauté. Crack eggs into the center of the pepper rings. Cover until eggs are cooked to your liking.
Try these recipes when you're on the go for a healthy alternative to the drive-through or nothing at all.
Sources: Fitness Magazine, Food.com, Shape.com, Circle of Moms, Kraft Recipes, Apron Strings Blog