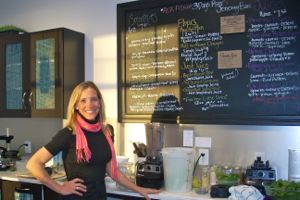 Before you turn up your nose and decide to Supersize, consider giving raw foods a try. Going green (and red, and yellow, and white, and orange) with your diet can boost the immune system and ward off illnesses from the common cold to cancer. Nutrient-rich, and easy to digest, raw foods are turning heads as of late. Jennifer Pohlman, owner of Sip Organic Juice Bar in Grand Rapids is proving that chewing is overrated.
Jennifer opened Sip this month and has created an inviting, and detoxifying, environment within the walls of the cozy juice bar. With menu items like "Purple Rain" and "Strawberry Fields Forever," you know your taste buds are going to get zapped with flavor, and your digestive system will thank you, too.
The idea behind Sip, and what Jennifer has been doing/eating for years, is to provide people with healthy alternatives to the modern world's less than nutritious sustenance. By cutting out toxic-rich, hard-to-stomach foods from the every day diet, bodies use less energy digesting and have more to spend on other things.
"It helps get them through the day really as nature intended," she says.
Jennifer prepares her plant-based juices and smoothies raw, meaning from fridge to juicer/blender to mouth. Cooking food above 115 degrees deteriorates digestive enzymes and nutrients. Produce used at Sip is organic, and locally purchased as much as possible.
Of course making the switch from potato chips to kale chips doesn't come without a few hiccups. Side effects may include a headache (if you're used to a lot of caffeine), aching kidneys (if you're dehydrated), fatigue, and a few extra trips to the bathroom.
Jennifer will host three-day detoxes throughout the year. Learn more about the program here. The next will be March 5-7. She is also hosting a twenty-day program in March to help people ease their way into healthier living.
"It'll be a full-on, complete overhaul," Jennifer says. "You can do amazing things in twenty days."
Learn more about Sip programs and weekly wellness classes on Jennifer's blog.
Each fruit and vegetable has its own enzymes and can be specifically mixed for what's ailing you. Jennifer worked with a woman who was flying frequently and was suffering from water retention. She served up a drink of all-green vegetables to help ease her out of the condition. Antioxidant-rich produce is preventative and healing, Jennifer says. Strengthening the body from the cellular level out, immune systems are ready to fight when something abnormal happens in the body.

Exercising is another piece of the puzzle, especially while on a juice diet. Ingredients in the smoothies and juices help the organs to release toxins. Exercise, specifically sweating, helping to flush the toxins out–with proper hydration of course. Jennifer recommends hot yoga or sitting in a sauna.
"Yoga helps to move the toxins through and flush them. If you don't get them out, they're just swirling around in your system, and they could reabsorb," Jennifer says.
The medical community, and the public in general, is more accepting of eating raw now than when Jennifer started sixteen years ago. She's thrilled to serve customers from their teens to their 80s.
"People are so ready for this," she says.
Written by: Erika Fifelski was born and raised in West Michigan, and after a brief stint on the sunrise side, she's home and loving it. Erika enjoys cooking, sewing, vacuuming, and discovering new ways to live sustainably and support local businesses.