As the warm summer sun shines down on the pristine shores of Lake Michigan, Ludington comes alive with a myriad of activities for visitors to enjoy. This year, the city is also celebrating its 150th sesquicentennial, making it an ideal time to explore and immerse yourself in the rich history and culture of this charming beach town.
Beaches: The highlight of any summer trip to Ludington is undoubtedly its beautiful beaches. Stepping onto the soft, powdery sand and dipping your toes into the crystal-clear waters of Lake Michigan is an experience like no other. Ludington boasts 28-miles of sandy beaches, including the popular Stearns Park Beach, where visitors can relax, swim, sunbathe and build sandcastles to their heart's content. The beach also offers amenities such as playgrounds, picnic areas and volleyball courts, making it a perfect spot for a fun-filled family day out. For more secluded beach experiences, Ludington's "first curve" along M-116 and Butterville Beach south of town are great options.
Dining: After working up an appetite at the beach, visitors can indulge in the diverse dining options that Ludington has to offer. From fresh seafood to farm-to-table cuisine, the city's restaurants cater to all taste buds. Enjoy mouthwatering local fare, or satisfy your sweet tooth with delicious ice cream. And downtown Ludington is also home to two craft breweries, each offering unique brews and menus to match. If dining al-fresco is more your style in the summer months, sidewalk cafes, rooftop bars and decks overlooking the harbor compliment the unique dining options available in Ludington.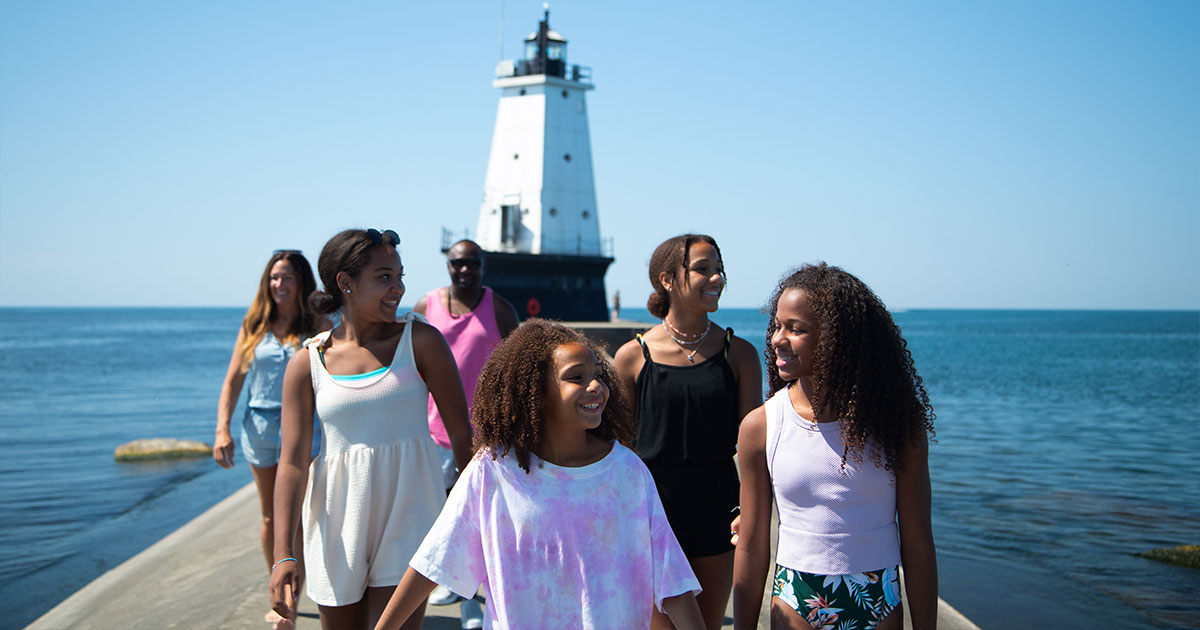 Outdoor Activities: Ludington is a haven for outdoor enthusiasts. With its proximity to Lake Michigan and nearby parks, there are plenty of activities to enjoy. Take a hike or bike ride through the scenic trails of Ludington State Park, which boasts sand dunes, forests and beaches, or go kayaking or paddle boarding on the calm waters of Hamlin Lake. Fishing enthusiasts can also try their luck at catching salmon or trout in the Pere Marquette River, a popular fishing destination. If you're looking to cast a line in "the big lake," experienced charter captains and well-equipped boats provide an exciting fishing experience for both beginners and experienced anglers, making Ludington a prime destination for a thrilling fishing adventure.
Sesquicentennial Celebrations: This year, Ludington is celebrating its 150th sesquicentennial, and visitors can be a part of the festivities! The city has planned a series of events and activities throughout the summer to commemorate this significant milestone, kicking off with Love Ludington Weekend June 9-11. The weekend promises a street party, live music, fireworks, historic tours and more.
Celebrations for the remainder of the year include everything from parades and concerts to historical exhibits and reenactments; there will be something for everyone to enjoy. Visitors can immerse themselves in the rich history of Ludington by taking self-guided tours along the Mason County Cultural Trails, learning about the rich lumbering and maritime history.
Whether you're soaking up the sun on the beach, exploring the city's rich history, or indulging in local cuisine, Ludington promises an unforgettable experience for visitors of all ages. So, pack your bags, head to Ludington and be a part of the city's 150th sesquicentennial celebrations this summer! Start planning your visit at PureLudington.com.
Courtesy of Ludington CVB.
Photo Credit to Brad Reed, Courtesy of Ludington CVB.