Waterfalls, pasties (the meat pie variety), Escanaba in Da Moonlight, the Mighty Mac and, of course, Da Yoopers. If these come to mind when you're thinking about The Great Lakes State's Upper Peninsula, you're not alone. It's famous for them all—and more.
These days, it has one especially meaningful claim: Wide-open spaces.
With 30% of the state's landmass and only 3% of the population, it's one of the few nearby places where physical distancing is not only possible, it's almost inevitable.
As we in The Mitten look for ways to keep travel close to home while avoiding the most bustling tourist spots, we need only think of our state motto: "If you seek a pleasant peninsula, look about you." Let's look about the U.P. and its many breathtaking destinations and rousing outdoor activities.
Once you cross the Mackinac Bridge, I-75 will take you straight into Sault Ste Marie, Michigan's oldest city and home to the Soo Locks on the St. Mary's River. Joining the list of area superlatives, the Soo Locks are the world's largest locking system—a must-see in action. Take in panoramic views of passing freighters and the city from the tallest structure, the Tower of History, or check out the historic downtown on foot. Stick around for a spell or grab some poutine to go. Word is, The Antlers makes a mean one.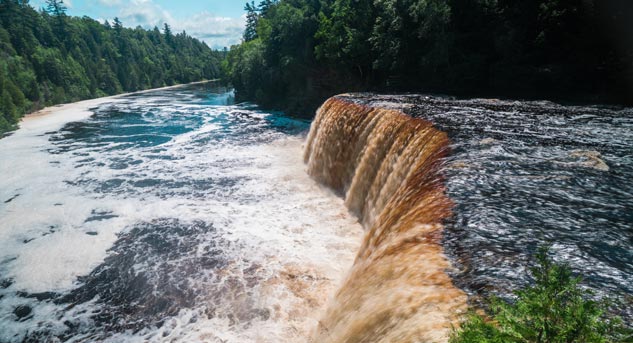 If you head westbound, loosely following the curve of Lake Superior, you'll arrive in Paradise ... And you'll soon discover Tahquamenon Falls, the star of this aptly named community. While the U.P. has nearly 200 waterfalls (the Lower Peninsula has only one!), these falls are arguably the best known. The state park where they reside is roughly 50,000 acres over 13-plus miles, making it easy to find your own uncrowded niche. Explore the magnificent Upper and Lower Falls, hike the trails, and camp for the night—or a couple.
The most-visited attraction in the U.P. is Pictured Rocks National Lakeshore, but don't let that deter you from making this your next stop. Even with thousands of visitors per day, the sheer scope of the territory allows for adequate distance between yourselves and fellow onlookers. You'll travel further west to get there and encounter more than 40 miles of shoreline and oodles of sights along the way, among them Miners Castle and Chapel Rock sandstone formations, abandoned shipwrecks, and the Au Sable Point lighthouse.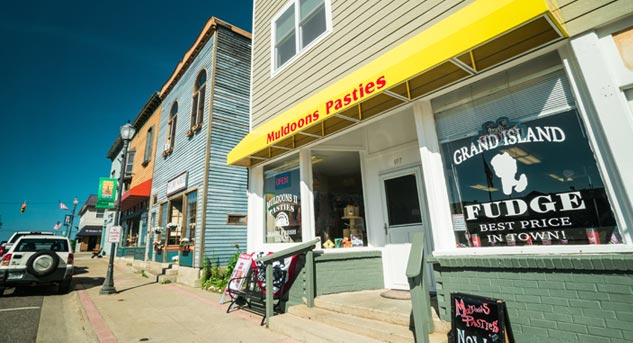 Before you make your way up to the Keweenaw Peninsula, it's important that you stop for a pasty, Michigan's state sandwich. These hand-held meat pies are the ultimate grab-and-go treat! Some of the best are found at Muldoon's in Munising and Lawry's in Marquette.
Stay on M-41, continuing northwest, and you'll land in Copper Country. In the midst of the Keweenaw Peninsula is the spectacularly beautiful Keweenaw National Historic Park, dedicated to the copper industry, along with plenty of beaches, waterfalls, lighthouses, ghost towns, scenic drives, and mines open for tours.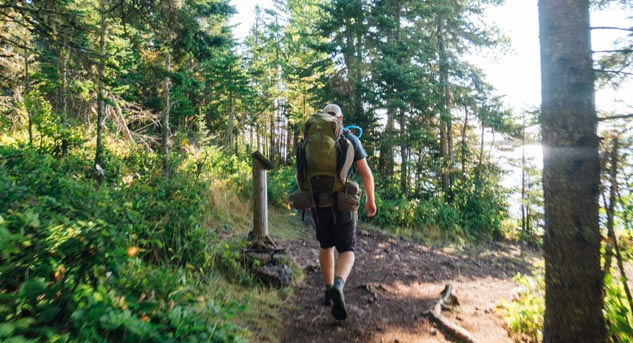 If you're feeling particularly adventurous, schedule a side trip to Isle Royale, off the coast of Copper Harbor at the tip of the peninsula. The least-visited national park in the United States, it promises a true wilderness experience along its 165 miles of hiking trails. Advance reservations are needed for boat or seaplane access to the island, and a permit is needed for overnight camping. Plan ahead!
Your U.P. expedition would be incomplete without venturing down to the Porcupine Mountains, or Porkies, to immerse yourself in roughly 60,000 acres of land, including a 35,000-acre old-growth forest and 90 miles of hiking trails. Rivers and waterfalls punctuate the serene setting, as do other picturesque sites, such as Lake of the Clouds and Presque Isle River corridor.
Whether it's biking, hiking, swimming, sunning, kayaking, canoeing, or simply taking in the scenery by car, the great outdoors is always open.
We Michiganders are lucky to have so much of it a mere skipping stone away.
Allison Kay Bannister, a West Michigan resident since 1987, professional writer since 2002 and GVSU alumna, recently launched her own freelance writing business. Allison enjoys travel, art, dance, food and exploring world cultures—and, of course, writing about all these and more.
This article originally appeared in the Aug/Sept 2020 issue of West Michigan Woman.
Photos courtesy of Pure Michigan.