Spiritual leader and Zen master Thich Nhat Hanh once said, "The present moment is filled with joy and happiness. If you are attentive, you will see it."
Being present doesn't require special equipment and you don't have to go far to experience a mindful retreat. In some cases, you don't even need to leave the comfort of your own living room. These West Michigan and local-adjacent offerings blend the peacefulness of the outdoors with amenities and practices that could bring your group of friends closer—and you more balanced in the now.
Wandering Roots allows you to "choose your own adventure" with laid-back retreats that help you reset and recharge. Half-day, full-day, and weekend retreats are available in Grand Rapids, at the lakeshore, and in Traverse City—with activities ranging from hiking, kayaking, and paddleboarding to yoga and healing ceremonies, along with chef-made meals, bonfires, and personal development workshops. The Wandering Roots team takes care of every detail: Guests need only arrive ready to enjoy themselves on their own terms, in a pressure-free environment with plenty of free time carved out. | yourwanderingroots.com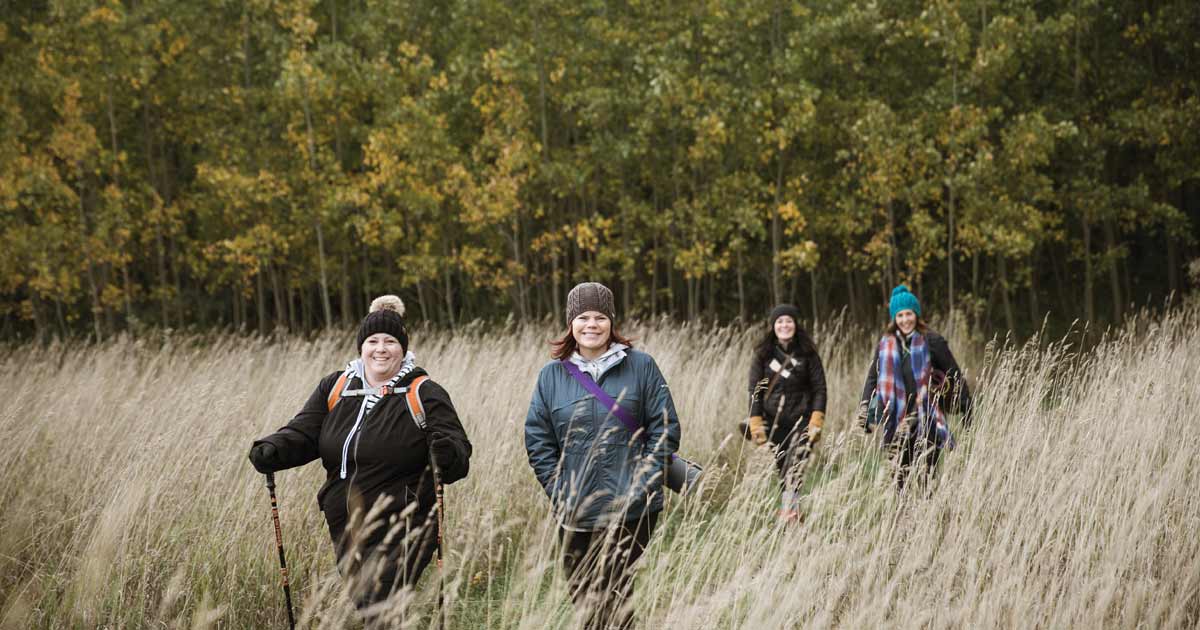 Nature-centered hiking and yoga wellness company Feral Yogi encourages you to "stay wild" through its eco-friendly outdoor events, which include February through October workshops along Michigan's West Coast as well as private sessions and guided retreats. Feral Yogi partners regularly with Wandering Roots and, together, they've created an inventive option for remote participation. Their new virtual mini retreats feature instructional videos and meditations, live-sound healing bowls, and journaling prompts. Combining their expertise, they also give tips for maximizing at-home retreats. | facebook.com/theferalyogi/ | Instagram: @theferalyogi
Situated near the Huron-Manistee National Forests outskirts and nestled between Pickerel and Emerald lakes
—the former not to be confused with that of the same name in Cannonsburg—is Camp Newaygo. In addition to several summer programs, the camp offers a Girlfriends' Getaway Retreat in spring and fall. This weekend escape is an opportunity to explore a variety of interests, with food, lodging and many activities included in the program cost. Go canoeing and kayaking; take a hike; try fencing; play pickleball; get crafty with paints, décor, and more; or simply relax by the campfire. Add-ons include pampering, ziplining and upgraded hotel-like accommodations. | campnewaygo.org
If something more DIY sounds like a breath of fresh air, Morningstar Retreat Center in LeRoy, south of Cadillac, may be the space for you. Amid 135 acres of diverse land encompassing forests, fields, trails, wetlands, gardens, and a meandering creek, the center provides simple cabins suitable for individuals or small groups. Also onsite are a labyrinth and medicine wheel. Throughout the grounds, guests could reconnect with both nature and community while taking a contemplative journey to soothe the body, mind, spirit, and soul. Each of the five cabins has a kitchen and basic supplies; some have electricity and others are more rustic, with kerosene lamps and wood stoves. Retreat facilitation is available, if desired, as is a communal gathering space called The Loft. | morningstarretreatcenter.com
Double JJ Resort in Rothbury is more than a 2,000-acre ranch, golf and waterpark getaway; it also offers horseback riding for all skill levels. Lodging for a weekend or longer comes in all shapes, styles, and sizes, from luxury hotel rooms, suites, and condos, to log homes, cabins, and tent and RV camping sites. Sign up for a trail ride, riding lesson, or cattle drive—or even be a wrangler for a day. Trained staff are there to assist with horse pairing and provide a basic lesson on horsemanship. | doublejj.com
Looking for other ways to engage with the environment, with the moment and with others?
There is an abundance of private, special interest women's recreation groups on Facebook you could request to join, among them GR Hiker Gals, Hikerbabes Community: West Michigan Chapter and West Michigan Cycling Sisters.
Allison Kay Bannister, a West Michigan resident since 1987, professional writer since 2002 and GVSU alumna, recently launched her own freelance writing business. Allison enjoys travel, art, dance, food and exploring world cultures—and, of course, writing about all these and more.
Photos courtesy of Elise Kutt/Mod Bettie Portraits.
This article originally appeared in the June/July 2020 issue of West Michigan Woman.