Tucked between her thumb and index finger, nestled in her palm, scattered along her many lifelines and just outside her grasp in the UP, the Mitten State is filled with unfamiliar spots—waiting to welcome their would-be visitors.
Where will your next unusual adventure take you? These spots are any anything but ordinary!
Out-of-this-World Outdoor Gems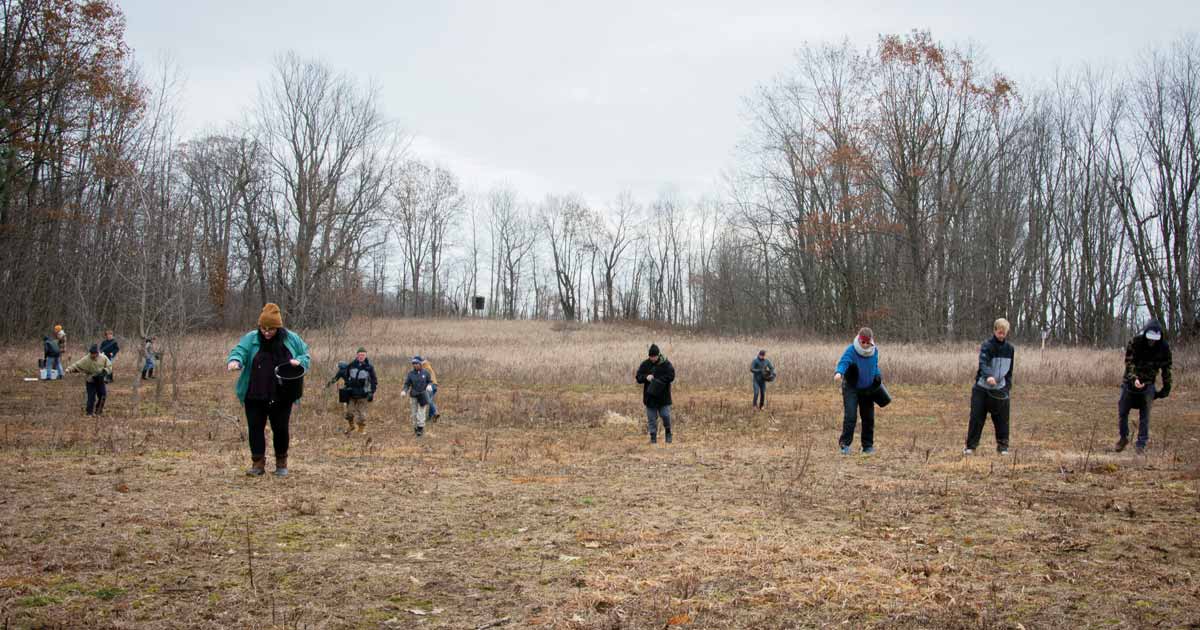 Saul Lake Bog photo courtesy of The Land Conservancy of West Michigan.
East of Rockford is Saul Lake Bog Nature Preserve, a 123-acre sanctuary featuring winding trails among prairies, forests, bogs and fields. Boardwalks and scenic overlooks provide views of wildlife, wetlands, and more. The preserve is as much a haven for flora and fauna as it is for visitors.
Whiting Forest at Dow Gardens in Midland is home to the nation's longest canopy walk, set amid diverse land where wanderers encounter woodlands, meadows, ponds, and streams, and an apple orchard and playground. Also onsite is a café and the Alden B. Dow-designed visitor center.
Further afield but absolutely worth the trek is Kitch-iti-kipi, in Manistique. Named "Mirror of Heaven" by early Native Americans, Michigan's largest spring gushes 10,000 gallons of water a minute. This breathtaking wonder is viewable from the shore or by self-operated observation raft.
Cherry Point Farm and Market in Shelby boasts a glorious herb garden, surrounded by a lovely lavender labyrinth. Though the latter still must be replanted because of 2018's polar vortex, the landmark remains a favorite spot to discover, shop, and enjoy a lunch or pastry.
Mystifying Museums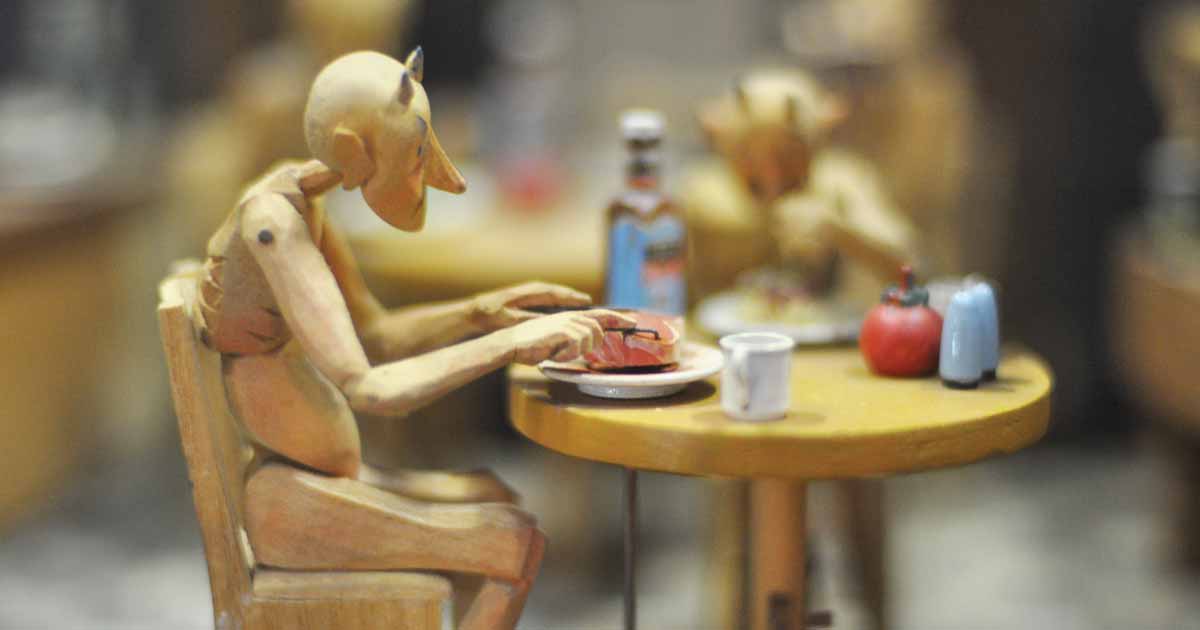 Photo courtesy of Marvin's Marvelous Mechanical Museum.
American Museum of Magic in Marshall houses the largest collection of magic open to the public, with half a million artifacts and memorabilia. Paying homage to Blackstone, Houdini, Thurston, and others, the museum is filled with books, photographs, props, and fascinations.
An extraordinary sensory experience awaits in Farmington Hills at Marvin's Marvelous Mechanical Museum, where vintage coin-operated machines, neon signs, model airplanes, antiques, and collector's items line every wall, corner, and ceiling. It offers free admission and fun, for adults and kids.
Waltz with the macabre at The Anatomy of Death Museum in Mt. Clemens—a tribute to mortality holding everything from coffins and mortician's embalming tools to skeletons, skulls, masks, and trophies. Don't miss the Laid to Rest Antiques and Oddities Shop.
For lighter fare, stop at Dawson and Stevens Classic 50's Diner in Grayling. Part retro soda fountain, part bottle cap museum, it's packed with an awe-inspiring collection of Coca-Cola memorabilia. Dine on a James Dean burger, sip a classic milkshake and take in all things Coke.
Phenomenal Finds
Created by urban environmental artist and ArtPrize veteran Tyree Guyton, the Heidelberg Project in Detroit transforms a once-rundown neighborhood into a massive installation encompassing 22 individual art projects. The world-renowned endeavor draws hundreds of thousands of intrigued onlookers each year.
While strolling around A2, keep an eye out for Ann Arbor's Fairy Doors—tiny portals into a realm where sprites and pixies just might reside. Brought to the city in 2005 by Fairyologist Jonathan B. Wright, the wee doors are found in a variety of sites around town.
In South Lyon is hallowed ground, where retired Service and Military Working Dogs are laid to rest. The Michigan War Dog Memorial commemorates four-legged heroes, many buried with full military honors, through monuments and stories of their dedication and courage.
Charming Cities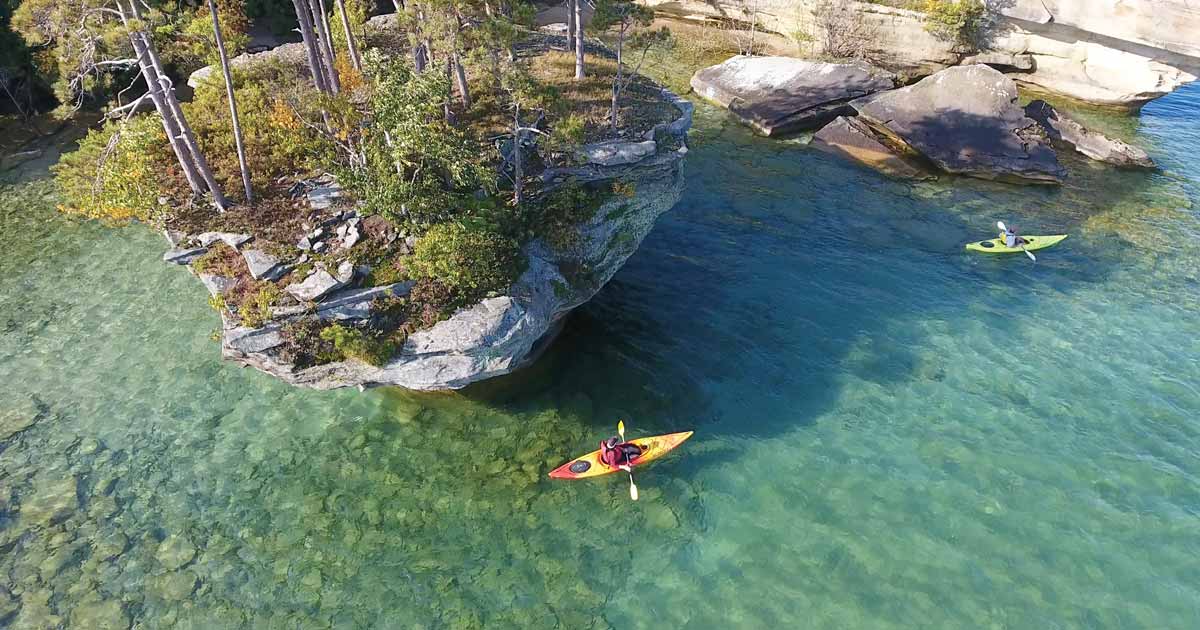 Turnip Rock photo couresty of Justin Schnettler.
On the shores of the St. Clair River north of Detroit, Marine City is a quaint waterfront town with shopping, dining, and entertainment galore—and a place where women-owned businesses thrive. From theaters to restaurants to boutiques, it's a great spot to enjoy a day while supporting our sisters!
Turnip Rock may be the destination many row toward, but its host city and kayakers' launching point Port Austin has much to offer as well. With only mom and pop-owned hotels, scores of eateries from casual to upscale, and a rich arts culture, it's an area for play and stay.
Located about midway between Lansing and Saginaw is Owosso, a small community on the Shiawassee River. While stately Curwood Castle is the most-known draw, Owosso is also popular for its Arts Center, Steam Rail Institute, and live theater performances, in addition to the Curwood Festival each June.
Allison Kay Bannister, a West Michigan resident since 1987, professional writer since 2002 and GVSU alumna, recently launched her own freelance writing business. Allison enjoys travel, art, dance, food and exploring world cultures—and, of course, writing about all these and more.
This article originally appeared in the Feb/Mar 2020 issue of West Michigan Woman.
Main photo courtesy of Heidelberg.