Love the ocean, but jellyfish not so much? Fancy the sensation of swimming in the sea, sans sand in your suit?
Looking for inspiration beyond the shores of Lake Michigan? Pool destinations seem more your speed (or Speedo)—and not just any pool, but an aquatic paradise offering all the pleasures of natural bodies of water with the niceties of manmade ingenuity?
Throughout the United States and beyond are h2o havens featuring everything from waterfalls, mountain views, and marine life encounters, to slides, rides, and surf simulators.
GROWNUP GETAWAYS
None of these hot spots are exclusively adults-only, yet they appeal more to those with peace, tranquility and life's finer things in mind.
The Tank at Golden Nugget Las Vegas epitomizes the extravagance of the Entertainment Capital of the World. The three-story complex boasts a 30-foot waterslide that plunges swimmers through a 200,000-gallon shark tank aquarium—as if a win at the blackjack table weren't exhilarating enough! For those seeking a bit more serenity, there's the 21-and-over Hideout rooftop infinity pool and waterfalls throughout, to wash the day's cares away.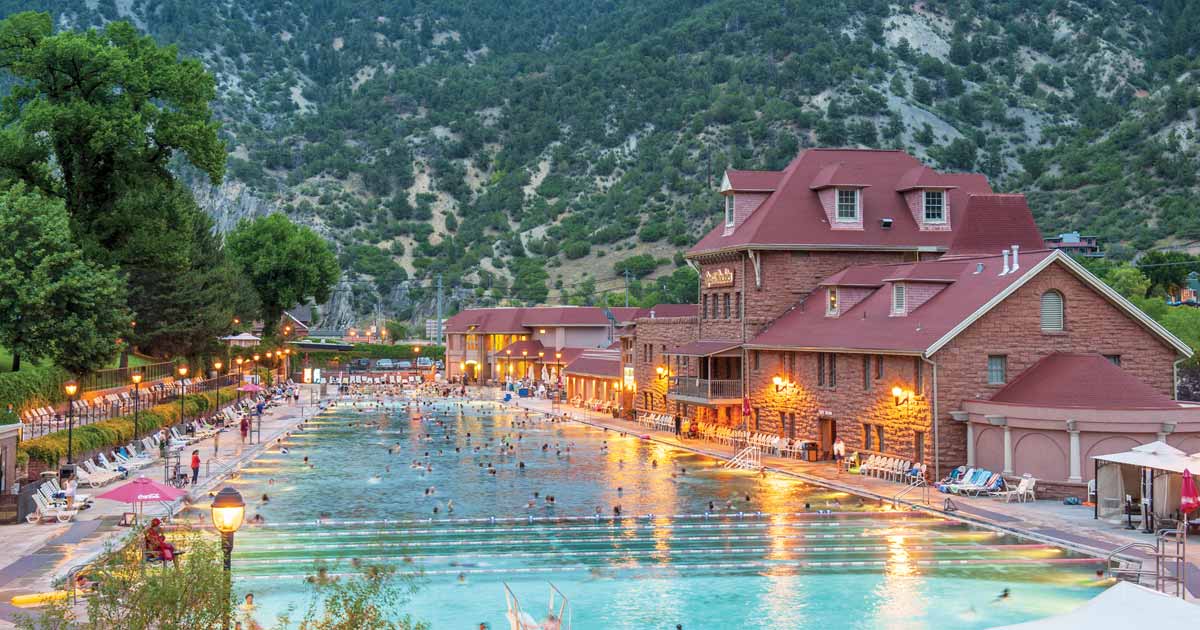 Photo courtesy of Glenwood Hot Springs.
With the Rockies as the backdrop and the Yampah Springs as its life force, Glenwood Hot Springs in Colorado is the ultimate in full-body renewal experiences. Imagine submerging in the world's largest hot springs pool, filled with 3.5 million gallons of water and fortified with 15 minerals. On site are a smaller, warmer therapy pool and a larger, more temperate lap pool that measures two city blocks. The resort is also home to Spa of the Rockies, specializing in healing hydrotherapy.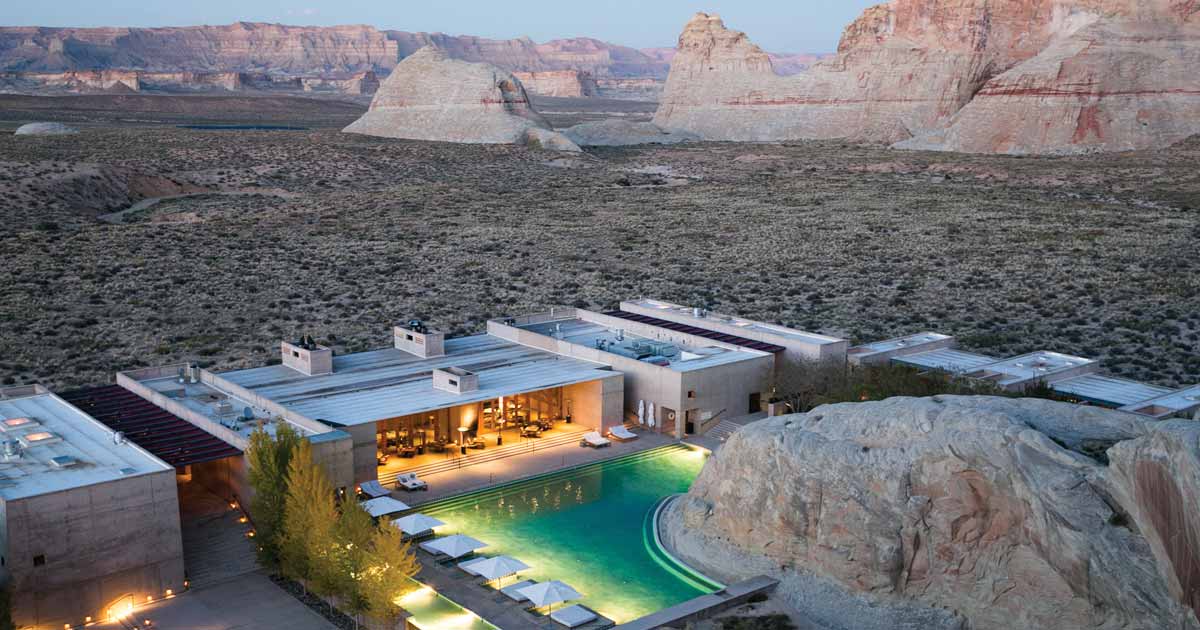 Photo courtesy of Aman.
Aman, a top luxury hotel brand, has locations around the world. But you don't have to travel far to bask and bathe in its lush accommodations. Amangani, nestled amid the Grand Tetons in Jackson Hole, Wyoming, features a 35-meter infinity pool and adjacent Jacuzzi—both heated year-round—where guests could take in stunning mountain views while soaking up restorative waters.
Those preferring a desert setting will find it at Amangiri in Canyon Point, Utah. Encircling a 160-million-year-old rock escarpment with the main swimming pool as its focal point, the resort offers breathtaking glimpses of starry skies and Grand Staircase Escalante National Monument. Within the spa, more immersion opportunities await on the floatation therapy pavilion, cold plunge pool, step pool and water pavilion with sauna.
KID-APPROVED ADVENTURES
Kalahari Resort may sound a continent away, but its Sandusky location is right in your back yard. Well, almost! Ohio's largest indoor waterpark resides inside, with a host of attractions: mermaid/man classes, waterslides galore, flowrider lessons, races, games and special areas for the little ones. Themed cabanas are available to rent and other options for parental placidity include indoor and outdoor spas and the Lazy River—a winding, relaxing tube float.
If anything could put the Oh! in Orlando, Florida, it would be Universal's Volcano Bay™. With the 200-foot Krakatau volcano as its centerpiece, this water theme park is a family vacation oasis. Climb to the top and ride one of four slides—from whimsical to daring—down to the crystal waters of Wave Village. Enjoy the wave pool and a calmer leisure pool, and thrill rides, play areas, and more at Rainforest Village and River Village, as well as a zero-entry pool for chilling out.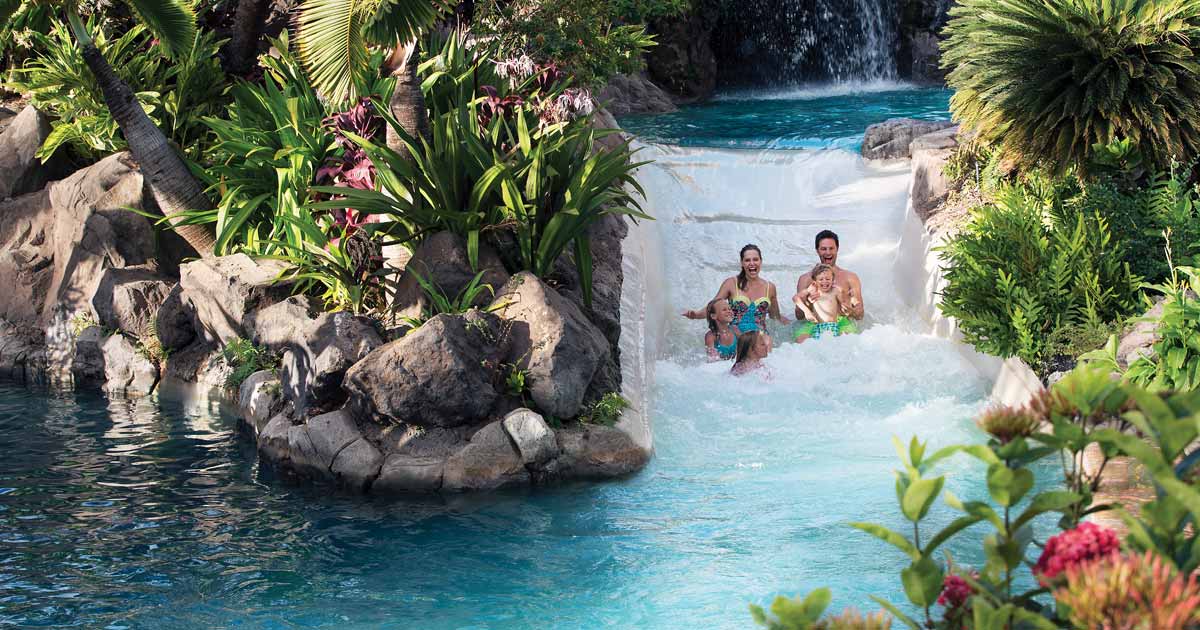 Photo courtesy of Grand Wailea.
Steal away to Grand Wailea on Maui, Hawaii, for an unforgettable water-filled escape. Nine interconnected pools invite littles and bigs alike to swim though waterfalls, swing from a rope, ride the rapids, careen down meandering waterslides, or even take a water elevator up the inside of a volcano. For parents are the Hibiscus Pool—reserved for those 18 or older—and three Jacuzzis, a swim-up bar, and pool scuba lessons for first-time divers.
Atlantis, on Paradise Island, Bahamas, appeals as much to couples as to families, making it a great crossover destination. The Cove is a multilevel, adults-only pool featuring live DJ entertainment, outdoor gaming and cozy poolside daybeds. Ten additional pools are open to families, including three designed specifically for children. From lap and fitness pools to those reminiscent of ancient baths, you'll find places for playing, lazing, drifting, and gazing.
Whether you're a cannonballer or a toe-dipper, these pool destinations will leave you drenched in delight.
Allison Kay Bannister, a West Michigan resident since 1987, professional writer since 2002 and GVSU alumna, recently launched her own freelance writing business. Allison enjoys travel, art, dance, food and exploring world cultures—and, of course, writing about all these and more.
This article originally appeared in the December/January 2019 issue of West Michigan Woman.
Main photo courtesy of Atlantis, Paradise Island.