Ah, the staycation—the perfect solution for the budget-conscious, time-sapped, hassle-weary and local-loyal. Whatever your reason for keeping close to home, we've uncovered a host of hidden gems to add to your itinerary.

Photo courtesy of Saugatuck Retro Resort.

Southwest Sensations
Go back in time at the Saugatuck Retro Resort. This quaint hotel, reminiscent of the roadside motels of yesteryear, has all the amenities today's travelers desire. Take in some sun and a dip in the pool or drive five minutes to Saugatuck/Douglas for shopping, dining and gallery exploring.
The 24,000-foot Saugatuck Antique Pavilion delights collectors and spectators alike with booth upon booth of vintage furniture and housewares; bygone-era toys, jewelry and clothing; and more. When you're antiqued out, wander next door to Saugatuck Brewing Company for a bevvie and a bite.
For a more modern feel, stop by ROAN & BLACK on Blue Star Highway in Saugatuck. With the collection of works by artists and sculptors from across the U.S. to furniture and gifts to the sculpture garden, this must-visit space—and its friendly owners—welcomes you to a distinctly different art experience.
Not far from the lakeshore, in Fennville, is Salt of the Earth. A rustic American eatery amid farm and orchard country, it serves locally sourced from-scratch meals, artisan breads, and a variety of Michigan beers, wines, ciders and spirits. Sundays from Labor Day through Memorial Day, the venue features live music.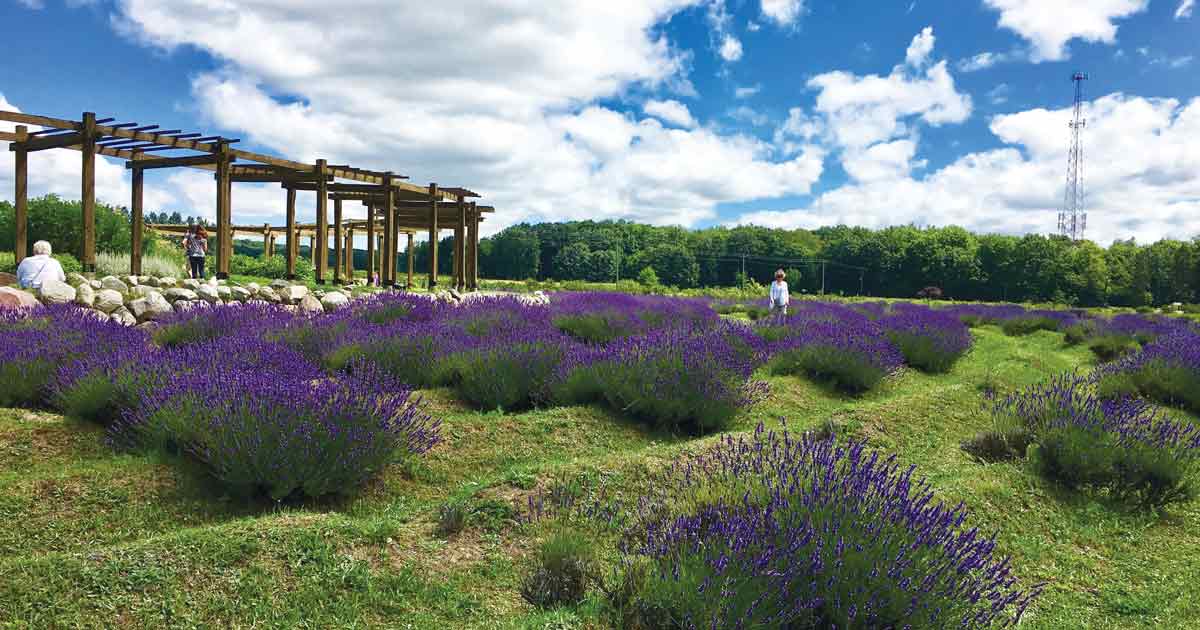 Photo courtesy of Allison Kay Bannister.

West Coast Wonders
An honest-to-goodness meal is yours to be had at Righteous Cuisine in Grand Haven. Taco-bout a treat! Using ingredients from local farms and farmers' markets, Mexican and barbecue cuisine is handcrafted with fun and flair. Look for the food truck around town and visit the Lakes Mall satellite location.
Though not quite glamping, Muskegon State Park Yurt is the next best thing. This circular, elevated, wood-framed tent is furnished with two bunkbeds, a seating area and a wood-burning stove. The firepit outside and nearby trail network and Winter Sports Complex make this an ideal year-round escape for nature lovers.
Stir your senses at Cherry Point Farm in Shelby. One of the oldest operating farms in Oceana County, it features a mesmerizing lavender labyrinth encircling a lush herb garden. Weave through rows of lavender; shop the market for baked goods, preserves, and souvenirs; break for lunch or Tuesday Tea.
Red Lotus Center for the Arts wants you to know "Your Search for Art Is Over." Created as a cultural haven for the Muskegon community, the space offers regular exhibitions, handmade art and gifts, workshops and adult open mic opportunities. Display, create, perform and explore—all in one place.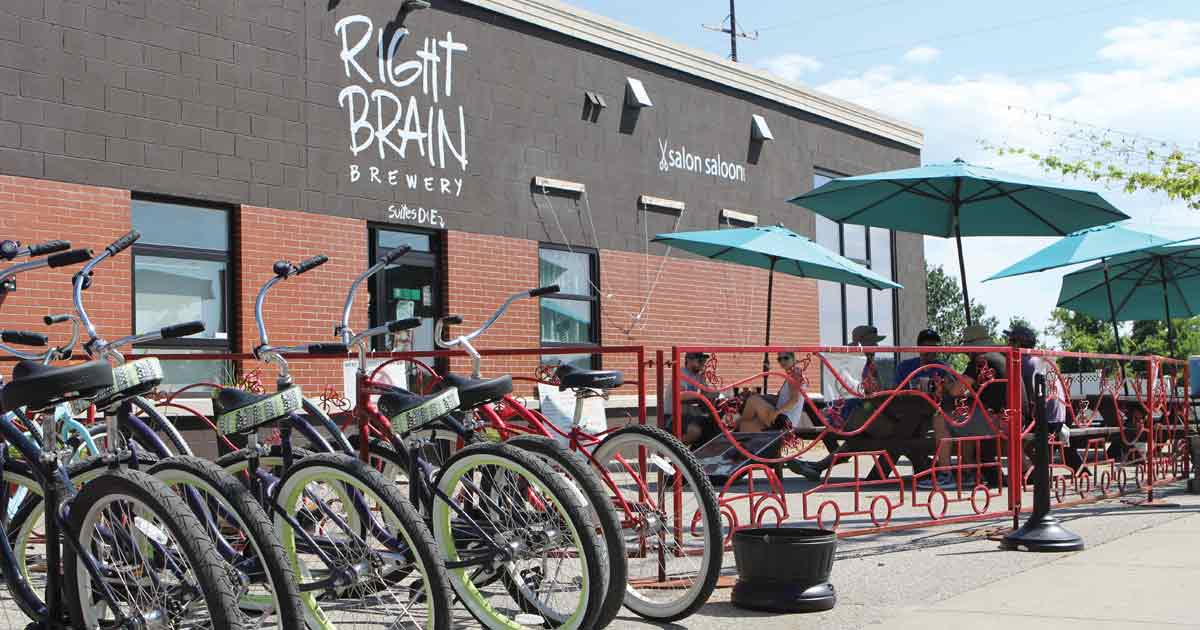 Photo courtesy of Right Brain Brewery.

Northwest Novelties
Indulge in luxury in the three-story, 8,000-square-foot Dempsey Manor Bed & Breakfast—a 19th-century mansion in Manistee's Victorian district. This award-winning specialty inn wows guests with stunning architecture; period furniture, artwork and décor; finely appointed parlors and guest rooms; and unforgettable cuisine.
Once a 640-acre fruit farm, Douglas Valley Winery has emerged as a thriving vineyard community in Manistee. Visit the tasting house where a variety of wines (Bunkhouse Blue is our pick) and hard ciders await sampling, along with live music Sunday afternoons through September. It also has a tasting room downtown.
Whether you have a passion for visual, performing, culinary or literary arts, Oliver Art Center in Frankfort has your number. The primary community art center in Benzie County offers a diversity of workshops and classes for adults, children and families, and hosts exhibitions and events throughout the year.
Situated in an unassuming neighborhood south of Traverse City's main drag is Right Brain Brewery. They "Keep Beer Curious" with boundary-pushing ingredients like asparagus, lavender and Thai spices, as well as a selection to please hopheads and lager lovers. With nearly 40 beers on tap, it's a favorite among locals and visitors.
Slightly off the tourists' path in Traverse City is Pâtisserie Amie. This cozy bistro whisks you away to Paris with its fine French fare, specialty coffees and charming atmosphere. The bistro serves brunch daily and dinner on the weekends—and leaves diners raving about the exquisite cuisine. Fantastique! Délicieux! Sans précédent!
All over West Michigan and the coastline are finds that have swayed us to stay. Won't you, for your next holiday?
Allison Kay Bannister, a West Michigan resident since 1987, professional writer since 2002 and GVSU alumna, recently launched her own freelance writing business. Allison enjoys travel, art, dance, food and exploring world cultures—and, of course, writing about all these and more.
Main photo courtesy of Saugatuck Retro Resort.