The phrase "Sisterhood is Powerful" was first coined in 1968.
Fifty years later, 2018 is seeing a sisterhood renaissance and is poised to live out its prophesy as "The Year of the Woman."
What better way to celebrate this wave of women's empowerment than through inspiring stories of feminine courage, resilience, ambition and success—onstage, under the bright lights of Broadway in Chicago and New York City! Enjoy these best picks to help you plan a girlfriends' getaway overflowing with girl power.
A Blast in the Windy City
In a fairly short drive or a more leisurely train ride, you and your girlfriends could be strolling the streets of Chicago for a day trip or weekend getaway. Shows playing this summer that will spark your feminine spirit include The Cher Show, Waitress and The Color Purple.
The Cher Show tells the life story of Cher: songstress, fashion icon, embodiment of personal reinvention. Beforehand, shop The Magnificent Mile for a glamourous look or bring out your inner goddesses with a massage, facial or mani-pedi at one of the many area spas and salons.
Love a feel-good story filled with courage, friendship and renewal? You'll adore Waitress, featuring the uplifting music of Sara Bareilles. Afterward, indulge in a classic dessert from Magnolia Bakery, known for its vintage charm and fresh baked goods—including pies!
Immerse yourselves in the Tony Award®-winning revival of The Color Purple and its rousing score of jazz, ragtime, gospel and blues—then continue your evening at one of Chicago's famous jazz clubs. Andy's Jazz Club and The Jazz Showcase are near the theater district; a bit further afield is Green Mill Cocktail Lounge.
For an extra treat: Broadway In Chicago offers suite services at some theater locations, which you could add when purchasing your tickets.
Good Times in Times Square
After a short plane ride from Gerald R. Ford International Airport, you and your girl gang could be among the neon signs and bustling avenues of The Great White Way. This summer, more than 100 shows will play on and off Broadway. West Michigan Woman connections in the city helped us narrow down the most girl power-infused shows and activities.
Beautiful: The Carole King Musical tells the true story of Carole King's journey to musical stardom and features some of her most-loved tunes. To further explore artistic passion, visit Brooklyn Museum, housing the Elizabeth A. Sackler Center for Feminist Art.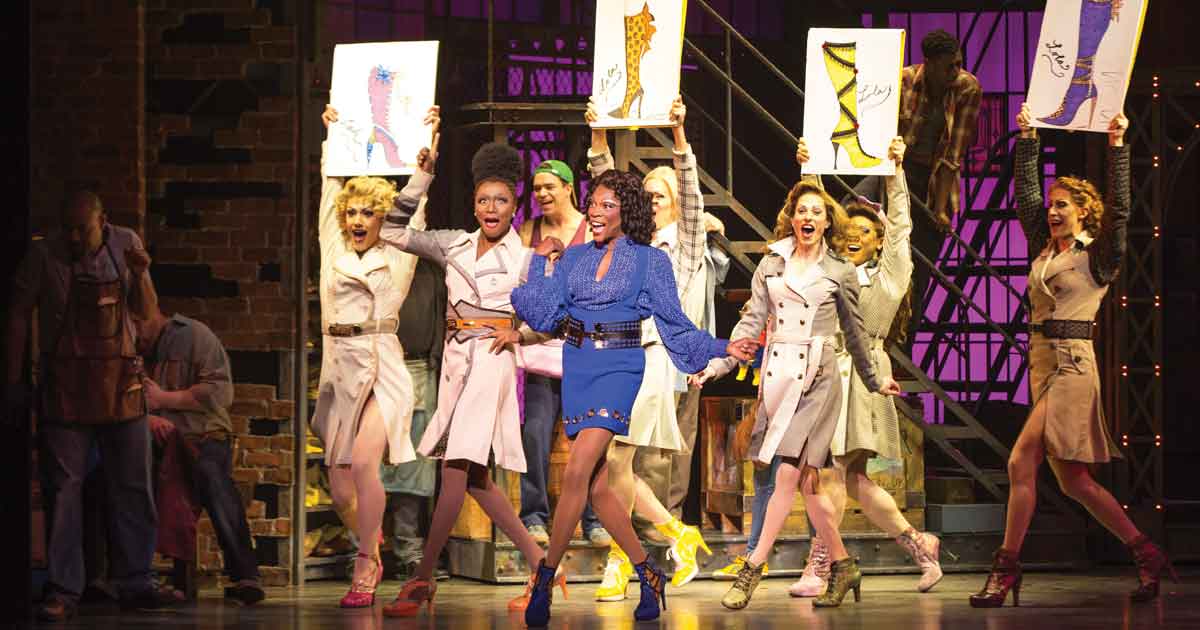 To conquer the Big Apple, you'll need the right shoes—or maybe some Kinky Boots. This story of an unexpected partnership and even more surprising business outcome will out a little spring your step. Then strut over to the Lower East Side and Blue Stockings bookstore, which stocks more than 6,000 titles on feminism, gender studies and more—and frequently hosts workshops, readings and films.
Looking for enchantment? Known for mighty and magical leading ladies and dynamic musical numbers, Wicked has become a favorite among female audiences. As part of your adventure, get in touch with your spiritual side at the A Women's Moon Circle workshop hosted by Flower Power Herbs and Roots. Or enjoy the Wicked Behind the Emerald Curtain experience and peek into the making of this popular performance.
Fame? Fortune? Glitz? Glamour? Chicago has all that jazz! If the musical's show-stopping performances leave you feeling moved, you'll want to try out the A 5678! Workshop from Broadway Inbound. Designed for groups of 20 or more, it teaches choreographies from past and current Broadway productions.
New to Broadway this year is Disney's Frozen. A fairytale with a twist, it's an endearing story of self-discovery and the harnessing of power. Want to discover your own strength within? Female Awareness, in the Chelsea area, offers a one-time, two-hour self-defense course aimed at helping women become more aware and prepared to handle situations that might arise in daily life.
Whether you attend one show or take in a few over a long weekend, these shows and activities will leave you and your girlfriends energized, elevated and thoroughly entertained.
Allison Kay Bannister, a West Michigan resident since 1987, professional writer since 2002 and GVSU alumna, recently launched her own freelance writing business. Allison enjoys travel, art, dance, food and exploring world cultures—and, of course, writing about all these and more.
Photos courtesy of Matthew Murphy.