Grand Haven, Michigan, is turning pink.
Little Pink Houses of Hope is coming.
Little Pink Houses of Hope is a nonprofit organization that promotes breast cancer recovery, offering opportunities for breast cancer patients and their families to reconnect and celebrate life through free, weeklong vacations.
"I was diagnosed when I was 39 and was lucky enough to be going to the beach the next day with my family," said Jeanine Patten-Coble, founder, president and executive director of Little Pink Houses of Hope.
"I went for a walk—actually for a run—trying to clear my head, trying to figure out how to tell my 11-year-old-son I had cancer, and I came across this compound of abandoned houses."
Abandoned by the Coast Guard five years earlier, the 23 houses were not only in decent shape, they were oceanfront.
"As I was running away, I was struck with a very strong calling to create a place like this for cancer families to be able to come. That moment, that run, created the vision for Little Pink Houses of Hope."
Jeanine and her family had been vacationing in Buxton, North Carolina, for 15 years. That year, it became a place where they could reconnect, get stronger as a family and prepare for the pending cancer treatments. She wanted to provide the same opportunity for other families.
Seven years later, Little Pink Houses of Hope has grown to offer 13 retreats across eight states: Alabama, Arizona, California, Florida, Maryland, North Carolina, South Carolina and the U.S. Virgin Islands.
"We choose vacation destinations," Jeanine said.
Grand Haven is Little Pink Houses of Hope's 14th retreat and ninth state—the organization's first Midwest location.
"It takes one person who is able to see their community and say, 'Little Pink Houses of Hope would thrive in this community. Our community would support them, surround them, embrace them.' That's exactly what Grand Haven has done. It really was the power of one person saying yes."
That one person was Kristi Prince.
Kristi and Jeanine were childhood friends, and Kristi had followed Jeanine's story closely. When Kristi and her son volunteered at a Little Pink Houses of Hope retreat in Lake Tahoe, California, she knew Grand Haven was the perfect location for a retreat.
"I've lived here for 20 years now, and Grand Haven is a very close-knit community," Kristi said. "We're a tourist town that goes from 20,000 people during the winter to 80,000 on different weekends in the summer. We have one of the top five small-town beaches. This is a great place for people to come and relax. This close-knit community can engulf these families with love and care."
Each retreat hosts 11 families or couples and is designed to help them relax, reconnect and rejuvenate. Little Pink Houses of Hope eliminates the needs for families to budget, pre-plan and save; families are provided with a private house for the week, a fully stocked refrigerator and a schedule of daily activities ranging from concerts to kayaking.
The Grand Haven retreat is scheduled for September 9 – September 15, 2018.
"It's a lot of ideas, at this point," Kristi said, adding that fishing, boating, kayaking, trolley rides around town and more are all likely to be included on the itinerary.
A nonprofit organization driven by private donations, the Little Pink Houses of Hope Grand Haven retreat is in need of donations and volunteers.
"There are so many different roles people can play with this," Kristi said. "I would love for as many people to be involved in this as possible. Show the love and support and encouragement this community is about to other people."
Companies and individuals interested in learning more and donating time, talent and resources can visit Little Pink Grand Haven, MI Community's Facebook page, e-mail Kristi at [email protected], or fill out a volunteer form on Little Pink Houses of Hope's website littlepink.org.
Families affected by breast cancer who are interested in a vacation in Grand Haven or another Little Pink Houses of Hope destination may apply online at littlepink.org/retreatapplication.
"We're so excited we're going to be coming to Grand Haven," Jeanine said.
Written by Cassie Westrate, staff writer for West Michigan Woman.
Photos Courtesy of Little Pink Houses of Hope.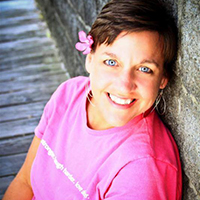 Jeanine Patten-Coble, founder, president and executive director of Little Pink Houses of Hope.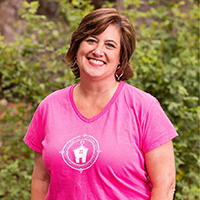 Kristi Prince of Little Pink Houses of Hope.