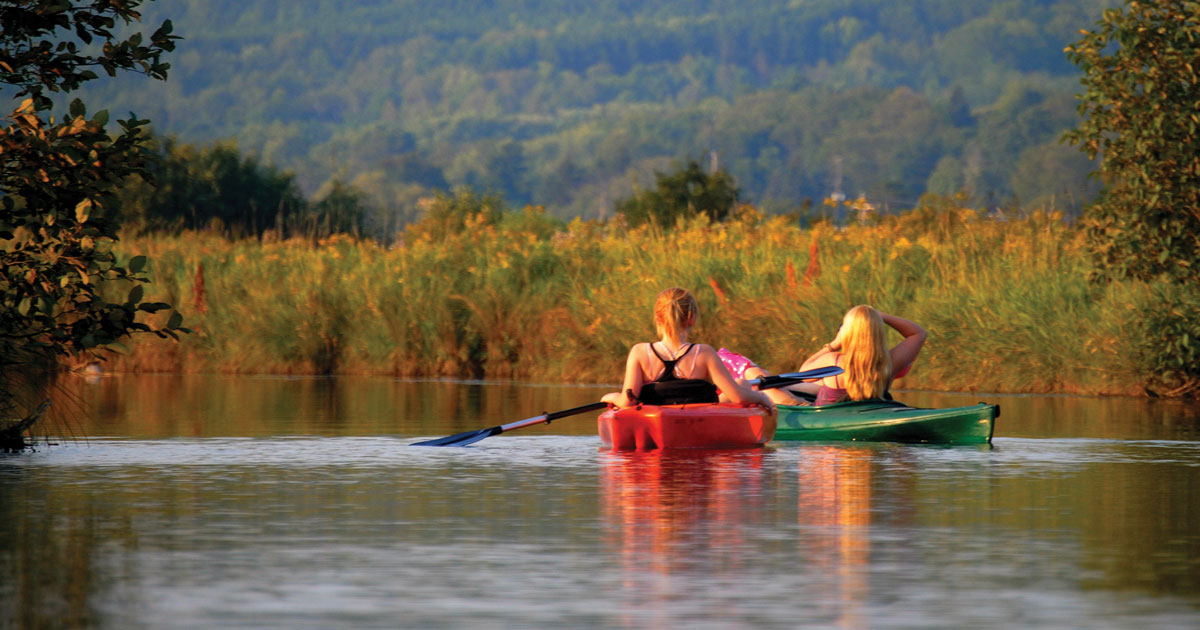 Every year at this time, the cooler weather and vivid colors of Michigan's changing seasons beckon us northward.
It's here that we can trek through serene wilderness, experience Northern Michigan's waterways, and discover artisan treasures among delightful lakefront towns. And there's no better way to celebrate the beauty of "Up North" than with these top harbingers of fall.
Eats & Treats
Head to Charlevoix for Apple Fest, October 9-11. Stay the entire weekend to soak up the charms of this waterside town, and be sure to visit French Renaissance-style Castle Farms and the fairy-tale Earl Young Mushroom Houses, only found here.
Make Grand Traverse Resort and Spa your home base and take in Northern Michigan's dazzling fall colors with hikes on Sleeping Bear Dunes or while golfing The Bear. On October 10, the resort hosts Bell's Beer Dinner as part of a weekend-long event. Craft beers and ales from renowned Bell's Brewery are paired with delicious cuisine in the resort's Aerie Restaurant & Lounge. Enjoy beautiful panoramas of Grand Traverse Bay while dining at this deliciously memorable event.




Wilderness & Waterways
Kayak or canoe along the crystal waters of the Jordan River, Michigan's first river officially designated as "wild and scenic." Particularly beautiful in the fall, it meanders past forest of maple, aspen, cedar, and birch in picturesque Jordan Valley. Pack a picnic lunch and pull up at any point along the route to take in the valley's untouched beauty.
For the more adventurous spirit, visit Petoskey's Bear River Whitewater Park. This secret "Up North" gem is tucked in the heart of its namesake recreation area spanning 36 acres of natural forestland. The whitewater rapids flow beneath steep forested bluffs, at times transforming into Class III-IV rapids as the water rushes into Little Traverse Bay.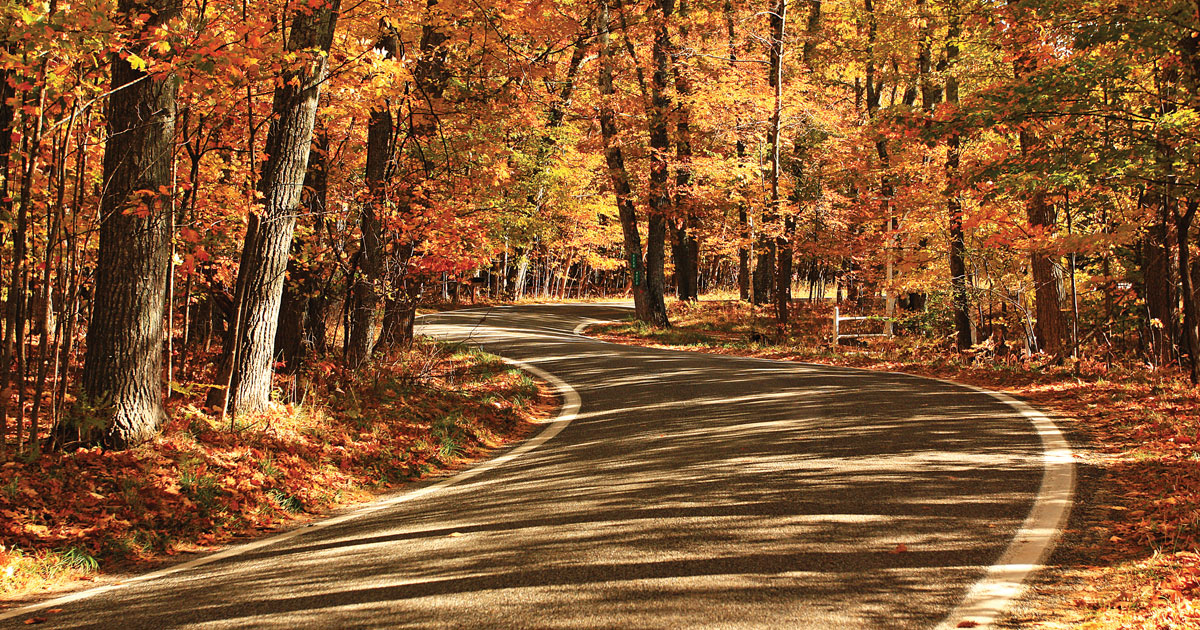 Photo courtesy of Harbor Springs Chamber of Commerce.

Color & More Color
Enjoy old-world charm and breathtaking scenery with a fall visit to Mackinac Island. In addition to hiking and biking, you can take in the showcase of brilliant autumn colors on a horse-drawn carriage ride or a sunset sail along the beautiful Straits of Mackinac.
Richly colored leaves drift down from the canopy of autumn foliage overhead when you ride along M-119's famous "Tunnel of Trees." Starting in downtown Harbor Springs, drive or bike north to Cross Village, all the while admiring the flaming hues of hardwoods that arc over the road. As you take the curves—some hairpins—along this 27-mile Northern Michigan route, you'll witness rolling farmland, dramatic Lake Michigan vistas, and, above all, glorious fall colors.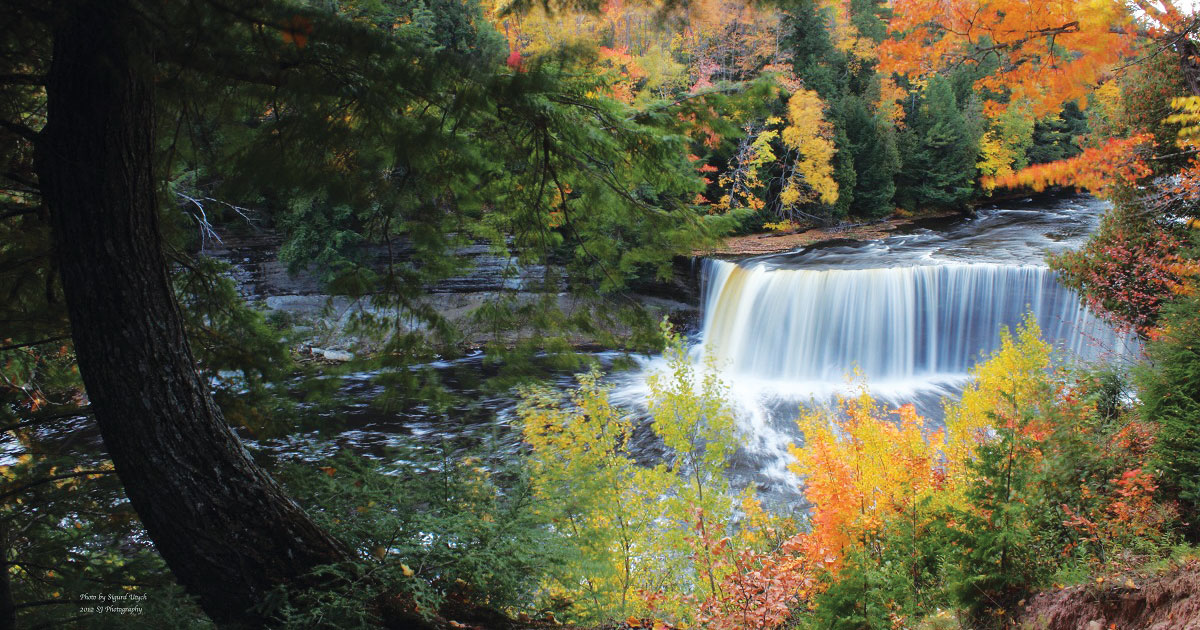 Photo courtesy of Sigurd Utych.

Fall Nights & Waterfalls
Pull an all-nighter at Emmet County's Headlands International Dark Sky Park. The park sits on the forty-fifth parallel, providing some of the best celestial vistas in the state. Visit September 27 and 28 for a celestial-eye view of the Harvest Moon Eclipse.
Journey to Paradise in Michigan's Upper Peninsula and visit Tahquamenon Falls State Park. Walk among the giant cedars and glowing autumn hues of old-growth forest. Best of all, witness the park's amber-color Tahquamenon Falls, the largest waterfall east of the Mississippi. On September 26, visitors can enjoy views of the Upper and Lower Falls when participating in the annual five-mile "Hike Between Da Falls."
Written by Holly Bowne, a freelance writer specializing in travel, health and wellness, and parenting. An avid traveler, she enjoys pretending to be a professional photographer when journeying with her family across the globe and around the great state of Michigan. She also writes content marketing for businesses. Learn more about her at www.hollybowne.com.