What do A.K. RIKKS, Bottega Salon, Lake Eastbrook Family Dentistry, The Leslie Studio, The Skye Group, and Urban Massage have in common? They all are part of the West Michigan Woman Shelley Irwin makeover cover story in June, they all are local businesses, they all are outstanding at what they do, and they all have West Michigan flair and style! We'd like to thank our partners and sponsors, without whom the makeover would not have been possible.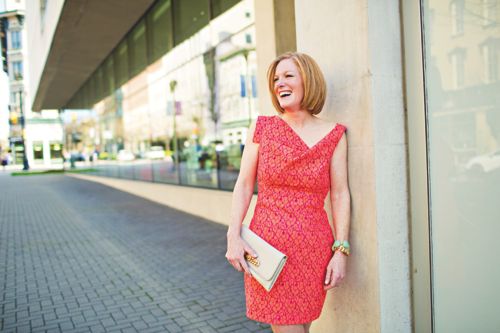 A.K. RIKKS: Making GR More Fashionable, One Makeover at a Time
West Michigan Woman was honored to work with A.K. RIKKS of Grand Rapids for the Shelley Irwin makeover. The boutique's stellar retail wardrobe consultation and professional on-site session resulted in Shelley Irwin being outfitted in a chic, colorful, flattering wardrobe—complete with accessories—for the photo shoot and magazine spread. "Our personal shoppers know the clothes we sell like the back of their hand. After meeting Shelley, they chose clothing that would flatter her best, while also appealing to her personality and personal preferences in order to ensure she felt comfortable and confident in the clothing," said Kendra Clapp Olguin of A.K. RIKKS.
Did you like how Shelley looked? You could look that good, too! Step inside a world of modern glamour at A.K. RIKKS, located on 28th Street SE in Grand Rapids. Or click here to check out the boutique's website, and tease your senses before you go.
Call 616-957-3242 to set up your own consultation, and ask for any of the personal shoppers. Walk-ins are welcome! (p.s. Men can shop here, too!)
Bottega Salon: You Deserve to be Pampered Like This
Ever have that dream that you're weightlessly sinking into a cloud, without a care in the world? Make your dreams come true at Bottega Salon! The establishment offers a full line of professional hair services and products, and all of the beauty essentials—from pedicures to professional products and everything in between. When you walk into Bottega, you will never want to wake up.
Shelley Irwin is still living the dream after her many treatments at Bottega Salon. To complete her makeover, Shelley received hair coloring and styling, a mani/pedi to die for, sugaring hair removal treatments, and a massage that left her on Cloud 9.
We at West Michigan Woman consider Shelley Irwin is a celebrity. But you don't have to be famous to get special treatment at Bottega (although when you leave you'll feel like a rock star). Get your head in the clouds today and schedule your very own relaxation makeover. Visit BottegaSalon.com or call 616-235-3323 and ask for Kelly Dailey. Bottega Salon is located at 820 Monroe Ave NW, Suite 222, in Grand Rapids.
Kelly Braman Photography: Point. Shoot. Perfection.
The lights, the camera, and the action of the Shelley Irwin makeover was all captured by the lens of Kelly Braman, owner of Kelly Braman Photography. Kelly's understanding of the mind and soul enable her to imprint emotions via photography. Anyone who knows Shelley knows that she is full of life, and if you've seen the photos in the June cover spread, you know they practically jump off the page. Fun fact: Kelly has shot every cover for West Michigan Woman since the magazine launched in August 2012!
Gather up your moments, memories, and emotions in a photo album when you work with Kelly Braman. Visit her website to learn more (and to preview some of her amazing work). Kelly works with families across West Michigan. Get in touch with her today!
Lake Eastbrook Family Dentistry: Wider, Whiter Smile
At Lake Eastbrook Family Dentistry, patient-centered comprehensive dental care meets preventative, restorative, cosmetic magic. Performing a wide range of cosmetic dental services, from fillings to teeth whitening, Lake Eastbrook Family Dentistry is ready to give your mouth a makeover.
Speaking of makeovers, West Michigan Woman was smiling ear to ear at the chance to work with Lake Eastbrook Family Dentistry for the one Shelley Irwin received. The office provided teeth whitening services for Shelley, to ensure a dazzling smile in each and every photo of the magazine spread. And doesn't she look happy?
Smile so much it hurts after your own teeth whitening treatment. Call Lake Eastbrook Family Dentistry at 616-942-9891, or visit them online, to request an appointment. Lake Eastbrook Family Dentistry is located at 3521 Lake Eastbrook Blvd SE in Grand Rapids.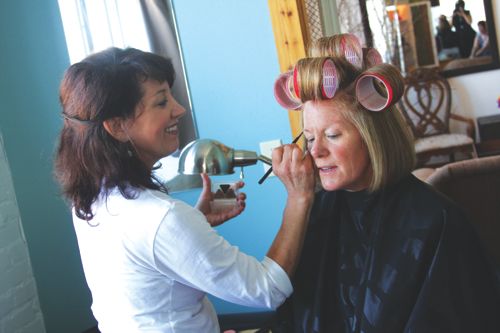 The Leslie Studio: Let Your True Light Shine
Take a good look at your wardrobe and makeup collection. If the words "monotone," "outdated," or just "blah" come to mind, it's time to call Mary Leslie of The Leslie Studio. Mary believes what we wear on the outside should not just keep pace with the current trends, but rather represent the person underneath. And have you seen Shelley Irwin lately? She exudes confidence and radiates happiness: the qualities hiding within that Mary helped coax out during the Shelley Irwin makeover.
Thanks to Mary's style consultation, closet consultation, cosmetic and skincare makeover, and personal shopping services, the gaps in Shelley's closet and makeup bag are filled, and the rest of us get to experience the real Shelley, from the inside out.
If you'd like to let your light shine, visit The Leslie Studio website or call 616-942-9322. The Leslie Studio is located at 3535 Lake Eastbrook Blvd. in Grand Rapids.
The Skye Group: It's All About Who You Know
If women had a nickel for each time they thought, "If you want something done, you've got to do it yourself," there would be no doubt who the primary earners in America are. And while we often take on everything, all the time, know that you don't have to do it alone.
Deidra McClelland of The Skye Group networks, connects, and dreams big to help clients achieve their visions and business objectives by using creative ideas. Deidra was the instigator of the Shelley Irwin makeover, and West Michigan Woman's right-hand woman from the very first stages to the big reveal.
Are you ready to take your career to the next level? Your first step is calling Deidra. Go to The Skye Group's website, Facebook page, Twitter, or Pinterest, or do it the old-fashioned way: Call 616-551-3087 and ask for Deidra. She is also available by e-mail.
Urban Massage: In Good Hands
What's the one thing all working women have in common? Stress. And Shelley Irwin, though she bounces joyfully from one place to the next, is no exception. That's why West Michigan Woman partnered with Urban Massage for the Shelley Irwin makeover. Thanks to their expert staff and gentle touch, Shelley's cares slipped out of her fingertips and left her more relaxed and—we didn't know it was possible— even more gleeful than before!
But don't take our word for it. Get the Shelley Irwin treatment at Urban Massage for yourself! Click here to visit their webpage for more information and pricing, or call or text 616-843-0730 to make an appointment. Urban Massage is located at 820 Monroe Ave NW, Suite 423, in Grand Rapids.

West Michigan Woman would like to thank each of these partners and sponsors. It is because of you that each detail of the Shelley Irwin makeover fell perfectly into place. We are so grateful for your input, expertise, and willingness to share your services with us. We hope that the flood gates are open and more women who read the Shelley Irwin article will seek you out for their very own Shelley Irwin Experience. And of course, our gratitude goes to Shelley Irwin, who opened her home, her closet, and her heart to us and the women of West Michigan. Shelley, you are an inspiration.
Written by: Erika Fifelski is West Michigan Woman magazine's staff writer. She graduated from Michigan State University with a degree in journalism. Erika was born and raised in West Michigan, and after a brief stint on the sunrise side, she's home and loving it.