Marketing Consultant & Blogger | Sincerely Ashley
What are your top five beauty tips?
Never let the sun set on your makeup. Sleeping in your makeup is tough on your skin. I typically try to do my regimen when I get home, versus bedtime. More time for yummy skin products to soak in and I'm less prone to skip it due to being tired.
Lash extensions will transform your beauty routine. Thanks to lashes, the only eye makeup I wear is eyeshadow from time to time.
Moisturizer, powder, setting spray. If you struggle with skin appearing patchy throughout the day, this might help your foundation's application and staying power. Moisturize your skin, lightly dust with a translucent powder, spritz with setting spray and follow with your normal makeup routine.
Pack a small on-the-go bag of your beauty essentials. This helps you stay organized and can be easily transferred if you're switching purses or to a work/gym bag.
Don't be afraid to go bold. I love a bright red lip on anyone. Know what tones work best with your skin but play with vibrant lip colors.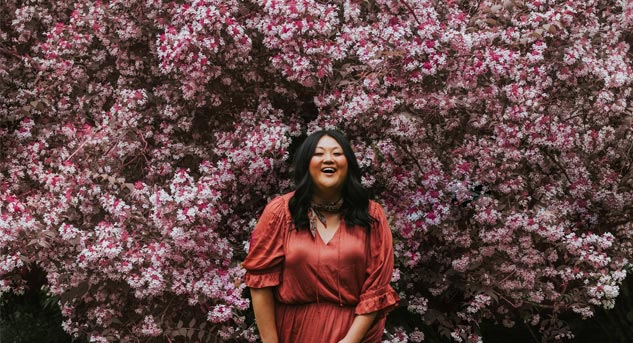 What beauty essentials are always in your bag?
NARS | Lip products in Heat Wave, Low Rider, Walk This Way.
LIVING PROOF | Full Dry Volume Blast
OLIVE & JUNE | Cuticle Serum
DKNY | Be Delicious Perfume (I've worn this since high school.)
KATE SOMERVILLE | Dry Skin Saver Body Lotion
VINT & YORK | I always carry a pair of glasses with me. Vint & York are my favorite for unique frames.
What makeup do you splurge on?
Foundation. I can tell a difference in the appearance and impact it has on my skin. A couple favorites are Too Faced Born This Way in Warm Beige and Josie Maran Vibrancy Argan Oil in Adventurous G55.
What's your favorite feature about yourself?
My teeth/smile. In junior high, I was so jealous of kids who had braces and brightly colored rubber bands. Now, I'm thankful I got to skip that phase.
When do you feel the most beautiful?
When I'm in the company of people who empower and love me in all forms. If you have that kind of energy surrounding you, it doesn't matter if you're in full glam or a baseball hat with no makeup—you feel beautiful just as you are.
What's the key to your personal beauty?
Listen to yourself versus everyone else on what defines the standard. I think this is something many women have to unpack often, myself included. It can be difficult to not attempt fitting into the boxes others have drawn for us. But the makeup/skincare/wardrobe/hairstyle that feels fulfilling to you is beautiful.
Full stop.
Edited by Sarah Suydam, Staff Writer for West Michigan Woman.
This article originally appeared in the Aug/Sept 2020 issue of West Michigan Woman.
Photos courtesy of Doug Wierenga.