Heidi Henion started making decorative wooden signs for her child's nursery when she couldn't find the right ones she wanted.
She was churning out gorgeous script signs that say "hello," "thankful" or "gather" (and almost any other expression you can think of) for friends and family, all the while thinking that having a shop to sell them in would be ideal. It was a side hustle and a creative outlet, but a sale at her home workshop gave life to that dream.
And it all started with a mistake—or many of them.
"I'd do a wonky sale if something didn't turn out perfect," said Henion.
"The first one I ever had turned out with people lined up down the street. I sold out within a couple of hours and thought, 'OK, maybe people would show up if I had a store.'"
It's an "if you build it, they will come" scenario—literally. But life seems to take you places and prepare you for things you'd never imagined; much like her wonky or slightly imperfect signs, there were more setbacks on the horizon.
At age 12, Henion was diagnosed with ulcerative colitis, which flared up in her 20s; at age 28, she was given the news that she had colon cancer. It reshaped her life, her womanhood and her business.
"It affected everything," said Henion of the health issues leading up to the cancer diagnosis.
"I was sick, and my life revolved around the bathroom. I'd have to leave work all the time. It's a terrible way to live and I assumed the rest of my life would be like that."
With the cancer discovery came a new way to live fully present.
Henion's husband and two small boys bought a motorhome and started taking trips, whereas before, traveling with sickness was almost impossible. She feels God gave her this life and this story to share with others.
"It's a way for me to lift them up during their hard times."
Today, her vision for a shop, Feather & Birch, is thriving. In her words, it's a mix of modern, farmhouse style and boho vibes that culminate in a décor destination. She's selling not only her own scripted wood signs but also plenty of other wood products—along with custom creations—and has even brought in boutique clothing and accessories including jewelry from local makers. She carries clothing that's fit for women to wear at the school drop-off and for date nights, because she's always been interested in fashion, too.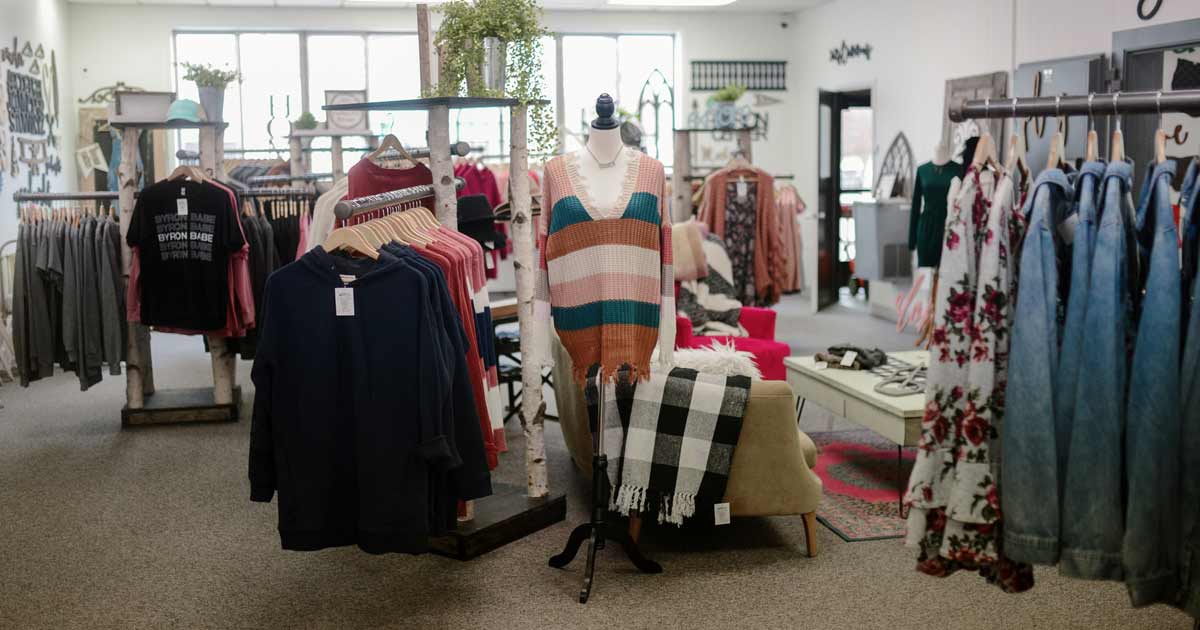 While going through chemotherapy, Henion had to wear a chemo-filled fanny pack for three days and, once again, couldn't find anything remotely stylish until she came across an option from designer Rachel Zoe.
"It was a time when fanny packs weren't cool and the one I wanted was sold out," said Henion.
When she reached out to the company explaining why she needed them, they responded that the designer herself was touched by her story and sent her two free fanny packs.
"With everything I went through with my cancer journey, I felt like I wanted to do something that I loved with my life—everyday," said Henion, explaining how she quit her job at a safety glove company to create her signs, which she did for three years before opening the trading post storefront.
It's a challenge, but one Henion can handle as she learns to juggle motherhood, being a wife and her role as a business owner.
"I delegate a lot of stuff to my girls that work for me," said Henion of the 10 women and one man who make up her staff, who she considers family.
While primarily women, it's a mix of high school-age girls, older women and those with their own side business hustle. Henion is a woman business owner who recognizes the value in taking additional women under her wing. Her sister is a full-time employee and she feels blessed to work alongside her and considers it one of her greatest joys to watch her change and grow. Whether she realizes it or not, Henion's imparting wisdom resonates as a walking vision board for what it means to be a businesswoman who takes the wheel.
"In my maker world, I use a lot of big machinery that I've had to teach myself how to use and people don't believe that as a woman I can truly do it."
A prime example is the lack of faith from the company she purchased a laser from.
"They look at me differently for being a woman and being able to use the tool to its full capacity or fix it and work it correctly," said Henion. "It's frustrating when people don't believe that you're fully capable of running a successful business, especially with the tools I use."
She's learned along the way that forging relationships with local makers and business owners is important. Henion is big on encouraging and sharing because she, too, still has questions.
"I struggle with knowing when it's the right time to buy things; retail is new for me," said Henion. "It's finding what fits in the store and dealing with employee issues. How do you handle that?"
Handling it and managing her life—amongst all her health issues—is just what she's done, but Henion knows she didn't do it alone. Many people blessed the Henion family in their dark times, whether it was dropping off a meal or taking care of their children.
"So many people blessed us in the ways they were able to," said Henion, which is why she started Feather & Birch Gives Back.
People can nominate individuals they know who are going through rough times. Henion then works to create a free custom piece to lift their spirits. Giving back and sharing her truth—Henion has embraced the struggle because it's who she is and who she's become.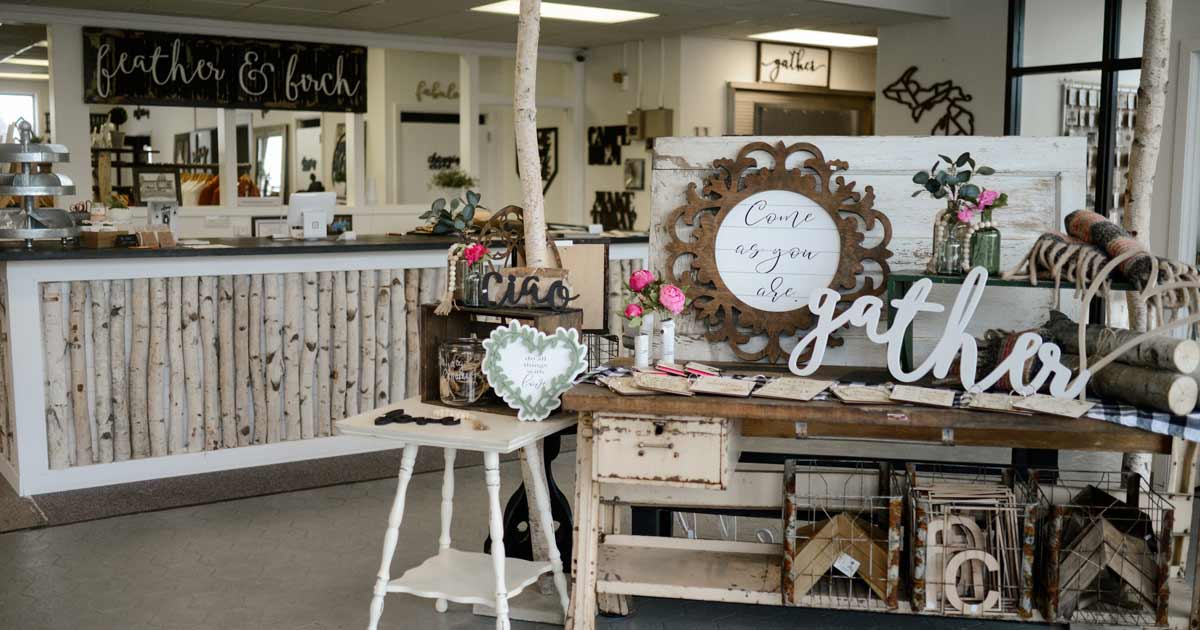 Learn more at Feather & Birch and visit the store at 2475 84th Street in Byron Center.
Missy Black is a footwear fanatic, a style child, and a contributing writer for West Michigan Woman.
Photos courtesy of Katie Bonnema.