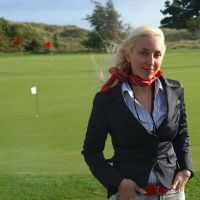 Golf courses are more manicured than ever, which means summer leagues are gearing up for a season on the green. How will your team be dressed this season? The Serendipity Media league is made up of women who don varying styles, but one thing is for sure, they love to shop.
The consensus of most women on the team is that while styles may change from season to season, girls just want to have fun in their clothes on the golf course. For Angela Brown, who is joining the league for the first time this year, the bolder, the better.
"I want to look like Rickie Fowler," she says. "I'm thinking plaid with lots of bright colors."
Angela's been shopping around and observing the styles of others and those on the racks at Golf Galaxy before she debuts her look to the golf fashion world. Heather Watkowski has already made her mark.
"My style stays consistent. I wear a golf skort and a tank top with a collar…I wear black on the bottom and my color on top," she says.
Pay attention to the dress codes of each golf club, Heather warns, some won't let golfers in if they are wearing shirts without collars or pants that are too casual. When in doubt, Heather says wear khakis and a polo shirt.
Heather shops at the end of the season to cash in on sales. The biggest changes she has noticed in style from season to season are fabric patterns.
"The more women are starting to partake in golf, the more (stores) try to change the prints each year to get women to buy new clothes," she says.
Kary Moening wanted to buy new shoes this season, but apparently, some golfing attire does go out of style.
"I wanted shoes with tassels, but apparently they are not in style, so I'd say the shoe style changes, but attire does not," she says.
For the most part, golfing clothes are timeless and traditional, Kary says, but bolder colors can mark a younger golfer according to Heather. No matter the styles, the point of the league is to have fun, says Serendipity Media league golfer Courtney Van Hagen. Picking out an outfit to go along with it is a fringe benefit.
"I go casual and comfy, that's the fun part about golfing. I get cute shoes, and a cute bag, and then I can pretend to be good at golf," Courtney says.
Written by: Erika Fifelski was born and raised in West Michigan, and after a brief stint on the sunrise side, she's home and loving it. Erika enjoys cooking, sewing, vacuuming, and discovering new ways to live sustainably and support local businesses. Photo: Catherine Sardar