What's the secret to perfect brows? How do you tame frizzy hair in summer humidity? Design 1 Salon Spa stylists answered three of the top beauty questions their customers ask.
Q: How can I have a strong brow game without it taking up so much time in my daily makeup routine?
A: Big, bold brows are here to stay. Luckily, for those of us who are experiencing thinning due to age, over-tweezing or even environmental damage, there are many options to choose from.
A good brow product is great to have in your arsenal, but there are other time-saving solutions available today. Products like Revitabrow are great for helping to grow fuller, bolder brows. Growth serums work differently for everyone, but most begin to see results after about six weeks. For an instant and more permanent solution there's microblading, which involves custom brow mapping followed by semi-permanent tattooing of individual brow hairs to create natural-looking, beautiful brows without makeup or serums.
Everyone's needs are different, so we recommend that you consult with an eyebrow expert to see what solution best suits you.
Q: Coming out of winter and heading into summer can instigate rebellious frizzy hair. What do you suggest to help tame the mane between sessions?
A: Living in Michigan, we go from the extremely dry winter air right into summer—what is spring?—and that can be really tough on your curls. We recommend having a keratin treatment every six weeks to balance your hair's porosity. Overly porous hair is the result of chemical, heat and environmental damage, and leaves hair brittle and frizzy. The keratin coats the outer layer of the hair, which conditions, shines and adds smoothness, creating a shield against humidity. It won't straighten your curls and it will decrease the amount of time it takes your hair to dry!
Q: How can I get more longevity out of my shampoo and blow-dry?
A: This is a common question. And the solution can be much simpler than you might think. A lot of times, we hear this from our clients that let their hair air dry. It's important to get at least the roots dry and up off your scalp, away from those oils. When hair is left to air dry, it dries flat to the scalp where all that oil lives, thus making it oily sooner.
Another issue could be the products being used. Consult with your stylist about your products: Some are meant to be applied from the mid-lengths down and can make the hair appear oily if applied too high up.
Lastly: dry shampoo. Make sure you're using it right after your hair is dried, as a style extender. Dry shampoo won't remove any oils that have already built up on the hair, but it can help when applied to clean hair by absorbing the oil at the scalp before you notice your hair becoming oily.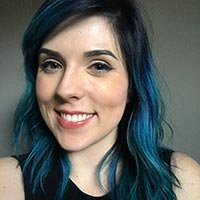 Written by Tricia Terpstra, stylist at Design 1 Salon Spa.
Photo courtesy of Kenzie Welch.