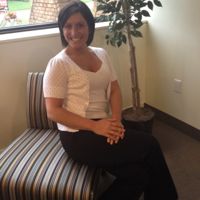 You wear them everyday, and if you're lucky, you don't even notice. But if you're like most women, your bra isn't hitting that sweet spot between stretched out straps and a chest muffin top. Angela Brown and Heather Watkowski may not work at Victoria's Secret, but their bra-wearing experience combined gives them thirty-four years of know-how.
West Michigan Woman: What is a woman's biggest mistake when choosing a bra?
Heather: Not understanding what size they are. Get fitted at any department store, Victoria's Secret, or Intimate Apparel. They will measure your rib cage–the size of your bra in inches, and around your actual boobs–the cup. It's amazing what a good bra can do for a B cup.
WMW: What does a properly fitted bra look like and feel like?
Angela: If you can see your bra or boobs spilling out of your bra through your shirt, it's too tight. You don't want to have a muffin top over your bra or spilling into your arm pits. Gapping between your chest and cup means the bra is too big. The back strap should fit just underneath your shoulder blades. If it is higher than that, your bra does not fit properly.
WMW: Can you wear the same bra everyday?
Angela: No! Rotate your bras every other day to give the elastic a chance to shrink back to normal. If you wear your bra everyday, all you're doing is breaking elastic fibers. Buy a new bra as soon as you have to start fidgeting with the straps of your old one. If your bra is riding up or isn't providing the right coverage, get a new one. Buying one extra bra will extend the life of all of them.
WMW: Can I wash and dry my bras in the machine?
Angela: I wash my bras in a garment bag on the delicate setting and let them air dry. You can also hand-wash them. Never dry your bra in the dryer.
WMW: What are some good, versatile colors and fabrics to buy?
Heather: Nude is a perfect color under many colors of tops, especially under a white top. Never wear a white bra under a white shirt. Black is also a good color to buy. Any other colors are just romanticals. Patterned fabric like lace also falls in the romantical category. Worn under a shirt, lace pattern shows through, so it's not very practical for every day use.
Go through your closet tonight and take serious inventory of your bras. If you can't remember the last time you bought one, make this weekend the perfect time to hit the stores.
Written by: Erika Fifelski was born and raised in West Michigan, and after a brief stint on the sunrise side, she's home and loving it. Erika enjoys cooking, sewing, vacuuming, and discovering new ways to live sustainably and support local businesses.