If you've ever visited jb and me or Evereve and loved the selections, you can now skip the time and gas money to get there and experience personal attention and unique boutique clothing in the convenience of your own home.
When it comes to shopping, it's a great time to be alive! Boxed shopping subscription services mean monthly deliveries to your home, filled with things you need and want—and with items handpicked for you and your long list of desires (makeup, crafts, clothing, dog supplies). If you want to shop local and keep money in your neighborhood, consider Stylebox from jb and me.
"Who doesn't love a personal stylist and fun clothing arriving at their door?" said Laura Flom, Shop Manager from the Holland location. "It's hassle-free shopping for busy moms and there's free shipping and free returns."
With two locations in Grand Rapids and Holland, the shop that features fashion for women of all ages wanted to get in on the shopping subscription service and stay on trend by delivering the best customer service not only in-store but through the mail. "We try to really figure out what you're looking for and give a personal touch. We want our awesome customer service to be represented through Stylebox."
The process starts with a survey asking about everything from sizes, body shape, any challenges you face in finding the perfect fit and areas to highlight or conceal. Even color preference and prints to avoid are covered, as well as the opportunity to share your Pinterest board for further fashion investigation.
The survey also includes pictures of outfits so shoppers can rule out a certain style theme or indicate that a collection of clothing could be in their scope of interest. "You can pick price points on things like only spending $100 dollars on denim," said Flom. "We stick to a person's budget."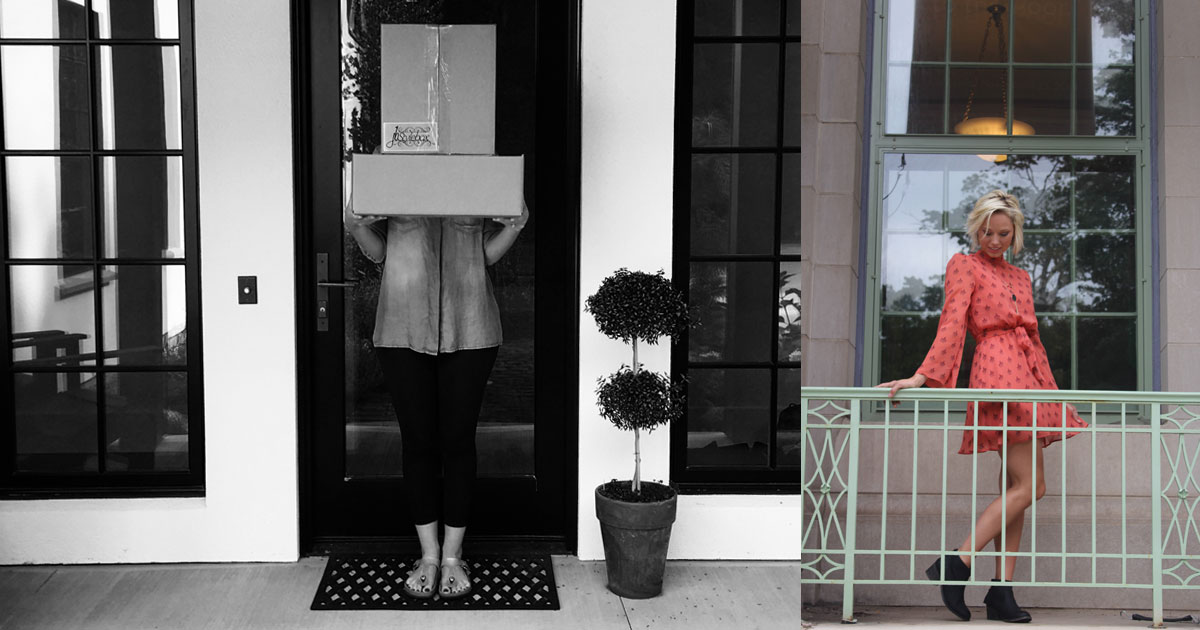 A normal box offers five items, but can be tweaked to include up to seven pieces. Clothing types can be anything from jeans to tops and tunics and dresses with some purses and jewelry included (usually upon the client's request). Brands can include the popular Hudson or AG jeans to Billabong or Z Supply tops. "I have a customer that has a hard time with shoes. I know to focus on the clothing route with her, and not shoes. After a month or two of styling a person, you get to know if they're a more causal 'jeans and T-shirt' girl. Some clients say to not send them any greys or blacks, but to push them out of their box with brighter colors."
Every woman dreams of having a personal stylist. Add the thrill and anticipation of getting cute clothes in the mail, and it's a no brainer. "We have out-of-town clientele who visit in the summer, and it's a way to bring us into their home when they're not in the area."
Try it for a month. Schedule a shipment every other month. Do a few months then take a break. The schedule is flexible and the fashions are specifically suited to your lifestyle.
Visit www.jbstylebox.com for additional information.
NEED ANOTHER OPTION? BEHIND BOX NUMBER TWO ...
If you're style-obsessed but time-pressed, Trendsend is for you. Available through Evereve, this personalized subscription service makes shopping easier—and at zero cost to you. (It's worth repeating.) There's no styling fee, and you enjoy free shipping and returns.
Head-to-toe outfits delivered to your door isn't something that only happens in your dreams. It all starts with a customer-created profile—an online tool where staff can learn about a client's taste, lifestyle, body type and budget. Photos, Facebook and Pinterest links can be included, as well as the option to leave notes to make the stylist aware of upcoming special events.
"You can update your style profile anytime whether you've had a baby or are losing weight or have changed pant or top sizes," said Assistant Store Manager Bonnie VanSledright. "If you have a vacation coming up and need outfits for that, you can leave notes to let us know."
From there the client has five days to try on six to eight pieces, which translate to around two to three outfits. Some accessories are included as well. Personalized notes are included from the expert stylists regarding selected items and how to wear them with your existing wardrobe. The service is feedback heavy so information gathered can be used to make the next box even better.
So, what can you expect in a box?
"As a company, denim is something we really focus on. Every woman should have a good fitting pair of jeans. We want to send pieces we believe in. We also send a lot of everyday outfits." Brands to look for include 7 For All Mankind and Articles of Society but there are also three lines exclusive to Evereve: Allison Joy, Peyton Jensen and Braeve.
"To come home from a long day at work and unwrap a box is fun. It's nice to be able to try clothes on at home, and try it with your own wardrobe, and think about it and process it," said VanSledright, who made a huge connection with a woman that she now styles.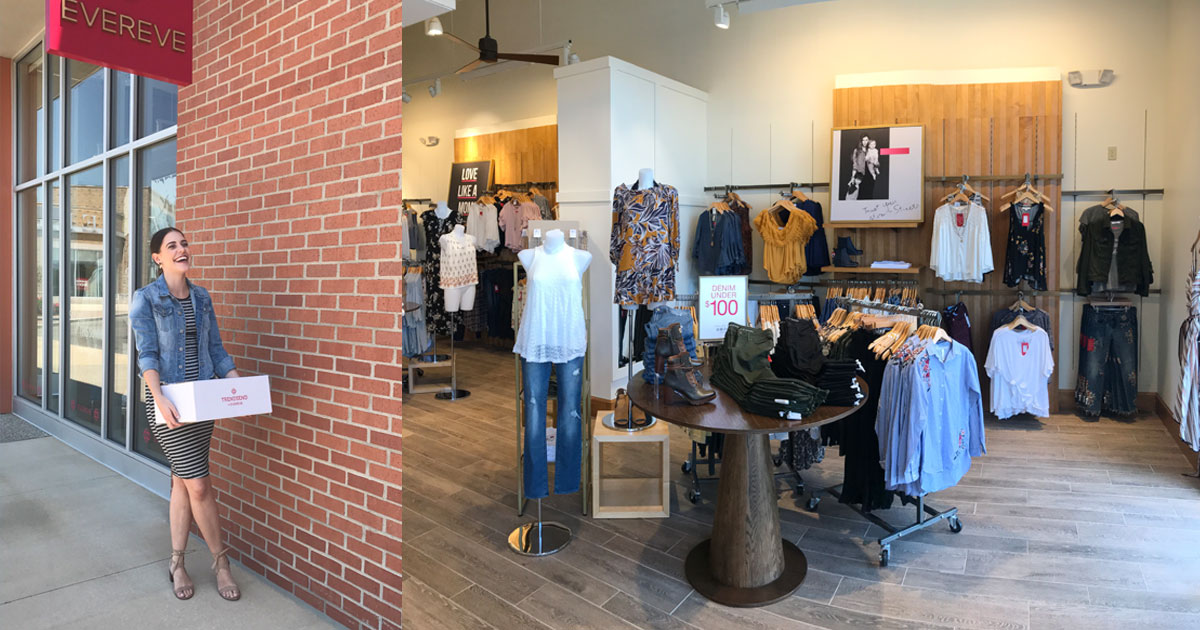 "A woman from Texas loved her shopping experience and was sad she didn't have Evereve close by. I told her about Trendsend and I've worked on her boxes, and after every box she calls and talks about what she likes and what she doesn't," says VanSledright. The Texas mother and small business owner doesn't have time to shop—but with Trendsend, her shopping and styling options have opened up.
"I saw the woman a few hours in the store and just that simple connection made a relationship via Trendsend."
Find out more at www.evereve.com.
Written by Missy Black, a footwear fanatic, style child and contributing writer for West Michigan Woman.