On your big day, every detail counts—from the dress you choose to the flowers you use to the way you wear your 'do. Allison Burr has been creating bridal hairstyles for 20 years, and is keenly aware that from the formal to the more relaxed, your bridal hairstyle truly enhances your overall look.
"Hair trends follow clothing design trends," Burr notes. "If our economy is strong and rich, a designer will design a wedding dress that may be more formal." Brides will request more formal hairstyles to match these gowns. "If we are in a recession, bridal hair will reflect the less formal dress design. Hair is usually worn either down or half up/half down for a more natural, less formal look."
Read on for some of today's most popular bridal hairstyles.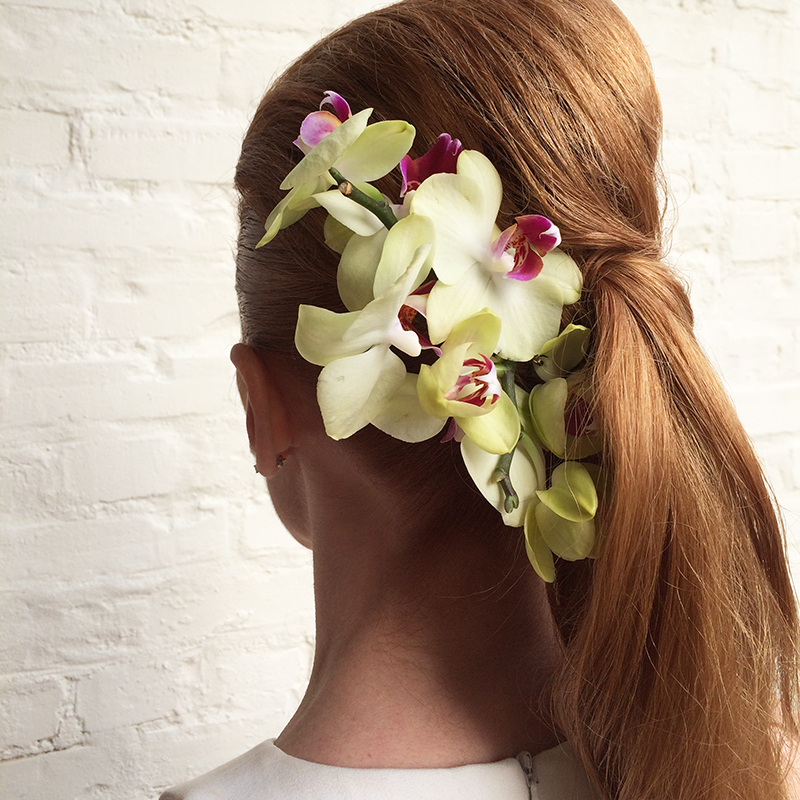 SIMPLE ELEGANCE
This style is great for an outdoor wedding. It looks best with a simple dress that is either strapless or off one shoulder.
How to create the look:
1. Take a horseshoe section (temple to temple) on the top where the head rounds off and section that hair off for later.
2. Brush up the remaining hair and put in a tight ponytail to be secured in the center back of the head. Use hairspray to tame fly-aways and create a smooth ponytail.
3. Tease the horseshoe section to add height. Wrap the length of your hair around the ponytail, hiding the elastic band. Secure with hairpins. Use hairspray to smooth the look.
4. Add flowers and hair-pin them into the shape. Fresh flowers look amazing!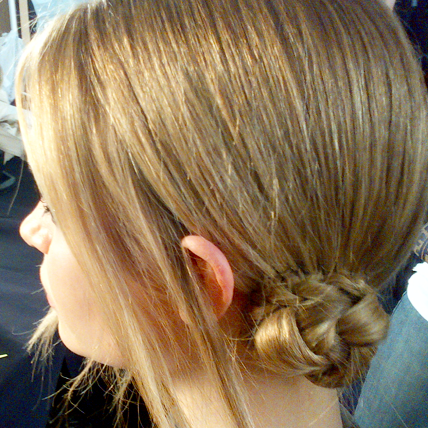 BOHEMIAN STYLE
This is great for a bohemian bride who doesn't want to wear a veil. A formal or informal off-white dress with a lace overlay is preferred.
How to create the look:
1. Create a middle part from the forehead to the nape of the neck.
2. Secure in two ponytails.
3. Braid each ponytail and secure with an elastic band. Apply hairspray to the braid.
4. Wrap braided hair around the base of the ponytail's elastic band and secure with pins. Let some of the hair fall out to create a natural loose feeling. Finish with hairspray or shine spray.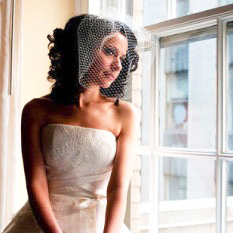 FLOWING CURLS
This curly style is great for any type of dress and also works with any veil length. This bride is wearing a "birdcage veil," which steps the look up a notch. This look allows a bride to wear her hair down, while still looking very polished.
How to create the look:
1. This look is not to be done on freshly shampooed hair, as the curls won't hold well.
2. Start in the nape of the neck. Create inch-size sections and spray each section with hairspray. Then curl the sections by winding the hair from the scalp to the ends. This gives the curl a more natural look.
3. Work these sections all the way up the head, being sure to rotate the wind. For the first section, wind right, for the next section, wind left, and so on. Secure each curl with a hair clip.
4. When you reach the front of your head, curl the hair by winding either toward or away from the face, depending on preference. Or you could alternate.
5. Let the curl cool down as long as you can while it's still pinned.
5. Add some shine spray or hair spray and off you go!
No matter which wedding hairstyle you choose, pick one that represents who you are and makes you feel beautiful!
Allison Burr began her career in 1996 as a Vidal Sassoon stylist. She has worked in Chicago, London and New York, and is now a stylist at Hotel Venus Salon in Grand Rapids.