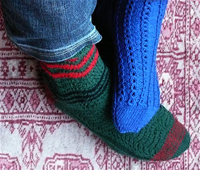 It's inevitable. Winter is upon us, and our lake effect snow-laden region has once again covered us in a frosty blanket of white. Don't be caught off-guard this year. Prepare your mudroom with a regimen of warmth to combat those chilly morning commutes.
• The Earflap Hat—Embrace it, wear it, and your ears will thank you. 

• The Leg Warmers—Buy 'em now or pull out your pair that's been in the back of the closet since 1985. Legwarmers are back and necessary this season.

• The Wool Socks—There's nothing quite like your favorite wool socks. This winter, your toes will thank you.
• The Glove Ice Scraper—Keep your skin covered during winter's most daunting tasks. Protect your fingers from harsh ice scraping endeavors. Now, if we could just get a glove for the windshield....

• The Snow Pants—Not just for kids! Snow Pants keep the melting snow out and the warmth in. Wear them for snowman building or just for that extra layer of insulation while you're walking the dog.

• The Scarf—These days, women are accessorizing with scarves throughout the year, so don't forget about them in their original habitat. Pick up a scarf in the pattern or color of your choosing, the only requirement is that it is warm!
Written by: Erika Fifelski was born and raised in West Michigan, and after a brief stint on the sunrise side, she's home and loving it. Erika enjoys cooking, sewing, vacuuming, and discovering new ways to live sustainably and support local businesses. Photo Credit: everystockphoto