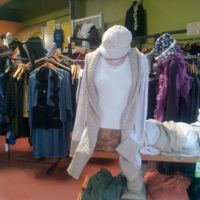 Explaining the difference between "mainstream" and eco-friendly clothing is easier than extracting the greater meaning of the global community. Eco-friendly, sustainable clothing is made from materials that are easy on the environment. As for the global community, well let's ponder that….
Marta Swain is the long-time owner of Clothing Matters in Grand Rapids. Products sold in the store are made of materials like hemp, organic cotton, bamboo, and salvaged leather. The point of it all, Marta says, is to connect every part of life, even the clothes that we wear.
"These are tangible threads that give us a real connection, a viable connection, as members of a global community," she says. "Remember eighth grade biology? We are part of an ecosystem."
Sustainable clothing is made of plant materials that are grown and harvested based on fair labor practices. Plant materials are processed in a way that leaves a minimal carbon footprint on the earth (i.e., little pollution and waste). The manufacturing of the clothing is the final step to creating a piece that can be worn without guilt. The steps "take into consideration any way in which to reduce pollution, conserve resources, and promote social justice," Marta says.
But wearing earth-friendly clothing isn't just a boost to the environment. The store helps the local economy as well. Clothing Matters is a Local First member, and sells clothing made by local fashion artists like K.C. Andrews. K.C. started designing skirts from her late husband's collection of button down shirts. Incorporating the "hot bed of creativity" present in Grand Rapids helps the store keep its products as local as possible.
"Why no highlight that? It's so much more environmentally sound, it's greener, and it keeps the money in the community," K.C. says.
Shoppers outside of West Michigan are taking notice of the trend. In any given afternoon, people from across the state could be seen browsing the wracks. Marta has friends that live across the country who enjoy the products offered at Clothing Matters as well.
Making the switch to eco-friendly threads gives shoppers a better product that they will love, Marta says.
"We encourage people to look for a higher return on investment," she says. "The blends perform in all four seasons, and keep you more comfortable than you've ever been. You're doing far more with less, and the quality plant fibers are not compromised."
Written by: Erika Fifelski was born and raised in West Michigan, and after a brief stint on the sunrise side, she's home and loving it. Erika enjoys cooking, sewing, vacuuming, and discovering new ways to live sustainably and support local businesses.