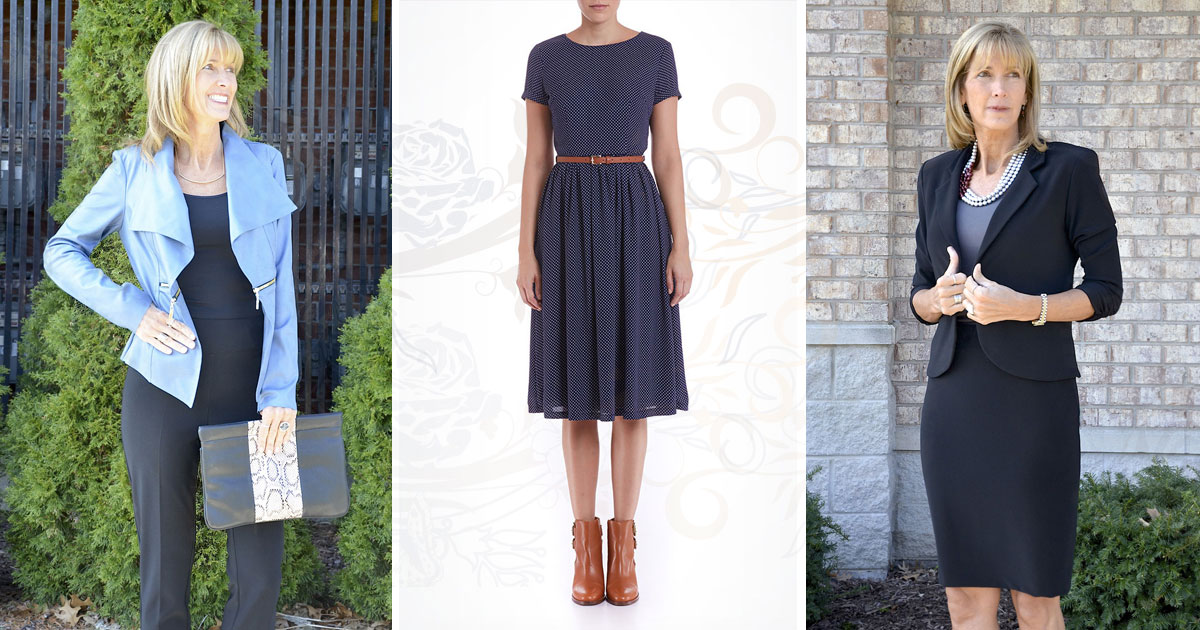 Boardroom or beach? It really shouldn't be a guessing game. Your work attire needs to remain office-appropriate, even during the tricky summer months. West Michigan Woman teamed up with Mary Leslie, owner of The Leslie Studio, to provide pointers on looking good and looking chic for summer.
HOW DO YOU DO?
For professional and pretty summer options think about wrap dresses, skirts that have a zipper slit, and lightweight jackets. You can have more leeway and fun with color and print. "That's where the joy of summer can come in with your own style." Try a raspberry silk tank under a grey suit, or a sunny yellow silk crew neck T-shirt underneath a tan or khaki suit. "What we espouse at The Leslie Studio is to understand what looks good on you. Don't get too romanticized on the idea of summer clothing." By sticking with lighter fabrics, great colors, and good lines, we can become a bit more body conscious but remain suitable for the workplace.
MAJOR DON'TS
Leslie's rules: Nothing above the knee and no cleavage. While she tends to say "no" to sandals, she suggests being careful with bare arms. "Jacket a bare arm or try some fabulous shrugs." When you de-layer or don't have a suited look it can make you look unfinished. "Summer is still an important time to finish the look with a jacket or lightweight sweater." When you're well-covered, you needn't worry about errant bra straps (which should never show).
CASUAL FRIDAY
Beware this slippery slope. Casual Friday, while tricky, can be a "fine line to sloppiness." Leslie advises slingback heels or a ballet slipper flat for footwear and skinny leg pants and a longer, flow-y top with a camisole underneath. Consider cropped pants that hit just above the ankle or a cigarette pant for a more relaxed, but respectable choice so you don't get tossed about in the waves of Casual Friday mishaps.
JUST TO BE SHEER
You do have to pay attention to undergarments—and while Leslie loves sheer tops, she points out that they should be worn with the right camisole underneath. Her tip? "Hang them together in the closet. Hang camisoles with sheer tops in the same color." It saves time, and you are guaranteed to be properly covered.
DRESS CODE
Make sure to check the company's dress code; this way, you know the rules and never have to wonder or worry about your personal style and your employer's interpretation of sandals. "What separates chic from appropriate is if we find it distracting. Does it take away from our professional message?"
NEED HELP?
"Summer is a fabulous time to get help from a girlfriend or professional." The Leslie Studio offers wardrobing services to adapt your existing wardrobe to suit your style. You'll learn what not to wear, how to use accessories, a shopping list, and how to work with trends.
The Leslie Studio is located at 3535 Lake Eastbrook Blvd. in Grand Rapids, nestled amid the busy Centerpointe and Woodland malls area. Call 616.942.9322 or 800.959.9322. Mary Leslie, a leader in the personal image and design field for more than twenty-five years, teaches women how to express their true style by understanding which looks work, which don't, and why. An empowering experience!

Written by Missy Black, a footwear fanatic, a style child, and a contributing writer for West Michigan Woman.
Images provided by Sparrow Boutique in Muskegon.