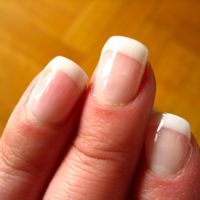 Cracked nails and flaky cuticles have no place on Valentine's Day, but there's no need to make an expensive manicure appointment at the last minute when you can do it yourself at home. Try a French Manicure on for size; Paris is the city of love, after all.
You'll Need:
Opaque White Nail Polish
Clear Top Coat Polish
Straightedge brow brush
Nail Polish remover
Prep your nails before you paint. Remove any existing nail polish with a cotton ball. File any jagged edges of your nails, and round the corners evenly. Trim loose skin or dry cuticles, but don't trim too much. You'll know you've gone too far if your fingers become red, swollen, or start to bleed.
Directions:
Apply one or two coats of white polish to the tips of your nails depending on your preference. Dip the tip of your brow brush in nail polish remover, and use the straight edge to even up the line of white polish on each nail. When nails are dry, apply a layer of clear topcoat over the entire nail.
Painted nails are small details that create an overall well-groomed look. Special occasions and holidays give women a chance to look and feel their best. Love your nails this Valentine's Day!
Source: Curvy Girl Guide Photo: everystockphoto