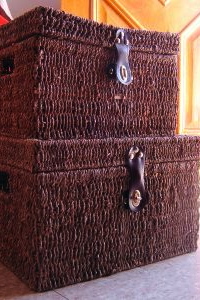 A house of clutter fosters a mind of stress. Accessorize your home in style while organizing odds and ends. Using baskets of varying sizes, materials and color can accentuate your home's style while hiding away unappealing messes.
Small baskets are perfect for holding trinkets and various desk accessories. Paperclips, pens, sticky notes, and business cards nestled into matching small baskets make any confused desk more orderly. As an added bonus, an organized desks helps to foster a more productive you.
Carry this idea into your medicine cabinet. Group like-cosmetics together into small or medium baskets. Keep make up for everyday use in an easily-accessible basket. Separate special occasion cosmetics to avoid digging through seldom used products every morning before work.
Inside medium baskets goes books and DVDs in the living room, washcloths and hand towels in the bathroom, cleaning supplies in the mudroom and mail in the kitchen. Sort mail into separate baskets in order of importance. A basket each for unopened mail, cards and notes and bills brings order to your previously muddled stack of envelops.
Save time with large baskets for children's toys, workout equipment, shoes, pet care items and blankets. No more searching for the dog brush, no more carefully placing individual toys on a shelf. When everything goes into a basket that tucks neatly into a closet, onto a book shelf or inside a cubby, your house of disarray becomes a home of tranquility and organization. Besides, what child doesn't love dumping out a basket full of toys? Just don't tuck your workout gear basket too far away…
Written by: Erika Fifelski was born and raised in West Michigan, and after a brief stint on the sunrise side, she's home and loving it. Erika enjoys cooking, sewing, vacuuming, and discovering new ways to live sustainably and support local businesses. Photo: Sergio Roberto Bichara