The Sistine Chapel, The Louvre Museum, and the Vatican are all places that come to mind when we think about beautiful ceilings, but this "forgotten fifth plane" is often neglected in our own homes. Why? It's a blank slate, so to speak, with very little obstruction. There are endless possibilities for this area of your home.
Many people neglect their ceilings, because they don't know what their options are. You could start by simply painting it. Painting the ceiling the same color as your walls can make the space feel larger. If you want to define the space with color, you could paint it a different color than your walls and add crown molding. You could also accentuate the space by coffering your ceiling or using large wooden beams that are stained to match the wood in your home.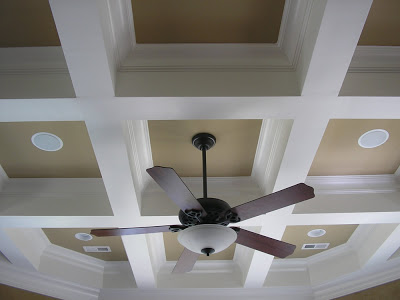 If you have taller ceilings in your home, consider dropping them down in some areas to delineate space, or create a tray ceiling for added drama. A wood ceiling is a great option to add warmth and texture to your home. Combining materials could add a lot of visual interest to your ceiling, as well. Even something as simple as a beautiful light fixture could spruce up this space. Get creative and don't be afraid to experiment with different materials and textures.
Decorating your ceiling could even be a fun weekend do-it-yourself project. Many large hardware stores carry a wide variety of ceiling decor including decorative tiles, beams, and crown molding. It doesn't have to be expensive and daunting to design the fifth plane: Just look online and get inspired!
For help with all areas of your home design, contact Allard Design LLC!
Written by: Tanya Addis is an interior designer with Allard Design LLC. She has a Bachelor of Science degree in interior design from Western Michigan University. After some time off to be a stay at home mom, she's recently re-entered the workforce with Allard Design LLC. Photos: http://retropolitanhip.blogspot.com/2011/06/design-feast.html, http://homesdir.com/how-to-close-a-seepage-stain-on-the-ceiling-of-home/awesome-modern-living-room-with-beautiful-ceiling-lighting/