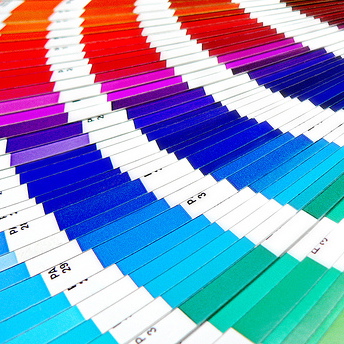 Picking paint colors is, by far, the most fun part of the painting process. Once you've picked the color, it's all drop cloths and rollers until the job is finished—but that doesn't mean picking a color is easy. It's a commitment of time, money, and wall space.
How do you pick the right paint color? First things first, grab a color wheel or look at one on the Internet. The color wheel will help you decipher which colors look good together. Of course, the color family that you choose to explore is all about your personal taste. If you like purple, go for purple.
But before you buy three gallons of glossy "Purple Burple" paint from your local Benjamin Moore, there are a few things to consider.
*How much light does the space in question receive? If it is a space full of windows and natural light, you can get away with darker or more vibrant colors. If it is a smaller space with less light, go for a light color. It will automatically look darker because of the dimensions of the room and lighting.
*How much do you like purple? And how MUCH of it do you like? A swatch or paint chip is very different from an entire room bathed in color. What looks good in a small amount may turn out to be too intense on four walls.
To avoid any decorating regrets, paint a swatch of your chosen color on each wall. Leave it for a day so you can observe the color as the light changes and get used to seeing it in your home.
If you're satisfied, it's time for the really hard part—the actual painting.
Written by: Julie Anne has an impressive vocabulary and an extraordinary sense of humor. She has even entertained the idea of doing stand up comedy someday! When she's not writing, you'll probably find Julie Anne at the Farmer's Market or home with her nose in a book. Photo credit: iboy_daniel