Decorating your house for the holidays is a fun but sometimes overwhelming task. When putting up your fall décor in time for Thanksgiving, don't forget the fireplace mantel.
The key is keeping it simple.
First, clear off your mantel and look for things around your house that have a fall feel. Warm colors such as gold, yellow, orange, green, brown, and red will help give the mantel a cozy look. This should also match the decorating in the room. If you have a few blues, include a small blue item or two on the mantel as well, to draw the room together.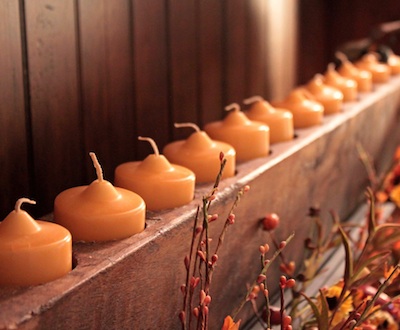 Have you reached a dead end with finding things to put on the mantel? Pour dired corn into Mason jars and use as candleholders, or perch pumpkins or apples on stands. Use empty bowls for color and texture, and let fake vines and leaves tie it all together. If you don't have a garland or vines, find twigs and colorful leaves outside (dry them so they keep their color) and place them in a tall container or vase–or weave them around items on the mantel. Tie burlap ribbon around a glass hurricane vase with twigs inside.
The goal is to make the fireplace the room's focal point. To do that, make sure the items on the mantel are different heights, for contrast and dimension.
If you don't have a fall photo to hang above the fireplace, use cardboard 3-D letters from a craft store to spell out "Thanksgiving" or "Give Thanks." Hot glue them together and attach them to the wall with masking tape, for easy hanging and removal.
Written by: Chelsea Stoskopf, an intern at Serendipity Media. She's finishing up her journalism degree at Grand Valley State University and counting down the days to her wedding next July. Photos: Chelsea Stoskopf