Mudrooms are an entryway intended as an area to remove and store footwear, outerwear, and wet clothing before entering the main house, as well as providing storage space. A messy mudroom can make for a frantic beginning to a day just to find the shoes, or matching pair of gloves needed to get out the door. Here are some helpful tips and inspire your space.
Contain the clutter. A simple trick to help organize is using baskets or bins. This is a great and inexpensive way to help organize all those loose mittens and hats that are lying in a heap. A bench with open storage underneath can provide a place to house your bins. It also gives you a place to rest while getting ready to go outside.
Open and closed storage make a great combination. Open storage allows for easy access to the things you need most. Closed storage can host a variety of things. It keeps your sports gear safely tucked away, cleaning supplies out of sight, or tools for small home repairs hidden. Your mudroom hosts a variety of things. Multiple types of storage are key to a great organization. A great local place to help design your storage in your mudroom is the Stow Company down in Holland, Michigan. They have great products to help transform and organize your space.
Get hooked. Hooks are a great for organizing all our family's winter coats you have for the cold Michigan winter. They provide a place to hang hats, bags, scarves, etc. To go even further, dividing the space between hooks can designate a personal area for each family member. Creating storage "lockers" for everyone promotes organization for everyone.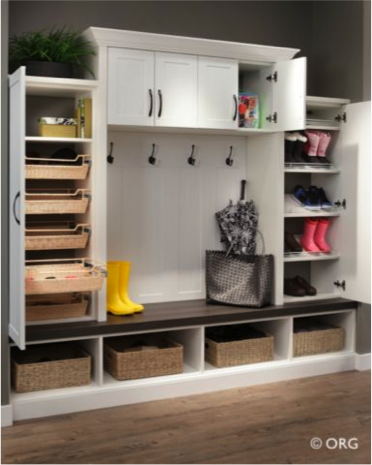 Finishing your space. Don't forget about decorating your mudroom, this room is still just as much a part of your house than any other room. Choose durable solutions to outfit your space. A rug is a great tool to deposit any unwanted snow, water, or dirt and a great way to soften the space. An indoor-out door rug is a great solution. Also carpet tiles are very flexible. They are easy to clean as well as inexpensive to replace. They come in a variety of colors, patterns, and textures. A great place to find great tiles is Flor. Go to Flor.com to check out all the selection.
When considering painting or picking out finishes for your entryway keep in mind the dirt that will get tracked in. Choose a satin finish or high gloss finish for ease of cleaning. Your mudroom plays an important role in your house. Make sure you pay attention to the details you put into the space when designing.
Written by: Megan McCarthy of Allard Design LLC. Megan is a recent graduate of Kendall College of Art and Design a CIDA accredited program. Megan loves working on commercial office projects with the Allard Design Team. Photos: Org, Houzz, Designbuildmn.com