Whether you're working with sprawling acreage or a simple concrete balcony, your outdoor spaces should feel as though it's an extension of your abode—a welcoming space for rest, rejuvenation, and gathering with loved ones. It's worth making sure the spaces outside your home make you feel as content as the inside spaces do, now more than ever.
If you're not sure where to begin? Start small.
Add a garden and various greenery for an ideal way to spruce up (pun intended) an outdoor space. An herb garden is a low-maintenance option and can easily be rearranged, if desired. For a fuller look, choose large planters with cascading blooms and bring the eye upward with ferns cradled in macramé hanging planters—a trendy take on a far-from-new décor option. Add a cushy papasan chair nearby to create a reading nook that truly transports.
Short on grass or a yard in general? Consider investing in high-quality artificial turf for your balcony—now commonly made with features like drainage holes to account for rain and constructed using pet-safe materials. Tack it in place to avoid slippage and WHAM! You've manifested a green space you never knew you could have.
Make the most of your backyard space by bringing your meals into the great outdoors! Host your family and friends as you would in your dining room by adding a dining table with long benches atop a large element-friendly area rug, situated beneath a towering wooden pergola. Top it off with outdoor-friendly lighting, such as dressed-up citronella candles or a chandelier—perfect for illuminating those memorable times together.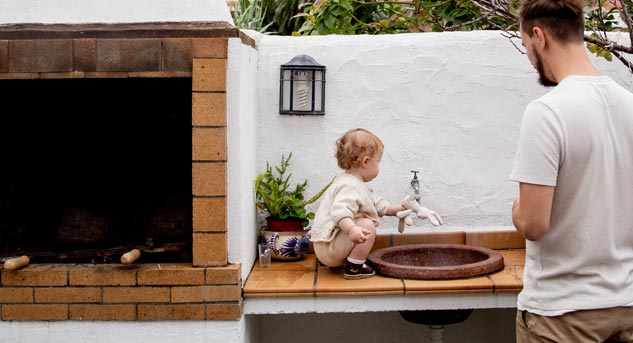 Consider setting up an outdoor kitchen area. Depending on your budget, this could include built-in grills framed in sleek stone, a brick wood-fired pizza oven, sinks for easy cleanup or tropical tiki bars. Hang some string lights above to tie it all together.
A fire pit, in-ground or raised, is an ideal way to wind down in the evenings, even as fall begins to roll around. Bust out the s'mores and soft throw blankets to crank up the cozy level in your yard next to the crackling fire—and soak up the sounds of your surroundings, whatever they may be! Be sure to research and adhere to local fire pit ordinances, to keep things safe.
Take things to the next level when you add a water feature, such as a serene pool, tranquil hot tub spa, or glistening pond and waterfall. Whether space and budget allow for a modest two-person inflatable pool or a large in-ground oasis, the sunny vibes are all in what you make of them. Flank the area with lounge chairs, towels, pillows, and umbrellas, for ample shade and comfort. Regardless of where you decide your water feature fits best in your outdoor space, it must be enjoyed with a margarita. (Don't ask us; we don't make the rules.)
Written by Sarah Suydam, Staff Writer for West Michigan Woman.
This article originally appeared in the Aug/Sep 2020 issue of West Michigan Woman.