Ever heard the term "floriography"? Dating to the Victorian era, floriography—the language of flowers—used blooms as coded communication, to express feelings that otherwise could not be spoken. Clearly, flowers have had exceptional power for decades.
Alyssa Ferguson, Fleurology Designs (fleurology-designs.com) owner, says people should seriously consider adding floral enhancements to their homes. "Flowers and botanicals not only add to the beautification of a space, but to the mental health, happiness and therapeutic qualities it brings to a space."
For Ferguson, a cutting garden for the purpose of year-round seasonal flowers is normal.
"It is a fourth-generation tradition! I love to have fun with statement plants, which for us is having a unique or funky vase as a planter or a fun ceramic hanging planter happily growing in our kitchen."
Given a choice of fake flowers or real flowers, Ferguson is biased. "(Fakes) have their place on being permanent, but nature isn't permanent. It changes each season and there's something beautiful about a short-living bloom. Its fragrance and colorful blooms are only here a short while, but it's beautiful to enjoy how precious it is!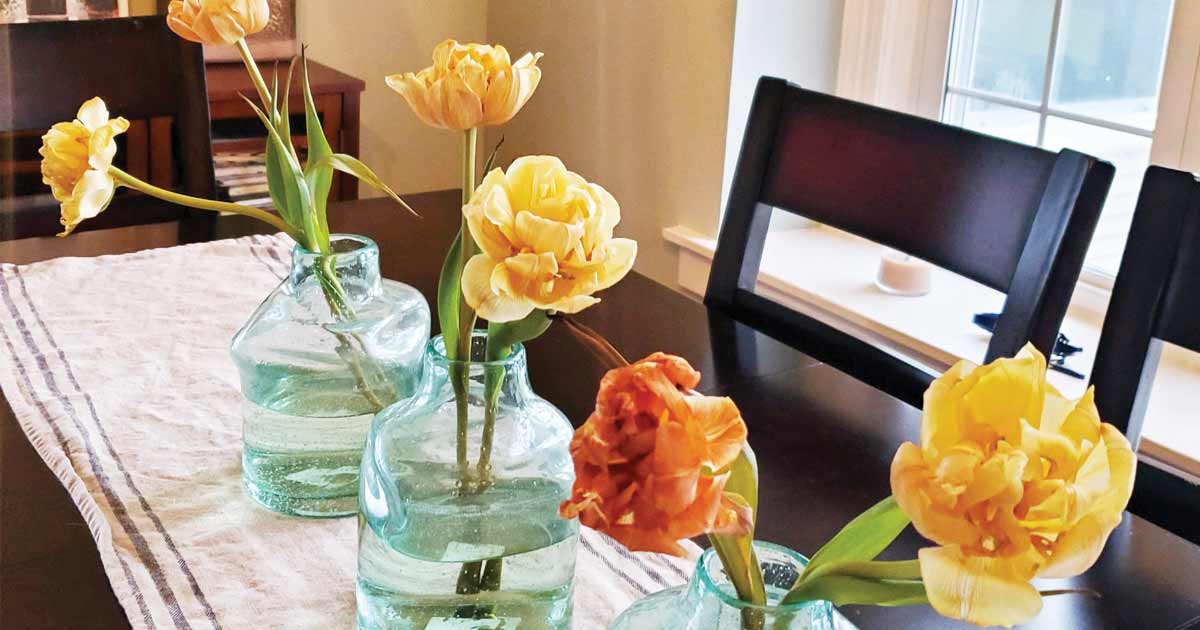 Photo courtesy of Elizabeth Schenk.
"If you don't want fresh flowers because they last a short time, invest in something dried or preserved, like eucalyptus, grass plumes, or lavender. Or keep hardy house plants in your home. Pothos plants have a climbing quality. Jade plants are beautiful! Succulents and air plants can last in minimal soil and sit in neat terrariums!"
Floral Creative Elizabeth Schenk also believes in the power of floral accents. She suggests thinking beyond the norm when it comes to displaying flowers.
"Find unique bud vases that tell a story or that you find at a cute little boutique and add a simple green monstera leaf or fern. Or buy an eclectic vase from a local artist and add a giant football mum. Grab a large vase and add fluffy hydrangea on an entryway table. Accent your bedside table with a fluffy fragrant peony, so you wake up to something beautiful."
Schenk sees creating arrangements as an opportunity for family members to add their special touches.
"I love putting flowers in my house because I can involve the kids. They help choose the containers, choose the flowers, process them, add them to the vase and then I let them choose where they should go."
Ferguson and Schenk both note it's rather easy to access to florals in West Michigan, no matter the season.
"Utilize your local grower or your own flower garden in the late spring/summer. In the fall, grab some foliage from a local grower or your own back yard. In winter, create your own wreath, garland or accent pieces!" Schenk said.
"There are so many possibilities!"
Written by Jennifer A. Pascua, Digital Content Manager for West Michigan Woman.
Photo courtesy of Fleurology.
This article originally appeared in the June/July 2020 issue of West Michigan Woman.