Farah Merhi, author of the recently published Inspire Your Home: Easy, Affordable Ideas to Make Every Room Glamorous and founder of Grand Rapids-based Inspire Me! Home Decor is adamant that a home should be a sanctuary offering its residents a sense of inner peace.
This stance is equally reflected throughout Merhi's glamorous abode.
"Your home should showcase your personality and what you love; it should be a reflection of what you enjoy," said Merhi, adding that a "glam" look manifests itself in various ways, whether you prefer a modern, rustic or traditional take. "Whenever the word 'glam' comes up as a home style, homeowners often think of it as untouchable, unlivable or even expensive. Glam can feel warm and cozy and can be achieved in an affordable way, too."
Wondering how to take your own elegance and glam game to the next sparkling level? Merhi uses her home as an example and offers her expert top tips.
Nothing says glam like a beautiful chandelier.

"Crystal chandeliers are a great way to add a wow factor in a room, pull the eye up and will help add a touch of glam in your space. We've seen light fixtures evolve from being a functional piece to a home décor piece that adds warmth through its light and also makes a statement through elaborate designs."
Adding texture.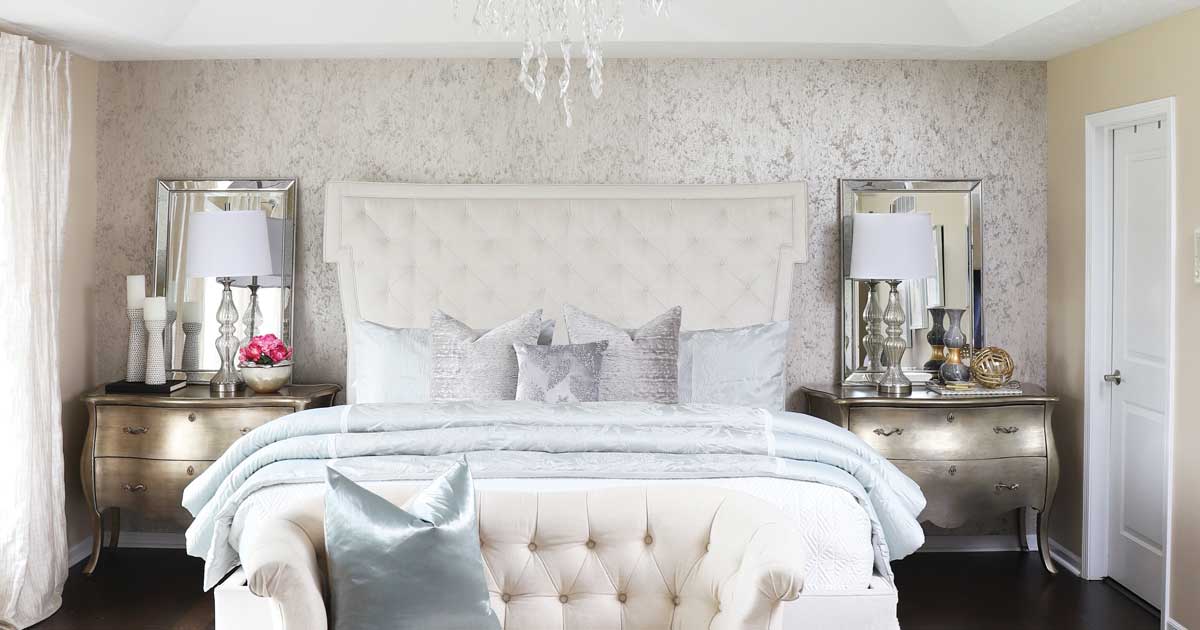 "Don't underestimate the power of your pillows and throw blankets—they really do help elevate your room. Adding pillows in velvet, faux fur, metallics or even with beading helps dress up your sofa and armchairs. There's also nothing like curling up with a good book or a cup of tea, in a plush throw blanket."
A wall will always feel bare without hanging mirrors.
"Mirrors are great because they reflect light, making your room feel bright while offering an illusion of a bigger space. Think outside the box! Look for mirrors that have pretty and ornate frames, and search for pieces that aren't your typical rectangular or square mirrors, like teardrops or circular shapes."
Put thought into wall art.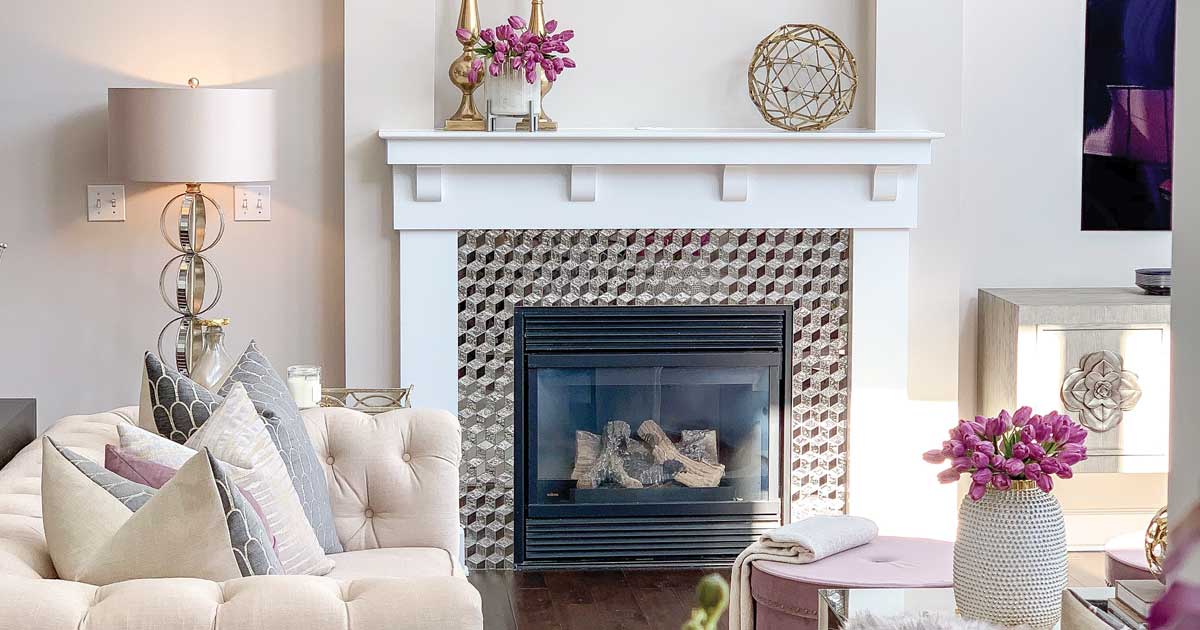 "We've come a long way from what wall art used to be. Whether through the frame or the actual painting, wall art is a fun way to add glam to your home! Try to find paintings that incorporate metallic gold or silver within the painting. Metal wall art is another great way to create a glamourous focal wall."
Have fun with decorative accents.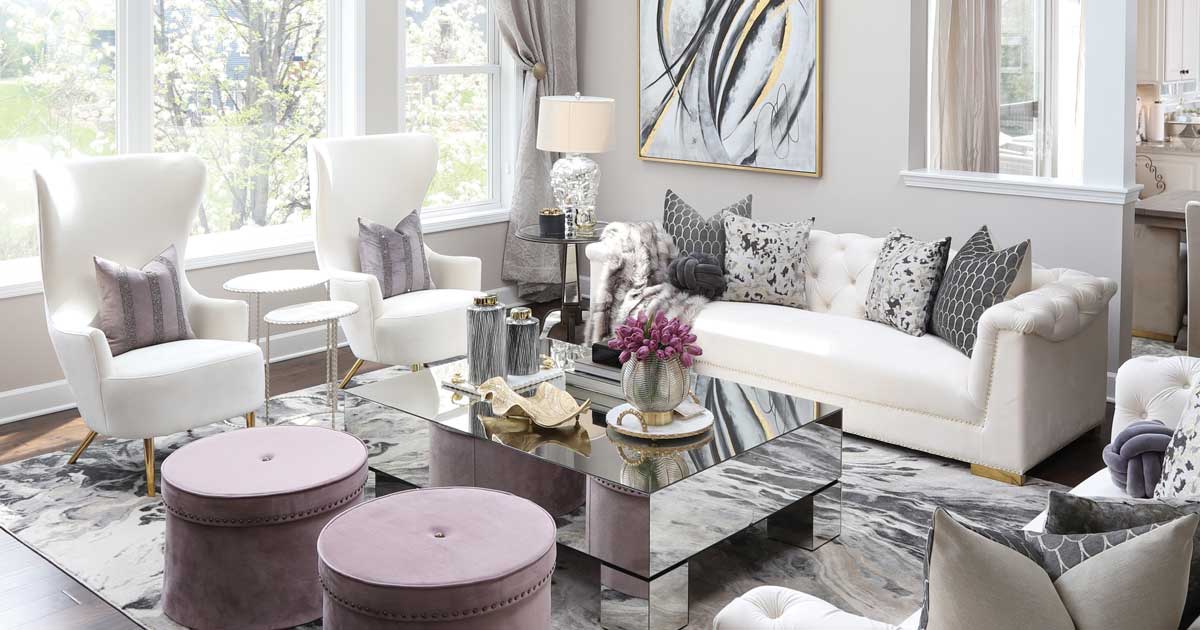 "Finally, finish off the room with a few decorative accents like candle holders, a vase, a tray, bowls or decorative boxes that scream 'glam!' at you. You'd be surprised with how a few decorative accents can transform a room and help create that glam and elegant look you're looking for!"
Remember: Home décor can always be switched up.
"I usually love changing out my décor every season and a few times in between," said Merhi, noting her favorite glam pieces in her home include chandeliers, mirrored coffee tables and various accents. "With my furniture being on the neutral side throughout most of my home, it's easy for me to switch things up without breaking the bank. I keep the main furniture pieces but change pillows and accessories to get a quick and easy refresh!"
Above all else, Merhi said, your home should make you happy.
"A glamorous home can be translated in so many ways—so make it your own. What makes the difference is the addition of your own personal touch."
Lost on where to start? Merhi suggests:
Setting a budget before anything else.
Shopping for furniture first and glamourous decorative accents second.
Browsing social media, magazines and platforms like Inspire Me! Home Decor for visual inspiration.
Written by Sarah Suydam, Staff Writer for West Michigan Woman.
This article originally appeared in the Feb/Mar 2020 issue of West Michigan Woman.
Photos courtesy of Photo courtesy of Inspire Me! Home Decor.