When going from living alone (or with friends) to cohabitating with your significant other, there will undoubtedly be adjustments and challenges. The good news? Compromising your personal home décor style doesn't have to be one of them.
West Michigan Woman sat down with Autumn Fuchs, NCIDQm Interior Designer, Fuchsia Design, to get her tips on how combining spaces can be seamless and fun for everyone involved.
Is it possible to maintain your own personal home decor styles when moving in together or sharing a workspace?
Absolutely! Like a lot of things in a relationship, the key to combining design styles is compromise. In order for a space to truly feel like home, it's important that it has elements that reflect each of your own personal styles.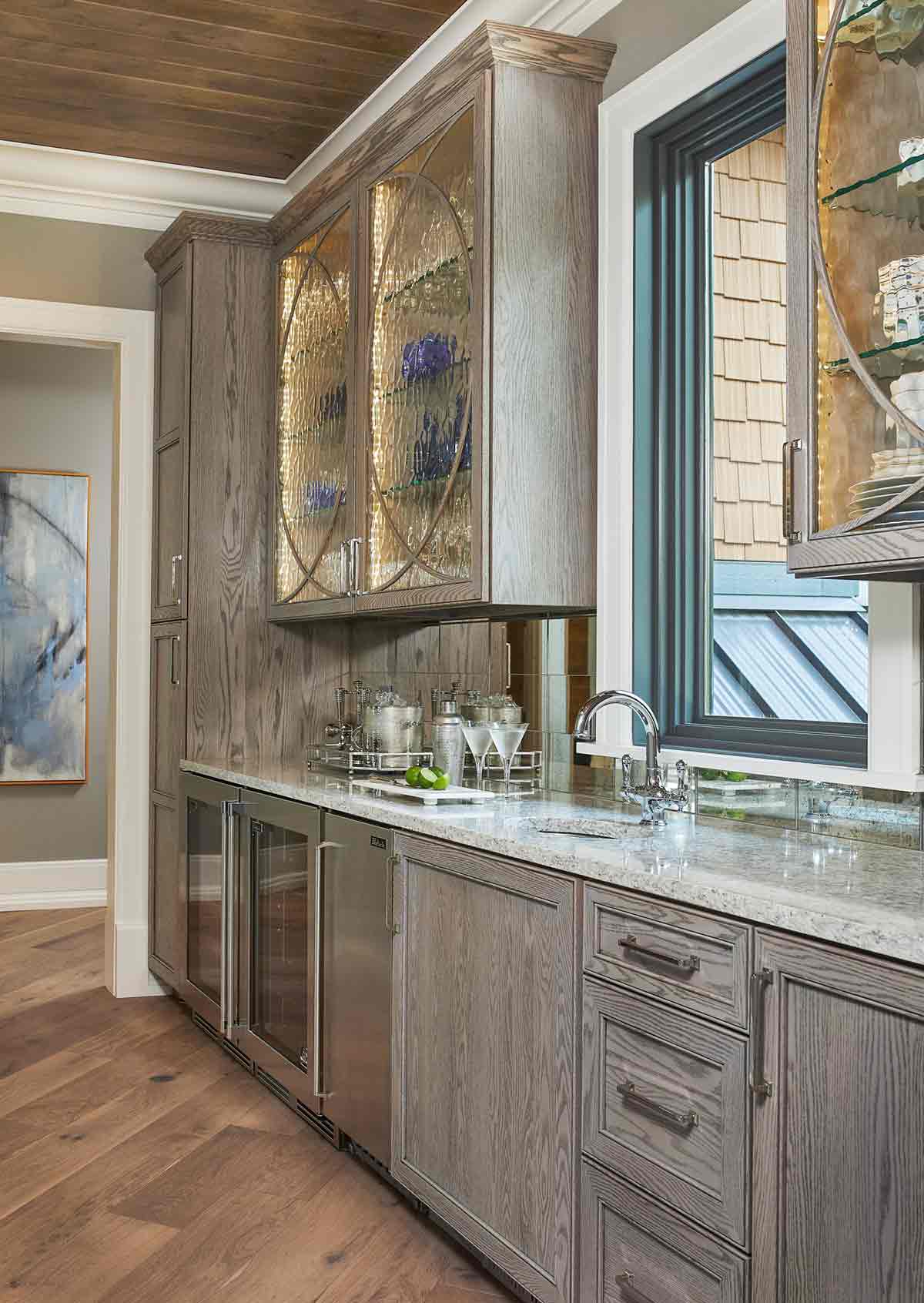 What specific approach do you recommend for getting started?
Start by talking about how you each want the space to "feel" rather than "look." Do you want it to feel bright and airy? Cozy and collected? Masculine and rustic? Each of these can then be translated into specific design elements to achieve this feeling.
For example, in this wet bar, the wife wanted a space that felt glamorous and airy while the husband tended to lean more toward a natural, rustic feeling. We combined an antiqued mirrored backsplash, polished nickel fixtures, and elegant crown molding with a knotty alder ceiling, wide-planked white oak floors, and gray-washed red oak cabinetry. Having two clients with different design tastes actually enhanced this space, as it allowed us to layer multiple styles for a custom look.
Any top tips you'd like to share?
If you're moving in together and combining existing furniture, my first recommendation is to each select a few pieces that are important to you to keep—maybe you have an antique chest from your grandpa, a piece of artwork that has special meaning, or a chair that's really comfortable. Knowing what pieces are important to each of you gives a starting point for the design.
From there, use these pieces as inspiration to build the rest of the design. Is there a common color palette you can create from them or accent colors you can both agree on? Once you're on the same page, determine what furniture or décor you still need. That could mean purchasing a rustic dining table and pairing it with velvet upholstered chairs so you each love something about it.
What if you can't agree on a certain style choice? How can a compromise be reached stylistically?
There's no need to agree on one single design style when creating a home with a significant other. The very best spaces layer multiple design styles, so it feels like home rather than a matching showroom display.
The reality is: When combining significantly different design styles, both parties are not going to love every piece, so it's important for each person to focus on the elements within a space they do love and compromise on incorporating the pieces their partner loves, too. In the end, creating a single space that feels like home for both of you is the most important and exciting part.
How do you find a balance of style when moving into an existing (and already styled) living space?
Time to redecorate! Design should always be evolving to reflect the season of life you are in. If you're moving into an already styled home that is more a reflection of your partner than of you, don't be afraid to voice your feelings. Be ready to compromise, talk about what about pieces and elements are most important to each of you, and have frequent discussions to make sure each of you feels represented as the space evolves to combine your unique individual styles.
What are common mistakes or missteps to avoid, right off the bat?
Ah, the honeymoon phase of living with someone new. Unfortunately, this can lead to a lot of tiptoeing because you don't want to potentially cause conflict. Holding in your thoughts or feelings about the design will only result in a space you don't love. Stay open-minded, try new things, and when in doubt: Rock, Paper, Scissors!
Edited by Sarah Suydam, Staff Writer for West Michigan Woman.
Designed by Fuchsia Design, Images by Ashley Avila Photography