It's common for newly married couples to follow the advice "Buying a home is a must." That was certainly the case for Noddea Skidmore and her husband, Calin, in 2010.
"Here was this cute HUD home in mostly great condition—friends and colleagues were buying fancy minivans for the same price," said Skidmore, Director of Creative and Audience Development, Circle Theatre. "It just seemed like something we were supposed to do. But it didn't take us long to realize that we weren't cut out to be homeowners."
The challenge with owning a house: There's almost always something needing to be done—which can become costly and time-consuming, even with help from skilled family members.
"When we have a Sunday afternoon where we're both not at work, we don't want to mow the lawn. We want to go to a movie."
Downsizing to a condo was on the Skidmores' minds for years, long before Tidying Up hit Netflix. When the couple and their dogs, Big and Beatle, made the downsizing move just before Christmas 2018, they'd long been sorting and decluttering.
"We had two rounds of what I affectionately refer to as 'The Great Skidmore Pitch and Purge' where we did a lot of recycling and, well, pitching and purging." Skidmore connected friends with needs to various items she and her husband were getting rid of, and donated clothing and shoes to local theaters.
While searching for the perfect small condo, the couple still had must-haves. A fenced-in patio or some sort of a private yard was a priority, allowing Beatle and Big to wander and addressing Calin's love of the outdoors. Other musts were a guest bedroom, an updated kitchen, and in-unit laundry.
The duo's Grand Rapids condo style is best described as West Elm meets Ikea meets midcentury modern, with neutral metallics sprinkled throughout. Close to 70 framed Broadway Playbills from their many New York City adventures line the stairway to the second floor, not far from collections of well-loved books and works from artists Shelly Klein, Dan Heisler, Amy Carroll, and Ryan Spencer Reed.
A large book shelf adorned with mementos cleverly separates the living room, leaving a modern bistro table for two on one side and a pull-out couch with additional storage and a wall mounted entertainment center holding blankets and office supplies on the other. A rolling cart in the kitchen stocked with sweet and salty snacks acts as a pantry.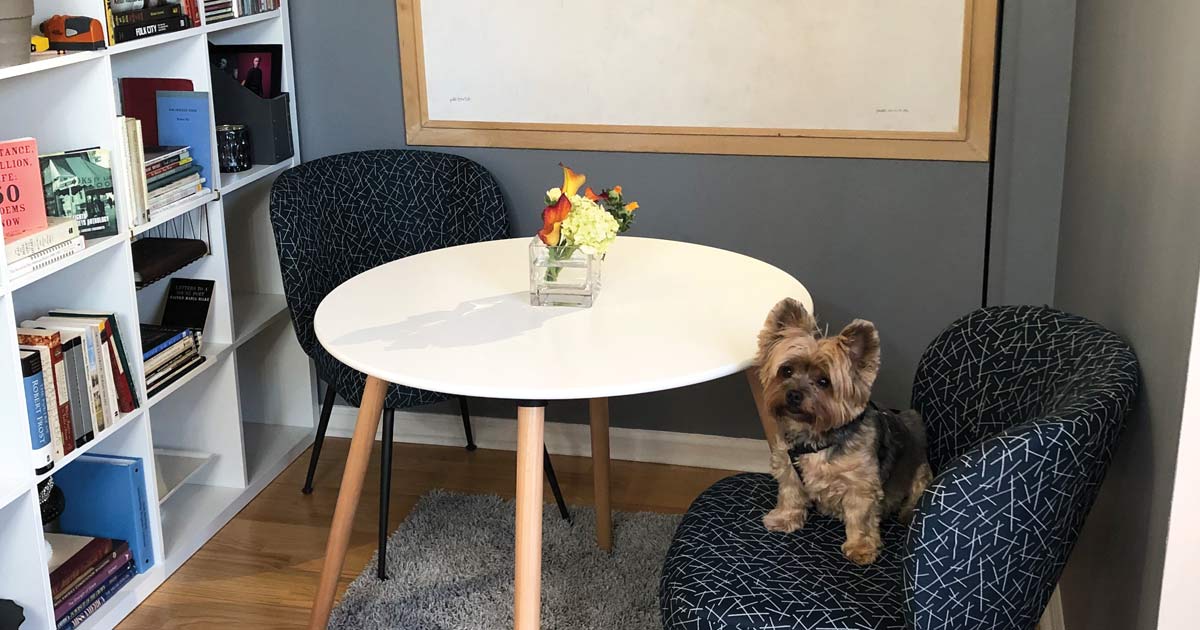 "Now, we're surrounded by the things we actually want to own," said Skidmore, noting downsizing and becoming more organized brings her family joy. "I know where everything is—maybe for the first time ever. Because it's less space, we're able to keep up with it and we're not losing a whole weekend day to cleaning."
The only thing the couple misses about their previous home is the amount of storage, though Skidmore stresses it's OK to let things go and to optimize existing storage. "You probably don't need that bridesmaid dress, second Crock-Pot, or tableware for 12 when there's only two of you."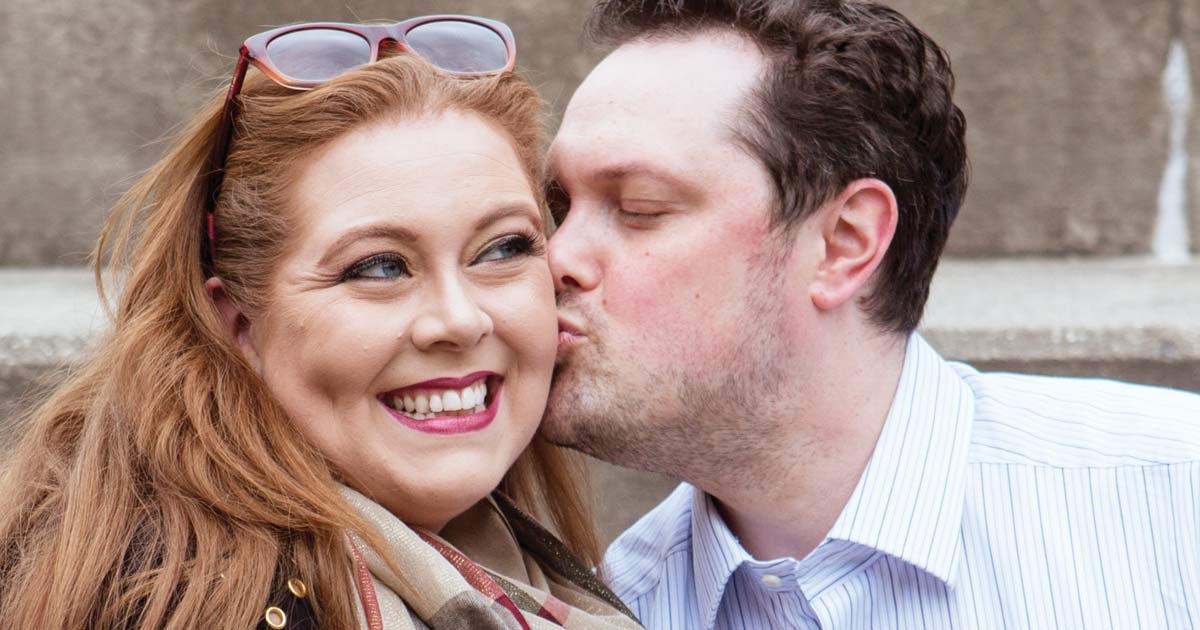 "I think we're in this interesting period of time where more people are comfortable going against the grain of what's expected of them, whether that expectation is set by families, colleagues or society in general," said Skidmore.
"If your inner voice is nagging to make a change ... Listen."
Written by Sarah Suydam, Staff Writer for West Michigan Woman.
This article originally appeared in West Michigan Woman.
Photos courtesy of Noddea Skidmore.