Go ahead: Sing that embarrassingly catchy Dixie Chicks song, loud and proud.
We're a fan of those beautifully open spaces in homes, just like Fennville homeowners Sarah and Michael McCracken.
The McCrackens' new-build residence—located on Hutchins Lake and appropriately nicknamed the Modern Concrete home—takes a contemporary approach to modernity, with dashes of coziness. The home's kitchen, living room, and dining room are all open to each other and feature polished concrete floors and countertops with integrated sinks from Hard Topix, modern cabinetry, white walls, and black light fixtures.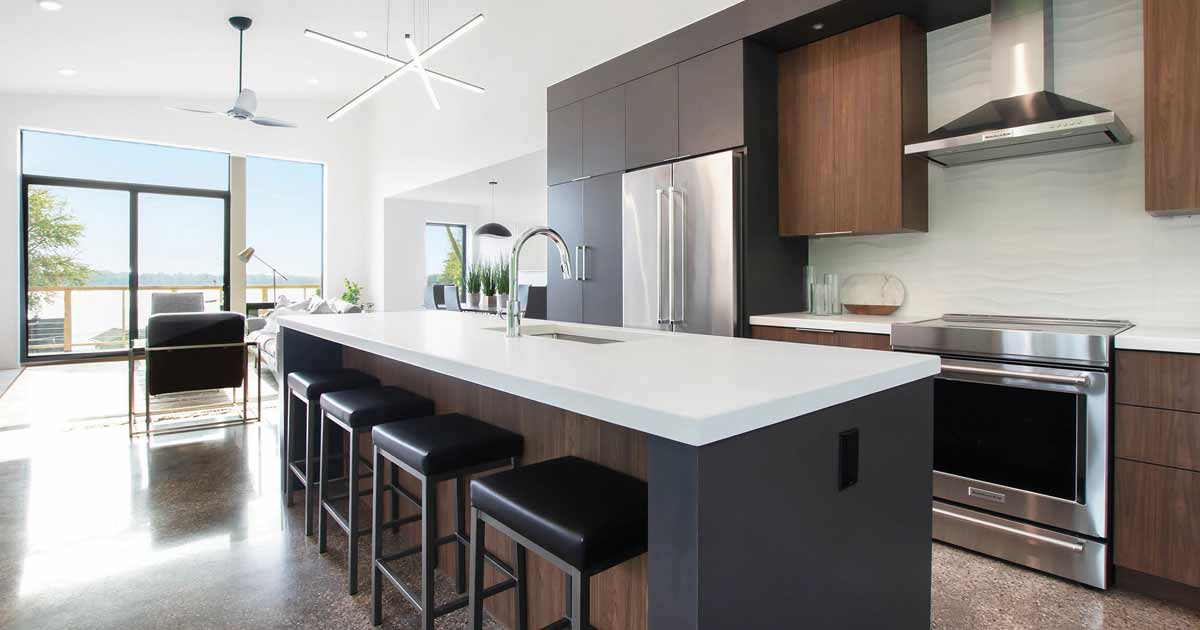 After living in studio apartments limited to roughly 700 square feet, Sarah, an actuary, and Michael, a product development engineer, knew an open concept design was the ideal way to make any space feel larger.
"Having an open space makes the home feel welcoming," said Sarah, noting Lucid Architects and Jake Vierzen of R-Value Homes helped bring the dream home to life.
"It can be just the three of us at home, getting dinner ready, or a large group of people, and we feel like everyone will be enjoying their time together because we aren't separated into different rooms, but rather together in one big space."
The McCrackens included large windows and slider doors to bring the outdoors in and make the open space feel even more expansive.
How do you ensure a home with little room separation doesn't feel sterile and cold? Kate Brock of Kate Brock Interiors developed the interior design for the McCrackens' home and finds elements such as furniture placement are key.
"Providing clear furniture groupings, grounded with a large rug, helps define each space," said Kate, adding that having materials and colors flow throughout each space ties everything together. "Also important is selecting artwork that is appropriately sized for the walls. A large mirror in the dining area helped fill out the wall appropriately, while still bouncing light around and reflecting the views."
A high priority for the family: making sure everything brought into their home's open space was functional and efficient.
"Our fireplace makes a statement in the space. Our favorite part about it is that it not only looks beautiful and bold, but it has a purpose," said Sarah. "It's actually a wood stove connected to the heating ducts, so by flipping a switch, we can push the heat coming from the stove into the ducts and heat the entire house."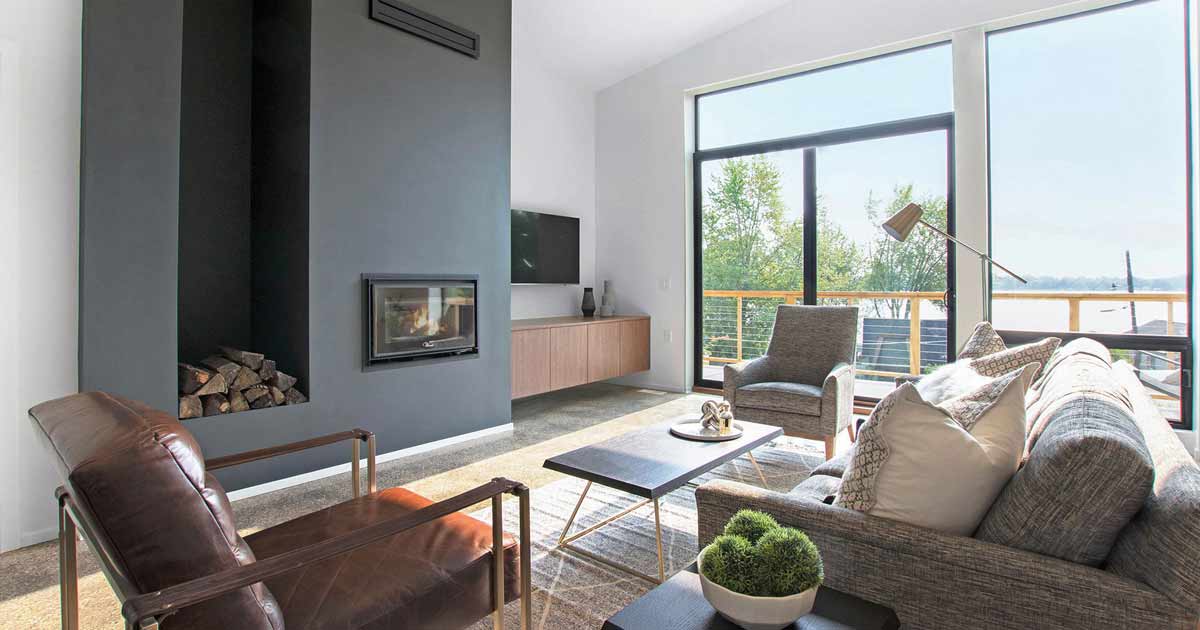 Since the insulated concrete forms (ICF) construction of the home provides optional insulation, the wood stove can sufficiently heat the entire dwelling for the day and look beautiful in the open concept space while doing so.
If you think an excessively large home is required to achieve a comfortable open concept design, think again.
"We were able to fit three bedrooms, two bathrooms, a dining room, living room and kitchen in 1,700 square feet—and still feel blown away by the size of the space when we step foot on the main level," said Sarah.
Kate stresses that your home should reflect what you love. If you're considering integrating an open space into your own humble abode, as the McCracken family did, don't be afraid to do something bold. That could include styling the space completely around a piece of art you love, painting a wall a bright and unexpected color, selecting unique light fixtures, or purchasing patterned furniture. Get funky!
The best part, according to Kate?
You can always change things up as your style evolves.
"I always say it's better to love your space for a while than to never have loved it at all!"
Written by Sarah Suydam, Staff Writer for West Michigan Woman.
This article originally appeared in West Michigan Woman.
Photos courtesy of Next Door Photography.