When it comes to home design, stick with what you love, regardless of whether it's in or out.
But if you're redesigning—or updating—a room or two and looking for ideas, trends are a good place to start. Bob Swift, owner of DreamMaker Bath & Kitchen, offers insight on this year's top trends in home design.
Warmer Colors
"Grey is still popular, but we are starting to see that warm up," Swift said. "There's a little more brown tone."
Grey-grey requires black or white pairings—and some people don't like the stark contrast. Good news: Grey with brown tones allows for the use of more colors.
Another part of that warming up process? Move over silver! Brass and gold tones are back.
Functionality
No matter the room in the house, functionality is key.
Homeowners are looking for ways to make spaces more productive. That's why designers are utilizing storage solutions with concealed looks. Couches and coffee tables have hidden compartments; drawers harbor specialized storage for utensils, dishware, small appliances, toiletries and charging stations for electronics; waste centers pull out with bins for trash, compost and recycling.
Deeper, larger kitchen sinks are part of the trend toward functionality—especially for people who enjoy cooking like professionals. Farmhouse sinks remain popular and 60/40 sinks are taking the spotlight. Both allow more room to wash bigger pots and pans, more easily.
Light It Up
"Jewelry of the dress" is how Swift and his team describe lighting. "It's how you accessorize a room. There's energy around light."
Lighting fixtures are more than functional pieces. They're becoming more and more creative; they're an artistic focal point—the wow factor in a room.
Light is also used to enhance. LED lighting is both cost-effective and brighter, and particularly popular in kitchens and bathrooms. Increasingly, people are lighting the inside of cupboards and countertops.
White Walls
"It's very clean. It's crisp."
While darker colors have been coating rooms in recent years, people are more frequently painting walls white. "It's not necessarily contemporary. It allows your art to pop, the light to pop. It's refreshing."
Swift notes that if you use white, you have to somehow bring texture into the room—another popular trend.
Patterns and Texture
Patterns and texture are especially pertinent to tile, in flooring and as backsplash.
"Backsplash today is really fun," said Swift. "It's all about shape." The linear patterns of the past are being replaced with hexagons, octagons and pyramids.
Floor tile is popular and a functional product. It interlocks—great for water protection in bathrooms, kitchens, basements and entryways. And it's fun. Floor tile is about pattern, texture and shape. Tile can be engineered to look like wood, grooved or printed with pictures.
Patterned countertops are populating homes through the increasing use of quartz—the hardest and best surface for a kitchen, Swift points out. Man-made quartz can be a simple design or an intricate pattern.
Quartz is also antibacterial and not nearly as porous as marble or granite, so it's easier to keep clean and won't stain when red wine spills.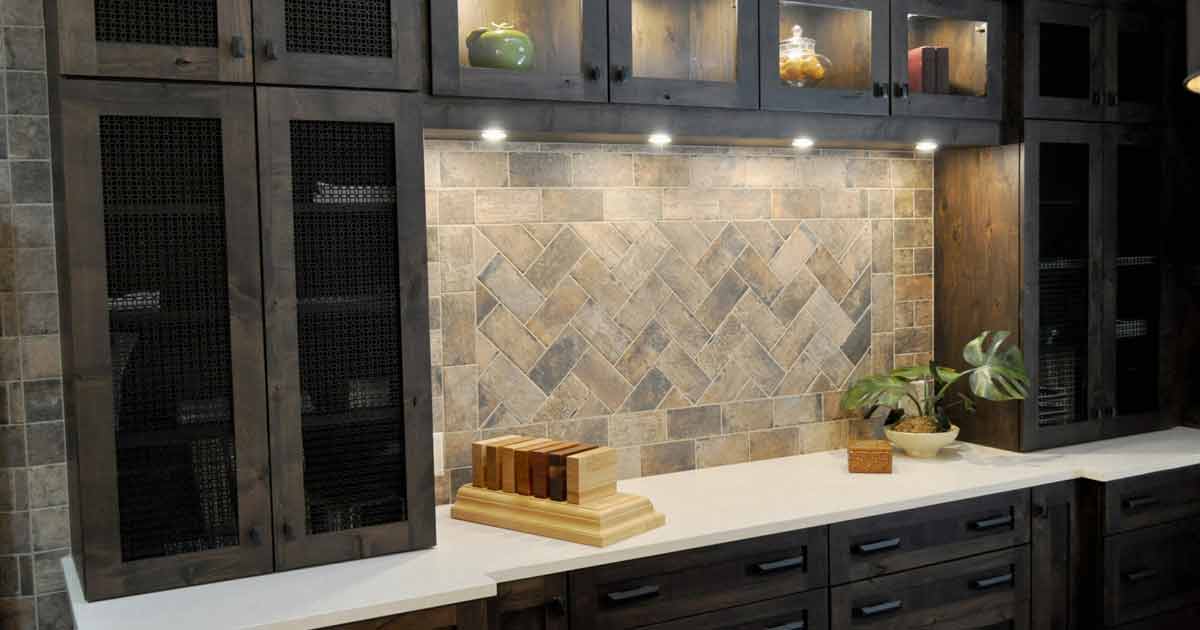 Mix and Match
"There are no rules. Everything in your house doesn't have to match."
Knobs on kitchen drawers don't have to match doorknobs. You can mix finishing on cabinet hardware, plumbing fixtures and lighting. Bronze, gold and silver can coexist harmoniously. Contemporary light fixtures can hang above rustic dining room tables. The possibilities are as endless as your imagination.
"It's about being creative."
Written by Cassie Westrate, staff writer for West Michigan Woman.
Photos courtesy of DreamMaker Bath & Kitchen.