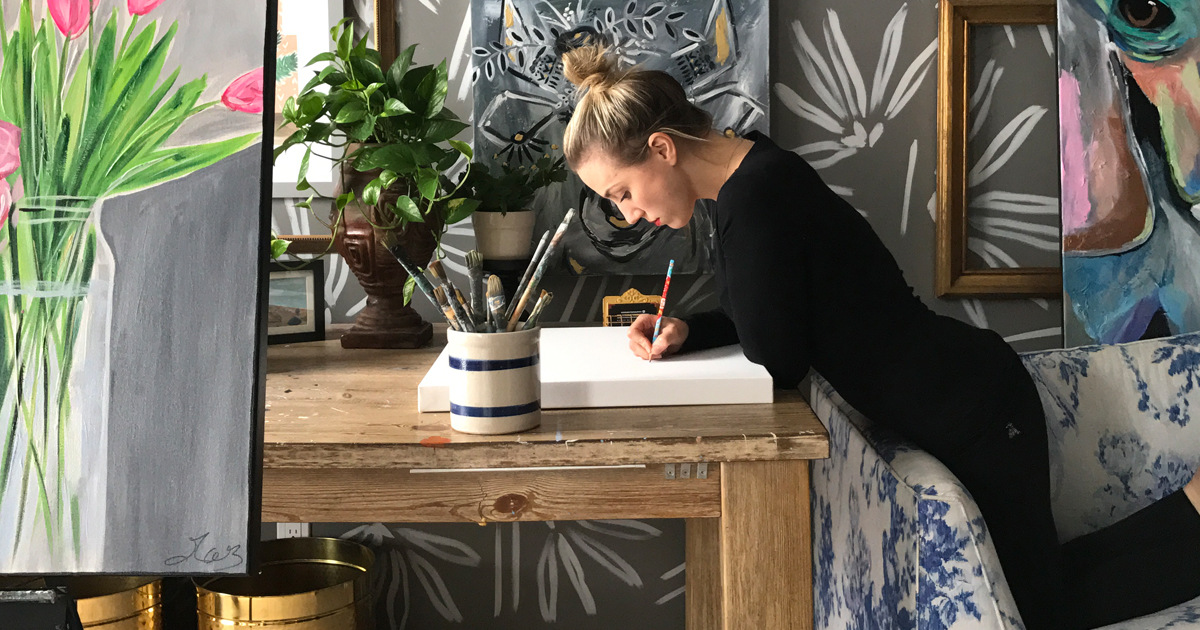 Yeah, we know, wallpaper is so in ... but it can also be pricey. Mary-Catheryn Baker, the artist and owner of Copper Corners, decided to take the problem into her own hands—the ones curled around her beloved paintbrush.
When it comes to wallpaper, equal parts of intimidation combined with the never-ending search for exactly what she wanted were Baker's springboard into painting her walls.
It was also Bigfoot.
"My son's in love with Bigfoot, and I haven't been inspired to do a Bigfoot painting. So I started painting the trees, and eventually Bigfoot will appear," laughs Baker.
All jokes aside, the artist is transforming walls into creative spaces, so prepare to become a big fan. Baker primarily paints animals, floral arrangements and house portraits, yet her foray into wall paintings might just be the new, cool way to freshen a room.
"Every single room in my house has a different vibe, because I like so many styles, and I like to be creative in so many different ways," said Baker, whose altered walls with loads of nature-based themes exist along with geometric scenes in her guest bathroom.
She even spruced up the inside of a closet. "It was a boring closet and it needed to be repainted and getting out a roller and a bin and covering the carpeting—that's a lot. And it's a small space, so I covered up what needed to be fixed with small, little marks," said Baker. Now, guests are treated to a tableau of falling leaves or a twig-like pattern, depending on your perspective.
From painting a pretty pattern of gold dots to create a 3-D, textured look to reimagining a doorway—Baker's old doorframe needed new trim work, but she painted a tall black archway onto the wall above instead—Baker is putting her stamp on her home for considerably less money. Her paint creations fashion an entirely new mood and vision for each space.
Baker's advice: Take time and think about your moves. Envision your pattern and consider if you'll still like it next week. "Using satin paint on your wall is easier to wipe off before it dries, if you decide you don't like it or make mistakes," said Baker, who's drawing and painting organically.
"When I did flowers in my studio I did big and small ones. With wallpaper, it's a repeated pattern. I like the look of every piece being a little bit different."
Find out more about Copper Corners on Facebook or on Instagram.
Written by Missy Black, a footwear fanatic, style child and contributing writer for West Michigan Woman.
Photo courtesy of Mary-Catheryn Baker