Whether you work at home or in an office building, sometimes your space just needs a little boost. I don't know about you, but I have "Spring Fever," and spring is the perfect time to refresh your work space. Here are three easy ways to brighten up your space without spending a lot of money.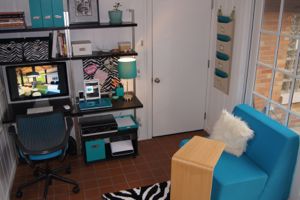 De-Clutter
We could all stand to purge more often, and if you plan on spring cleaning, this is the perfect way to start your refresh project. If the thought of purging is overwhelming to you, try to stick to these simple rules:
If it is broken or ugly, throw it out. If it is useful or beautiful, keep it. I always tell my clients everything should be functional, and have a purpose.

Get rid of duplicates. Do you really need four pairs of scissors? Do you love dust? If not then watch the chotchkies. Collections look more powerful if you have one to two items displayed simply rather than an overflowing shelf.
Paint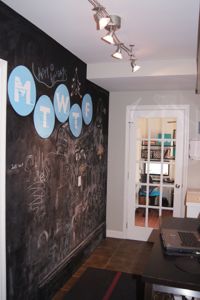 Paint is always a wonderful way to change the entire mood of your space. I am not suggesting you re-paint your entire office, however by highlighting one wall with a very saturated color, you can really make a strong impact. Personally, I like to choose a large wall at the back of the space. Putting a strong color here will draw people in, and can serve as a backdrop to company branding.
Chalkboard paint or whiteboard paint are great products that can be used on walls or tables. These paints are so much fun, and they instantly turn a blank wall or a flea market coffee table into an interactive space where people can communicate the day's events or have a brainstorming session. If you haven't tried this yet, you need to!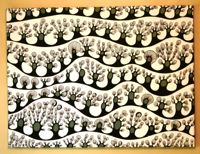 Artwork
Artwork is one of the best ways to personalize your space or let your clients know a bit about your company's culture. Artwork doesn't have to be expensive. If you want an original, unique piece of art, try Etsy.
If you'd like something more personal, take a photo of your team, your family, or a favorite place, and have it transferred to a canvas. You can do this at many large retailers like Costco, or you can do it all from your computer with companies like SendOutCards, and they will ship it right to you. (Click the link to check out the site, and get two cards for free courtesy of Michelle Allard!)

If you have a really large space to fill, I suggest buying the largest canvas you can afford from a craft store, and wrapping it with a bold graphic fabric. You simply use a staple gun to adhere the fabric to the frame, and you have created a real statement piece that people are going to remember.
Try one or all of these easy tips for refreshing your office. You'll be surprised how these simple improvements can lift your spirits, and improve productivity. You may even get to work a little earlier on Monday morning.
Michelle Allard is principal of Allard Design LLC in Spring Lake, Michigan. When she is not skiing with her family, she enjoys coaching spring board diving, and chasing her new puppy Olive. Photos: Michelle Allard