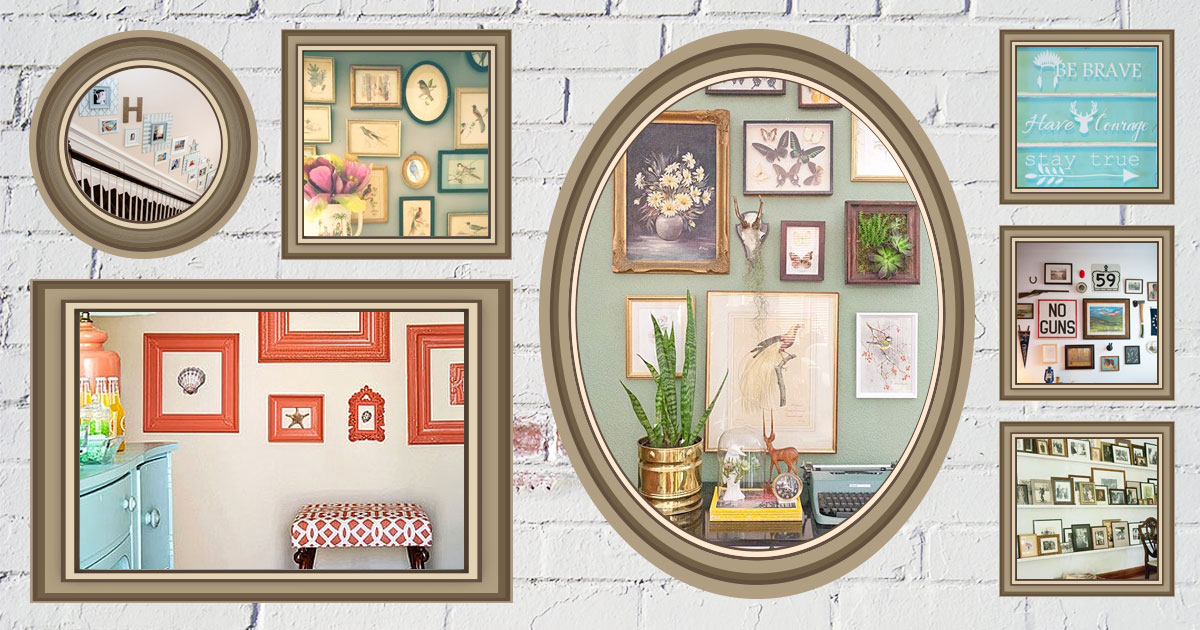 A gallery wall groups all of the things you find fascinating in one spot. It's the perfect creative outlet—a reflection of your personal style and taste. How do you create a gallery wall that works for you? While it's so appealing, let's talk execution.
If you don't know how or where to start or shop, you might need someone to talk you through it. So, I'm adding my good friend Jill to the conversation. You don't mind do you? Oh, good. The more the merrier! That goes for assembling gallery walls, too.

1. LOCATION: Pick a spot that gets a lot of traffic. You want this baby to get an audience. Above the sofa? Of course. In your entryway? I like it! Over the fireplace? You catch on quickly. Stairwells might be my favorite spot, but get a feel for your home and how it's used, and where you'd like your visuals to shine. I have a gallery wall in my dining room. Now, I never struggle for interesting dinner conversation with guests.
Jill, the spot above your sofa will be viewed from your front entryway and from the dining room: Win-win!
2. SETTING THE TONE: Wade through some feelings. Ask yourself what mood you're going for. Will this assortment be sentimental or a delightful hodgepodge of quirkiness? What's your theme? You might not have one, and that's fine, too. Those are my favorite gallery walls—the ones that sort of live by their own rules. I have a collection in my bathroom that's flirty, with lipstick and perfume prints and vintage fashion magazine tear outs. Sometimes, a color scheme can dictate the vibe. Consider calming blues or vibrant yellows to grab attention.
Jill, your space has an organic feel with a lighthearted atmosphere, yet your elegant sofa balances that out. Play up your oranges and color flecks found in your rug. Keep it earthy and natural, warm and inviting. Make an inspiration board with magazine cutouts to fine-tune the look you're wanting.
3. ONCE UPON A TIME ... Your gallery wall should tell a story in visuals. That said, focus on gathering the goods. Mix old with new. Frame a family recipe, love letter, child's drawing, or postcard. Throw in a mirror. I have a semi-wrinkled paper bag from my favorite macaron shop in Paris, in a shadow box. Draw upon on your travels and your desires. Throw in an oversized number or letter. Fill a frame with cork and pin up your most beautiful jewelry. Consider textured materials, colors, and size for your items. Some fancy linen towels can double as art. Gather circle, square, and oval frames. Throw your monogram up on the wall. Even a beautiful china plate can delight! Borrow from nature. A piece of driftwood or a sectioned tray can hold stones and seashells. Going the family photo route? Join together old sentimental black-and-white images with portraiture paintings, a child's silhouette, or caricatures from a carnival. Incorporate beloved quotations, poems, and passages from books—the words that move you. Utilize chalkboards to easily change out those messages. Throw in a hook and hang something. Can't afford a piece of art? Try your own hand at it; your interpretation might surprise you. Newspaper clippings, concert stubs, even maps will have you reminiscing. All of these things should make you—and others—smile.
Jill, I envision a strong mix of art prints, family photos (the boys snowboarding), and little bits that speak of you. Play up opposites with a raw, gritty, industrial piece above your refined sofa. Add a few small mirrors. What about those classy faux deer mounts that are popular now? Perhaps a floating shelf with succulent plants?
4. THE GOODS: You can find the best gallery wall items at antique and thrift stores, garage sales, and flea markets. But keep checking in at your regular home décor stores. Go online. Go everywhere. Head to the attic and rummage through your memories, and put them on display.
Jill, go through your scrapbooks and mementos. Head out and take one whole day made just for shopping and browsing.
5. BEFORE THE HAMMER: I suggest you place your collected pieces onto newspaper or craft paper, trace them, and then temporarily tape them onto the wall, so you get a clear idea of the layout before nail holes enter the equation. You can move papers around until you get the desired effect. If the permanentness factor frightens you, make your gallery wall on floating shelves. It's almost the same thing, and you can switch items out at your convenience.
Jill, a little wine and the buddy system and we can knock out a stellar gallery wall that will make that space seem new and loved.
Remember, the sky's the limit. Well, actually your wall space is—but you get the idea.
Written by Missy Black, a footwear fanatic, a style child, and a contributing writer for West Michigan Woman. Photos courtesy of The Handmade Home, Apartment Therapy, Casa Sugar, Curate This Space, Etsy, Design Sponge, Lulu and Georgia, and Eclectically Vintage.