This is the first year in a long time that we've decided to not go anywhere over spring break. Maybe this wasn't the best year to miss out on a warm getaway—but even so, I'm just not a big fan of the crowds and jaw-dropping airfares that are inevitable this time of year. Alas, we'll be sticking close to home, in Northeast Grand Rapids. Although I'm comfortable with our decision, the other day I started to panic: What the heck are the kids going to do with an entire week off? [Insert snow-day flashbacks here.]
Typically when we think of April, we think showers and May flowers. Yet this winter's temps and snowfall have been so intense, it's hard to think they will ever go away. But they will. And I'm going to be optimistic and say that spring break is right around the time when the weather will finally break. Yahoo! Just in case, though, it's probably wise to start planning for the sake of your mental health and your children's well-being.
The following is an itinerary of sorts, easily mixed and matched based on your schedule. I've categorized it into different types of experiences: Relaxation, Nature, Water Play, Animals, Active Play, and Arts & Culture—sort of a well-rounded spring break. Your kids will return to school with just as much, if not more, to share as those who went to Disney! And the teachers will be singing your praises, because you're such an awesome, clever mom.
Friday, April 4: Relax and pay one last visit to Griff.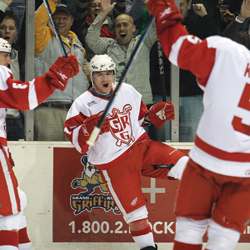 The first day of break is always fun, for kids and their parents. That it's a weekday morning without all of the hustle and bustle is a gift—take advantage of it! No need to plan anything major for the day. Sleep in, snuggle those who will still let you, make a yummy breakfast, and stay in your jammies extra long. If it's nice out later on, get outside! Breathe deeply and soak up the warm sunshine. Dust off a few summer toys and watch them become "new" again to your kids. Enjoy this down time, knowing that in a matter of days they'll be driving you bonkers again.
That evening, why not head downtown for the Griffins Game? It's one of the last home games of the season, and it's $2 beer and $2 hot dog night. It doesn't get better than that! This is also one of the nights kids can redeem their reading bookmark (the one that comes home from school) for two free upper-level tickets.
Monday, April 7: Celebrate Spring!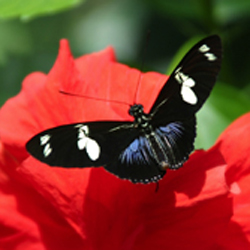 One of our greatest Grand Rapids-area venues is undoubtedly Frederik Meijer Gardens & Sculpture Park—and when it's springtime, butterflies are blooming! I asked if there were any days less busy than others, and the answer was "no" (but they did suggest coming early). If you've already seen the butterflies, consider the special classes offered during spring break: Clay Creations, Horsing Around, Butterfly Biscuits, Shutterbugs, and more! The two-hour classes are $20 for members/$27 non-members.
On your way home, stop at your local garden center. Browse the aisles to gather inspiration for the flowers and vegetables you might want to plant this spring. Although it's still too early, you can plant cool seasonal vegetables in late April or get seedlings started to transport later. Gardening is a great way to teach kids about sustainability and nutrition.
Tuesday, April 8: Water Play!
What's a vacation without pool time? Swimming is also a great way to wear out the kids. We're fortunate enough to have several options in West Michigan, including:
That evening, head home for a relaxing night in. Tim Compton, media consultant here at Serendipity Media and father of five girls, gave me a fun idea: Turn your kitchen into a "pizzeria." Each child chooses the toppings he or she wants. The family then shops together for the items and returns home to make the pizzas. It's a great way to kill a couple of hours—and the kids love it!
Wednesday, April 9: Catch up with the critters!
This is a great time of year to check out our furry friends who call West Michigan home. The animals are awakening from the long winter, too, and are usually more active than during the hot summer.
| | |
| --- | --- |
| | Check out the Critter Barn's Spring Fling 2014 in Zeeland. Guests of all ages are invited to put on their farmer hats and have a chance to milk a goat, welcome new baby lambs, and plant seeds in the garden. And it's free! (Donations accepted.) More info at www.critterbarn.org |
| | |
| --- | --- |
| | The John Ball Zoo is hosting ZOOBILEE all week long, where the zookeepers offer demonstrations, talks, and trainings—and there's also games and fun. Cost is $5 for adults and $4 for kids. www.johnballzoosociety.org |
Thursday, April 10: Blow off more steam!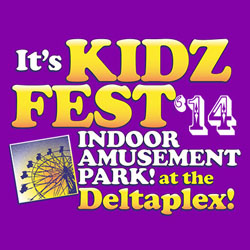 The Kidz Fest Indoor Amusement park is back at the Deltaplex. The entire building will be filled with exciting activities and entertainment for toddlers up to teens. April 8 to 12, hours vary. Admission is $5, or $12 for an all-day wristband.
Local gyms such as MVP Sportsplex and GYMCO also offer special events over spring break—be sure to check out their offerings. And it's Thrifty Thursday Family Skate at Kentwood Fun Spot, so kids skate free! More at www.kentwoodfunspot.com

Friday, April 11: Arts & Culture
Just three more days and the kids will be back to school. [Insert Mom Happy Dance here.] Today would be a great day to remind them that learning can be fun, too!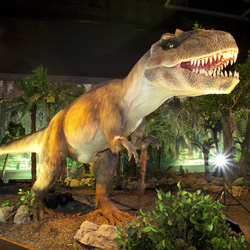 Head over to the Grand Rapids Public Museum for activities including discovering fossils, gear build table, creating your own dinosaur, and building a Skylark Biplane. Activities are offered Monday through Saturday, 11 a.m. to 3 p.m. More at www.grmuseum.org
Following the always-fun ride on the carrousel, head outside to stroll along the river and enjoy the many sights and sounds of the great city of Grand Rapids.
See? Even if you don't have plans over spring break, West Michigan has so much to offer. Am I forgetting anything? Please feel free to share your thoughts and ideas, too!

Written by: Jill Carroll is the marketing director for West Michigan Woman.