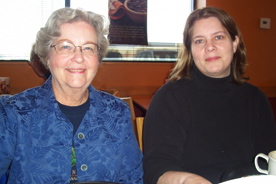 Columnist and editor Barbara Graham knows first hand the fragile relationship between mothers-in-law and daughters-in law. Graham travels speaking on the subject, among other familial things, and above all she tells women in order for a mutually happy relationship, both parties must abide by certain rules. Graham says it all comes down to respect.
Daughters-in-Law
Respect your husband's relationship with his mother. No matter your opinion of your mother-in-law, do not let negatively seep into the conversation, especially when your children, her grandchildren, are listening.
Respect your mother-in-law's right to spend time with her grandchildren. Even allow for times when grandparents are alone with your children allowing for strong relationships to be formed between them.
Respect grandparents' leniency with your children, within reason. Extra dessert, extended bedtimes or elaborate toys showered on your children are not meant as a personal form of disrespect toward you, it's just the way grandparents express love.
Respect the fact that someday, if you have sons, you will be the mother-in-law forming a relationship with a daughter-in-law.
Mothers-in-Law
Daughters have a parenting style that should be respected, even if you would do things differently. While it is true that times have changed since your children were young, what's more important is that you understand you are not in charge of your grandchildren. You will gain trust and respect from your daughter-in-law if you respect her rules for the children.
Respect the relationship of your daughter-in-law and her mother.
Respect the relationship of your daughter-in-law and your son, avoid talking negatively about your daughter-in-law to your son.
Remember that you were once young too and had lessons to learn in the parenting and relationships department. Your daughter-in-law may struggle, but she is learning, just as you did.
Mothers and Daughters-in-Law
Creating healthy relationships by establishing boundaries. If the lines should ever cross, try to put yourself in the other's shoes.
Dismiss all pre-conceived notions and expectations about what your relationship should be like, and accept the way things are.
Above all else is the children/grandchildren. What do you want them to learn? Train them in respect by first exemplifying respect yourself.
Source: Grandparents.com Photo credit: Creative Commons