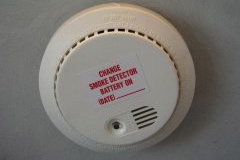 Families can and should practice fire escape routes as much as possible to ensure safety comes naturally to children in case of an emergency.
Grand Haven Township Fire Chief Tom Gerencer recommends that families sit down and sketch out the home's floor plan. Discuss with children the best ways to exit the home in various emergency situations.
It is essential to have two exits in every room, he says. A window and door are typical, and if the room is on the second story, a collapsable ladder is important.
Before leaving the room through the door, feel it or the handle to see if it is warm, Gerencer says, if it is, use another route to exit the room. If no other way is available, exit through the doorway as close to the floor as possible.
"If you stay low and you crawl, you'll likely have better visibility. The air is going to be more breathable down there," he says.
Don't waste time in an emergency situation, Gerencer says.
"Don't stop and pick up your teddy bear or try to save something along with you…Take the safest route out of the house, and move away from the smoke," he said.
Practice your family's escape routes once a month, Gerencer says, so that the exit strategies will come naturally.
"They really don't do any good unless you practice," he says.
Make practicing the plan fun by scheduling fire drills in the middle of the night or after children have been sleeping.
Also make sure that children are able to open their bedroom doors on their own to ensure a quick exit in case of a fire.
Gerencer says in Grand Haven, the majority of fires are residential structure fires, and many begin in the garage. Install smoke detectors throughout the home and in the garage.
"They're the single most important item you can buy," he says.
Written by: Erika Fifelski was born and raised in West Michigan, and after a brief stint on the sunrise side, she's home and loving it. Erika enjoys cooking, sewing, vacuuming, and discovering new ways to live sustainably and support local businesses. Photo Credit: kconners